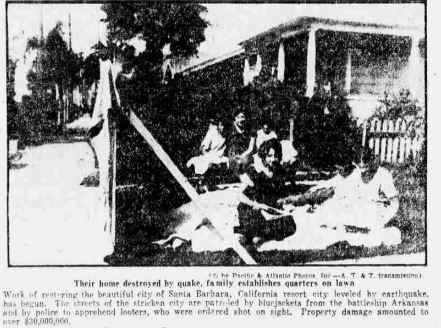 Their home destroyed by quake, family establishes quarters on lawn.
Work of restoring the beautiful city of Santa Barbara, California resort city leveled by earthquake, has begun.
The streets of the stricken city are patroled by bluejackets from the battleship Arkansas (BB-33) and by police to apprehend looters, who were ordered shot on sight.
Property damage amounted to over $30,000,000.


Image and text provided by Connecticut State Library, Hartford, CT.
Photo by New Britain Herald. [volume] (New Britain, Conn.) 1890-1976, 02 July 1925, Image 16, courtesy of chroniclingamerica.loc.gov.