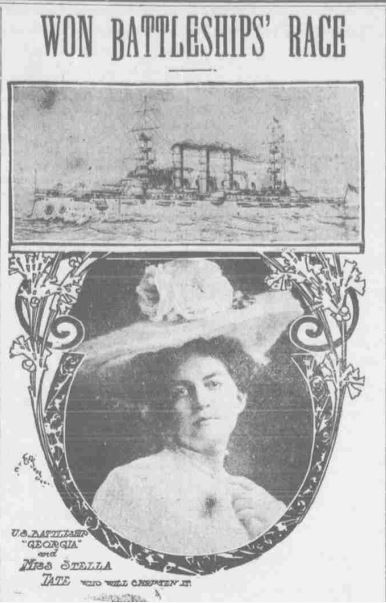 WON BATTLESHIP'S RACE
Victorious in two races, the battleship Georgia (BB-15) arrived at League Island yesterday one hour and seven minutes after the battleship Kansas (BB-21), which started from Cape Cod four hours before.
In making this gain of 2 hours and 53 minutes on the Kansas, the Georgia humbled the battleship Rhode Island (BB-17) even more decisively by "sailing it below the horizon" in two hours.

Image and text provided by University of Hawaii at Manoa; Honolulu, HI.
Photo by The Hawaiian Star. (Honolulu [Oahu]) 1893-1912, 11 October 1907, SECOND EDITION, Image 7, courtesy of chroniclingamerica.loc.gov.
---
Post Civil War Era Monitors
Pre-Dreadnought Battleships
Post-Dreadnought / Newport Conference Design Battleships
Post-Dreadnought / Washington Conference Design Battleships
---
Additional Resources and Web Sites of Interest

THE PANAMA CANAL
THE INVISIBLE WONDER OF THE WORLD



MODEL WARSHIPS



PATENT LOG:
INNOVATIVE PATENTS THAT ADVANCED THE USN



MIDWAY
A FILM BY CHRIS JORDAN



RESEARCHER @ LARGE



---
Back To The Main Photo Index
Comments, Suggestions, E-mail Webmaster
This page was created by Paul Yarnall and is maintained by Michael Mohl
©1996 - 2019, NavSource History All rights reserved.