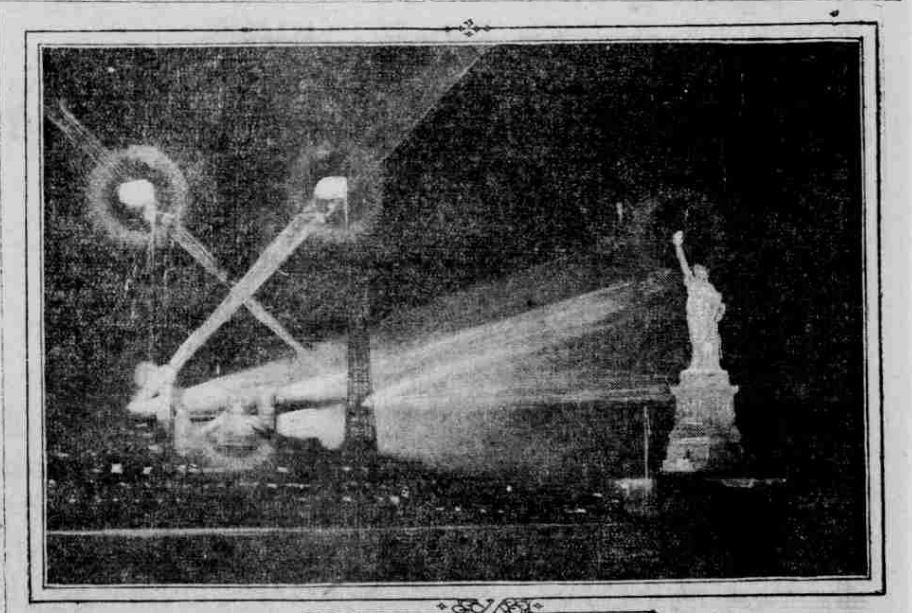 LIBERTY ENLIGHTENING THE WORLD AT NIGHT.
This photograph taken on the night of May 31 shows the illumination of the famous Bartholdi Monument in New York Harbor by searchlights of the pennant-winning battleship Michigan (BB-27),. For half an hour this beautiful spectacle was viewed by thousands, who were thrilled by the majestic Statue of Liberty standing out of the darkness, and by the American flags at the battleship's mastheads, emblazoned by two shafts of light. The illumination was ordered by the Secretary of the Navy to afford an approximation of the effect that will be produced by the permanent lighting of tbe statue proposed by The New York World. Congress has passed an amendment to the Rivers and Harbors bill authorizing acceptance by the Federal Government of a fund of $30,000 being raised by The World. to purchase an illuminating plant, which the Government will maintain. Many small contributions to this fund are sought in order that the lighting of the famous statue shall be in keeping with the traditions of this gift of the people of France to the people of the United States.

Image and text provided by Arizona State Library, Archives and Public Records; Phoenix, AZ.
Photo from Arizona Republican. (Phoenix, Ariz.) 1890-1930, 22 June 1916, Image 7, via chroniclingamerica.loc.gov.