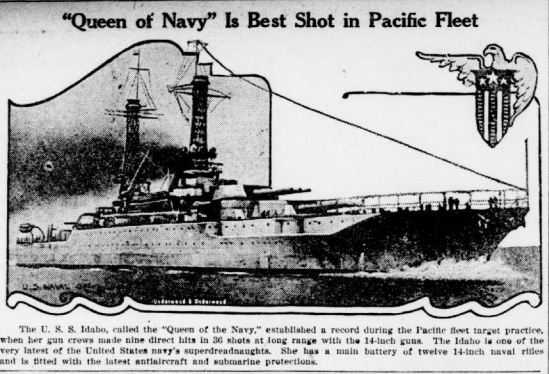 "Queen of the Navy" Is Best Shot In The Pacific Fleet
The Idaho (BB-42), called the "Queen of the Navy," established a record during the Pacific fleet target practice when her gun crews made nine direct hits in 36 shots at long range with the 14-inch guns. The Idaho is one of the very latest of the United States navy's superdreadnoughts. She has a main battery of twelve 14-inch naval rifles and is fitted with the latest antialrcraft and submarine protections.

Image and text provided by Louisiana State University; Baton Rouge, LA.
Photo from The Madison Journal. (Tallulah, Madison Parish, La.) 1888-current, 22 May 1920, Image 6, via chroniclingamerica.loc.gov.