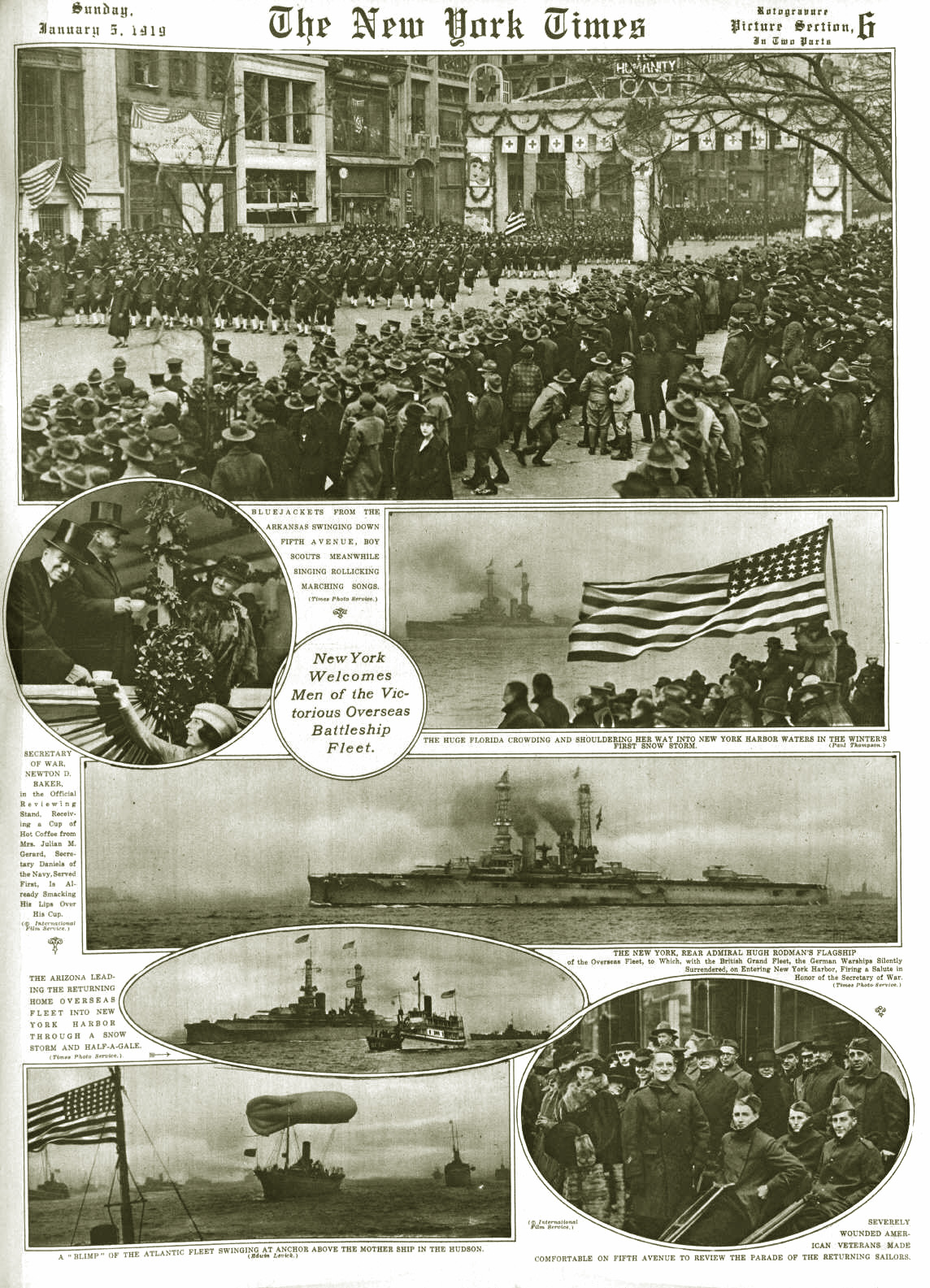 New York Welcomes Men of the Victorious Overseas Battleship Fleet
BLUEJACKETS FROM THE ARKANSAS (BB-33) SWINGING DOWN FIFTH AVENUE, BOY SCOUTS MEANWHILE SINGING ROLLICKING MARCHING SONGS
SECRETARY OF WAR, NEWTON D BAKER, in the Official Reviewing Stand, Receiving a Cup of Hot Coffee from Mrs. Julian M. Gerard, Secretary Daniels of the Navy, Served First
THE HUGE FLORIDA (BB-30) CROWDING AND SHOULDERING HER WAY INTO NEW YORK HARBOR WATERS IN THE WINTER'S FIRST SNOW STORM
THE ARIZONA (BB-39) LEADING THE RETURNING HOME OVERSEAS FLEET INTO NEW YORK HARBOR THROUGH A SNOW STORM AND HALF-A-GALE
THE NEW YORK (BB-34), REAR ADMIRAL HUGH RODMAN'S FLAGSHIP of the Overseas Fleet,...on Entering New York Harbor, Firing a Salute in Honor of the Secretary of War.
A "BLIMP" OF THE ATLANTIC FLEET SWINGING AT ANCHOR ABOVE THE MOTHER SHIP IN THE HUDSON
SEVEREL WOUNDED AMERICAN VETERANS MADE COMFORTABLE ON FIFTH AVENUE TO REVIEW THE PARADE OF THE RETURNING SAILORS

Text & photo courtesy of Times Photo Service, N.Y. Times, 5 January 1919, Page 6, courtesy of memory.loc.gov.
---
Post Civil War Era Monitors
Pre-Dreadnought Battleships
Post-Dreadnought / Newport Conference Design Battleships
Post-Dreadnought / Washington Conference Design Battleships
---
Additional Resources and Web Sites of Interest

THE PANAMA CANAL
THE INVISIBLE WONDER OF THE WORLD



MODEL WARSHIPS



PATENT LOG:
INNOVATIVE PATENTS THAT ADVANCED THE USN



MIDWAY
A FILM BY CHRIS JORDAN



RESEARCHER @ LARGE



---
Back To The Main Photo Index
Comments, Suggestions, E-mail Webmaster
This page was created by Paul Yarnall and is maintained by Michael Mohl
© 1996 - 2018, NavSource History All rights reserved.