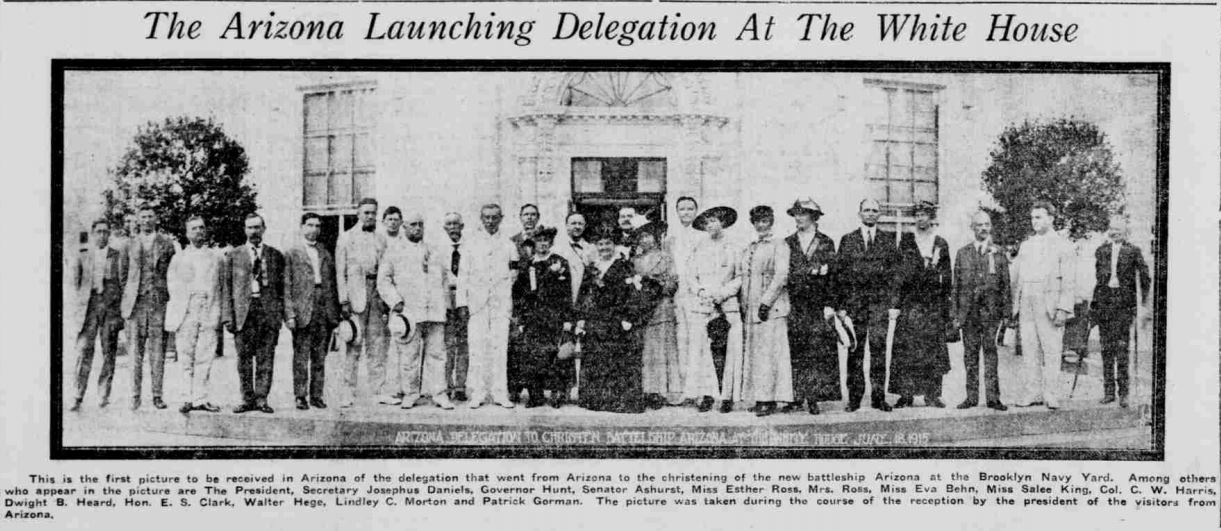 The Arizona (BB-39) Launching Delegation At The White House
This it the first picture to be received in Arizona of the delegation that went from Arizona to the christening of the new battleship Arizona at the Brooklyn Navy Yard. Among others who appear in the picture are The President, Secretary Josephus Daniels, Governor Hunt, Senator Ashurst, Miss Esther Ross, Mrs. Ross, Miss Eva Behn, Miss Salee King, Col. C. W. Harris, Dwight B. Heard, Hon. E. S. Clark, Walter Hege, Lindley C. Morton and Patrick Gorman. The picture was taken during the course of the reception by the President of the visitors from Arizona.

Image and text provided by Arizona State Library, Archives and Public Records; Phoenix, AZ.
Photo from Arizona Republican. (Phoenix, Ariz.) 1890-1930, 27 June 1915, Image 1, via chroniclingamerica.loc.gov.