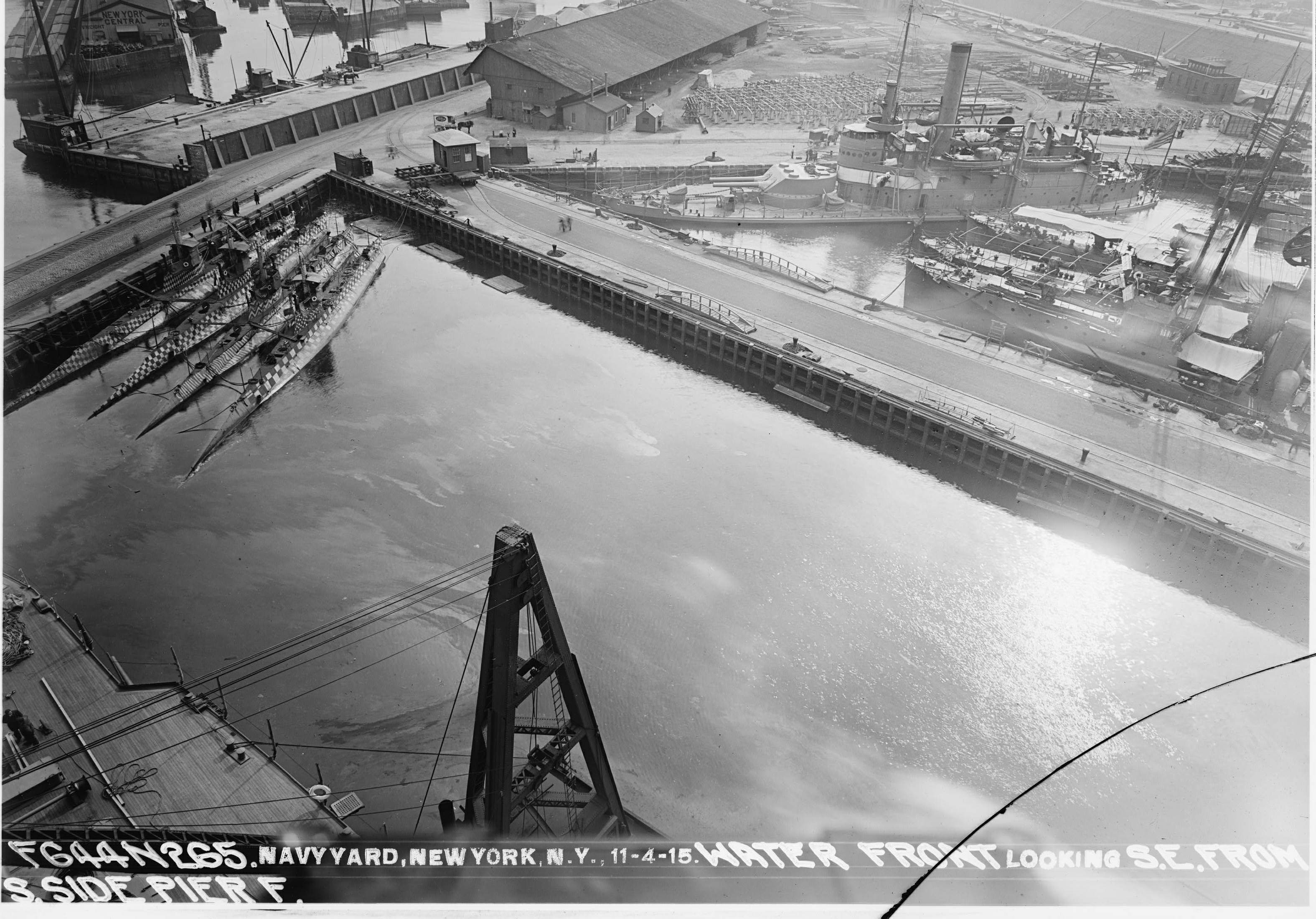 Brooklyn Navy Yard on 4 November 1915. Waterfront, Looking Southeast from South Side of Pier F:
Two former monitors, converted to submarine tenders appear one behind the other. The Tonopah (M-8) is most likely the 1st ship & the Ozark (M-7) the other.
Their charges are 4 K class submarines in camouflage; (in no particular order that can be determined here) K-1 (SS-32), K-2 (SS-33), K-5 (SS-36) & K-6 (SS-37).
What appear to be 3 submarines are moored port side of the Ozark in the photo here.

National Archives Identifier: 6880309
Agency-Assigned Identifier: F644 N266
Photo I.d. courtesy of Aryeh Wetherhorn & Ric Hedman.
Photo courtesy of catalog.archives.gov
---
Post Civil War Era Monitors
Pre-Dreadnought Battleships
Post-Dreadnought / Newport Conference Design Battleships
Post-Dreadnought / Washington Conference Design Battleships
---
Additional Resources and Web Sites of Interest

THE PANAMA CANAL
THE INVISIBLE WONDER OF THE WORLD



MODEL WARSHIPS



PATENT LOG:
INNOVATIVE PATENTS THAT ADVANCED THE USN



MIDWAY
A FILM BY CHRIS JORDAN



RESEARCHER @ LARGE



---
Back To The Main Photo Index
Comments, Suggestions, E-mail Webmaster
This page was created by Paul Yarnall and is maintained by Michael Mohl
©1996 - 2019, NavSource History All rights reserved.