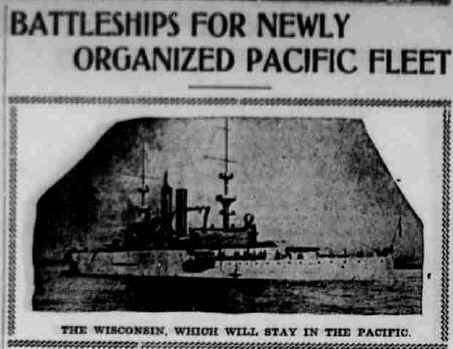 BATTLESHIPS FOR NEWLY ORGANIZED PACIFIC FLEET.
Three battleships and six armored cruisers of the first-class are the warships in sight for the nucleus of the consolidated United States commands in the Pacific ocean, which are hereafter to be known as the Pacific fleet. The battleships are the Oregon (BB-3) and the Wisconsin (BB-9), these two being out of commission, but could be gotten ready in a short time, and the Nebraska (BB-14), nearing completion at Seattle. The armored cruisers are the West Virginia, the Colorado and Pennsylvania and Maryland, now afloat, and the California and the South Dakota, nearly completed at San Francisco.

Image and text provided by University of Hawaii at Manoa; Honolulu, HI.
Photo & text by The Hawaiian Gazette.(Honolulu [Oahu, Hawaii]) 1865-1918, 29 March 1907, Image 6, courtesy of chroniclingamerica.loc.gov.
---
Post Civil War Era Monitors
Pre-Dreadnought Battleships
Post-Dreadnought / Newport Conference Design Battleships
Post-Dreadnought / Washington Conference Design Battleships
---
Additional Resources and Web Sites of Interest

THE PANAMA CANAL
THE INVISIBLE WONDER OF THE WORLD



BIGBADBATTLESHIPS



MODEL WARSHIPS



MIDWAY
A FILM BY CHRIS JORDAN



RESEARCHER @ LARGE



PATENT LOG:
INNOVATIVE PATENTS THAT ADVANCED THE USN



---
Back To The Main Photo Index
Comments, Suggestions, E-mail Webmaster
This page was created by Paul Yarnall and is maintained by Michael Mohl
© 1996 - 2014, NavSource History All rights reserved.