Please report any broken links or trouble you might come across to the Webmaster. Please take a moment to let us know so that we can correct any problems and make your visit as enjoyable and as informative as possible.
---
NavSource Online: Aircraft Carrier Photo Archive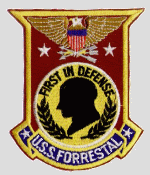 Courtesy of CAPT Gene Oleson, CHC, USN (Ret)
(bluejacket.com)
The Forrestal Fire,
July 29, 1967
Ship's Logs
Contributed by Ken Killmeyer, USS Forrestal Association Historian.
Aboard July 29, 1967.
---
---
August 1, 1967 (Tuesday)
Forrestal remained moored at Leyte Pier, Cubi Point, Naval Air Station, Subic Bay, Philippine Islands from 1 August 1967 through 10 August 1967 making preparations and needed repair for Forrestal's return to Norfolk, Virginia.
Work begins on patching the large holes in flight deck.
(Photo at left submitted by Robert M. Cieri.)
Photos by Michael Funderburg, USS Monticello (LSD-35)
(Click on any of the photos for a larger view)
Work begins to clean up the ship and prepare the ship for return to Norfolk.


Now, in the aftermath of the fire, the repair effort is being expanded to get Forrestal back in the Fleet. This is being handled just as efficiently as were launches and recoveries during Forrestal's five days in combat.

Just 57 hours after the fire, the first phase of the repair effort is underway. From shipyards throughout the United States estimators and planners met the ship when she pulled into Subic Bay. The estimators lost no time determining exactly how much damage had occurred and how much time would be needed to get the ship into condition for the return trip to Norfolk, Virginia.
---
August 11, 1967 (Friday)
With everything the Forrestal and crew have been through it is needless to say they were glad to depart Leyte Pier, Cubi Point Naval Air Station, Subic Bay, Philippines on 11 August 1967 enroute to Mayport, Florida.
On schedule, Forrestal got underway from Subic Bay with her flight deck patched so she could launch and recover aircraft if the necessity arose.


| | |
| --- | --- |
| Homeward bound: patches on deck and destroyer astern. | Notice that the round down area of the flight deck has been repainted for the transit home. |
| | USS Forrestal underway, some two weeks after the devastating fire off Vietnam. Official US Navy photo by PHC H.L. Wise, USN, available from the Defense Visual Information Center (DVIC id: DN-SC-04-09140.) |
---
August 14, 1967 (Monday)
From 11 August to 14 August 1967, steaming independently enroute from Subic Bay, Philippines to Mayport, FL, on course 161, speed 22 knots. SOPA is COMCARDIV TWO, RADM Harvey P. Lanham embarked in Forrestal. OTC is Captain John K. Beling Commanding Officer USS Forrestal.
| | |
| --- | --- |
| 0800 | The ships position as of 0800 is Latitude 03 degrees 51.5S, and Longitude 107 degrees 11.5E. |
| 1517 | Forrestal took tactical command of USS Chemung (AO-30). |
| 1743 | Maneuvering to take station astern of USS Chemung, manned all refueling stations. |
| 1806 | Alongside USS Chemung. |
| 1812 | First shot line over. |
| 1832 | Receiving first fuel hose on deck. |
| 1844 | Commence receiving fuel. |
| 1952 | Completed receiving JP-5. |
| 2155 | Completed receiving NSFO. |
| 2212 | Commence breakaway. |
| 2213 | Speed 16 knots. |
USS Chemung (AO-30), USS Dyess (DD-880), and USS Fiske (DD-842).
USS Fiske (DD-842) and USS Chemung (AO-30).
---
August 25, 1967 (Friday)
Today while steaming in company with USS Dyess (DD-880) and USS Fiske (DD-842) in the rough waters of the Indian Ocean Forrestal went alongside the British oiler RFA Tidesurge (A-98) to receive fuel for over eight hours.
Rough seas for RFA Tidesurge (A-98)
and USS Fiske (DD-842).
| | | |
| --- | --- | --- |
| Crewmen of RFA Tidesurge (A-98). | | |
---
August 31, 1967 (Thursday)
Forrestal conducted her second Shellback Initiation.
| | |
| --- | --- |
| | |
| | |
| | Second Shellback Initiation. |
---
---
---
Comments, Suggestions or Image submissions, E-mail Carrier Information
Problems and site related matters, E-mail Webmaster
This page was created and is maintained by Fabio Peña


Last update: 5 November 2010