NS0308004
10k
Petrof Bay was sponsored on Wednesday, January 5, 1944 by Mrs. J. G. Atkins, wife of Captain Atkins, executive officer of the Naval Air Station, Farragut, Idaho. Principal address was by Captain C. E. Ekstrom, Executive Officer, USN.
(From "Bo's'n's Whistle," Vol. 4, No. 2; January 28, 1944; pages 4–5.)
Courtesy of Ron Gough,
Bea Dee, Ltd.,
Kaiser Vancouver / Swan Island & Oregon Shipyards website


NS0308005
199k
Official US Navy photograph of USS Petrof Bay (CVE-80) underway, exact date and place unknown. The four-leaf shamrock symbol on its tail identifies the FM-2 Wildcat as assigned to Composite Squadron 93 (VC-93.) VC-93 operated from Petrof Bay between March 10 and May 30, 1945 in support of the invasion and capture of Okinawa.
Robert M. Cieri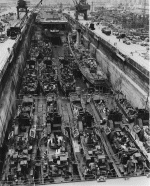 NS1015019205
4.91M
LCI(L)-192 drydocked at Long Beach Naval Shipyard during conversion to an LCI(G). She is in the drydock along with nine other LCIs, USS Petrof Bay (CVE-80) and USS Mustin (DD-413), circa June–August 1945.
Mustin departed Okinawa 28 May for Guam, Pearl Harbor, Eniwetok, and San Pedro, arriving 18 June for a yard overhaul and alterations. The war ended six days before she left San Pedro. On 19 June Petrof Bay moored at the Naval Operating Base, Terminal Island, San Pedro, for a general overhaul. Petrof Bay sailed for Pearl Harbor 14 August.
Larry Gauthier