Please report any broken links or trouble you might come across to the Webmaster. Please take a moment to let us know so that we can correct any problems and make your visit as enjoyable and as informative as possible.
---
NavSource Online: Escort Carrier Photo Archive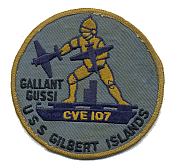 Contributed by Adam Lewis
USS GILBERT ISLANDS (CVE-107)
(later AKV-39; renamed Annapolis (AGMR-1))
Photo Collection of FT1 Mike Mitchell
via Adam Lewis

119Kb
NS-03-cve107-m01

How the GI's island appeared in 1953.

118Kb
NS-03-cve107-m02

A Corsair being brought up for launch on the forward elevator.

152Kb
NS-03-cve107-m03

The plane guard HUP helicopter (Piasecki HUP-2 Retriever, BuNo 128494, modex UR45, HU-2 "Fleet Angels") taking off.

185Kb
NS-03-cve107-m04

A Corsair (from a NAS New York Reserve Unit) starting its takeoff roll.

97Kb
NS-03-cve107-m05

A (NAS New York Reserve Unit) Corsair taking off.

144Kb
NS-03-cve107-m06

A Corsair making its landing approach.

144Kb
NS-03-cve107-m07

A Corsair catching the arresting wire.

169Kb
NS-03-cve107-m08

Corsairs (from a NAS New York Reserve Unit) being spotted on the forward flight deck.

242Kb
NS-03-cve107-m09

AF-2S and -2W Guardians from VS-36 "Gray Wolves."

227Kb
NS-03-cve107-m10

Fox Division shipmates on the flight deck during underway refueling. The rolled hats reflect the strong wind.

339Kb
NS-03-cve107-m11

Rope Yard Sunday (day off from work) at sea.

250Kb
NS-03-cve107-m12

Fox Division personnel sun bathing during Rope Yard Sunday.

"While on board USS Gilbert Islands (CVE-107) in 1954, a NAS Oceana-based squadron of Grumman F9F Cougar jets conducted a 'touch and go' exercise with the carrier. The ship was anchored in Chesapeake Bay at the time, with the screws turning only enough to keep the ship heading into the wind. To the best of my knowledge, this was the first and last time a hazardous jet aircraft 'touch and go' was attempted on a small CVE. The event is documented in the DANFS USS Gilbert Islands history. The event date was 9 June 1954. I always thought that the Cougar squadron was VF-61 the 'Jolly Rogers,' but I could never confirm it."


181Kb
NS-03-cve107-m13

F9F Cougar "touching down" on the flight deck.

165Kb
NS-03-cve107-m14

F9F Cougar "going" after touch down. Note the raised tail hook.
Photo Collection of LT Robert Graves
via his daughter, Marilynn Wright, and Adam Lewis

LT Robert G. Graves worked in the ship's Combat Information Center (CIC) as the Night Fighter Director during the last months of World War II. These are seldom seen CIC pictures.
---
---
Comments, Suggestions or Image submissions, E-mail Carrier Information
Problems and site related matters, E-mail Webmaster
This page was created and is maintained by Fabio Peña


Last update: 28 December 2018