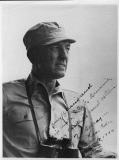 69k
Rear Admiral Thomas L. Sprague, COMCARDIV 22 aboard Sangamon.
Autograph reads:

"To my friend and shipmate, Dick Bennink, my thanks and esteem
T Sprague
Rear Adm
25 Oct, 1944"
(Photo courtesy Commander Richard A. Bennink).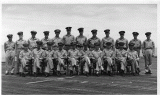 118k
Rear Admiral Thomas L. Sprague and his staff aboard USS Sangamon after the Battle of Leyte Gulf (photo is dated 10 November 1944).
Back row: Parader CCK, Owens CRM, Gardner CSM, Crawford CQM, Ens. Lathrop, Ens. Hoggard, Lt(jg) Noble, Lt Bergeson, Lt(jg) Lyness, Ens. Fagari, Ens. Hall, Cooksey CY.
Front row: Lt Van Dyke, Lt Olson, Lt Cmdr Bennink, Capt Carson, Rear Adm Sprague, Comdr Day, Lt Rowland, Lt McDuell, Lt Goodman, Lt Sandberg.