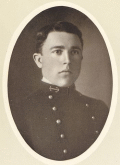 0529305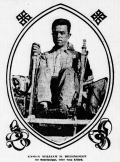 0529315




0529314


5k
Born in Winona, Mississippi on 24 April 1887, William Devotie Billingsley was appointed to the US Naval Academy from his native state in April 1905, entering the Academy 05 July 1905. He was graduated with the Class of 1909 on 04 June of that year and served the two years at sea then required by law, as a Passed Midshipman aboard West Virginia (Armored Cruiser No. 5) on Pacific Station, and Petrel (Gunboat No. 2) on Special Service on the Atlantic. He was commissioned Ensign, to date from 05 June 1911, and in May 1912 was transferred to Nebraska (Battleship No. 14).

Billingsley was ordered in November 1912 to return to the Naval Academy for duty in connection with aviation, reporting to the Aviation Camp in Annapolis to train on the Wright B-2 aircraft on 02 December 1912. Upon completion of instruction he was designated Naval Aviator No. 9. On 06 January 1913, the aviation group went to Guantanamo Bay, Cuba, to train with fleet ships in scouting missions, searching for submarines, bombing runs, aerial photography, as well as to accustom fleet personnel with working with aircraft. It was the first aviation base for naval operations with the fleet. Earlier experiments with modifying aircraft into "hydroaeroplanes" had been going on since early 1911; that project was now extended to the B-2 biplane. In the early spring of 1913, the aviation group returned to Annapolis.

On 20 June 1913, Billingsley departed from the Aviation Station near Annapolis in the hydroaeroplane B-2 on a trial run. He carried Lieutenant John Towers as a passenger, taking off in the morning at about 10 AM for Claiborne, on Maryland's eastern Shore, eighteen miles from Annapolis. A Curtiss machine, crewed by Ensign Godfrey DeC. Chevalier and Lieutenant Isaac F. Dortch, also took the trip to observe the flight. They were followed at a distance of several miles by a launch containing Chief Electrician Dallas L. Bronson, a mechanic at the camp; F. Killian, a seaman, and Nial F. Twigg, a student of St. John's College and friend of Ensign Billingsley. From an account by Lieutenant Towers and the other aviators in the flight, Billingsley's aircraft hit some turbulence about four miles off Kent Island and the nose dropped abruptly, lurching forward and down. Billingsley slipped from the wing and through the forward supports, his body damaging the rigging and causing the upper wing to fold down, putting the aircraft into a descent. Towers also slipped from the wing, but fortunately caught a strut or cable with his arm, and clung to the airplane as it fell toward the water, sixteen hundred feet below. The aircraft stabilized momentarily before hitting the water and Lieutenant Towers took the chance to leap clear of the aircraft before it crashed. He survived the water entry and was picked up by onlookers. Ensign Billingsley's body was found in the Chesapeake Bay on 27 June near Kent Island by the crew of schooner T.R. Creamer and was returned home to Winona, Mississippi, for burial. He was the first American naval aviator killed in the line of duty.

0529305: Photo of William D. Billingsley as a midshipman, from the 1909 Lucky Bag.
0529315: Image of Ensign Billingsley at the controls of a hydroaeroplane, from Washington, DC Evening Star, 21 June 1913.
0529314: Image of Ensign Billingsley's grave in Oakwood Cemetery, Winona, Mississippi.
Dave Wright