[1]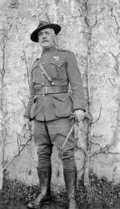 [2]
[1] 55k




[2] 16k
Henry Lewis Hulbert was born 12 January 1867 in Kingston-upon-Hull, England, the first son of a wine merchant. After an education at the prestigious Felsted School, he joined the Colonial Service at age 18, serving as Assistant Engineer of the Public Works Department of the State of Perak in Malaya. At 21 he married the sister of a senior British colonial official and had a daughter. Unfortunately in 1897 he was caught having an affair with his wife's sister. Hulbert instantly became a pariah. Dismissed from the colonial service, he lost everything in the ensuing divorce, and was ordered to leave Malaya. First journeying to the Yukon goldfields, he found little luck and worked his way south to San Francisco. Here Hulbert, at age 31, enlisted in the Marine Corps as a Private at Mare Island, CA, 28 March 1898.

As part of the Marine contingent aboard cruiser Philadelphia, he was awarded the Medal of Honor for refusing to desert disabled comrades in the face of heavy fire during an action on Samoa, 01 April 1899. Part of a joint British-American anti-insurgent operation, Hulbert's force was ambushed by a heavily armed party of Samoans and quickly became embroiled in a firefight. Leading the Americans were Navy Lieutenants Philip V. Lansdale, assisted by Ensign John Monaghan and Marine 1st Lieutenant Constantine Perkins. The column began to withdraw to the beach, and Perkins ordered Hulbert and Sergeants Michael McNally and Bruno Fosterer to defend an opening in a fence through which the column had to funnel to reach relative safety. Last to reach the fence were Lansdale and Monaghan, who were cut down within yards of Hulbert. Hulbert rushed to aid them, but seeing they were dead and wounded himself, he fought his way back to the fence and covered the two sergeants as they crossed. Out of ammunition, Hulbert used his rifle as a club before seeing his chance and escaping.

Promoted to Corporal the next day, Hulbert advanced through the enlisted ranks so that on the eve of America's entry into the world war, he held the rank of Sergeant Major. He was discharged to accept an appointment (at age fifty) as Marine Gunner, the first Marine to hold that rank, 28 March 1917. Initially assigned to Marine Corps Headquarters in Washington, Hulbert traveled overseas with the HQ Company, 5th Marine Regiment, arriving on French soil 03 July 1917. Initially assigned to safer clerk duties, Hulbert insisted on and received front line duty as a platoon leader of the 66th Company. During the Battle of Chateau Thierry, 06 June 1918, despite serious wounds, he directed his platoon in a successful attack and received the Distinguished Service Cross for his heroism. Appointed Second Lieutenant for his extraordinary service, and immediately promoted to First Lieutenant, Hulbert was killed by enemy machine gun fire on Blanc Mont Ridge 04 October 1918. Captain John W. Thomason saw him fall and noted the peaceful look on his face. Whatever sins he had committed in the face of society, Henry Hulbert had redeemed himself. He was posthumously awarded the Navy Cross and the French Croix de Guerre with palm, and is now interred in his adopted country at Arlington National Cemetery.

This article is based mainly on Hulbert's Marine Corps' records and genealogy, as well as the article "Private Henry L. Hulbert - the Gentleman Marine" by Stephen Harding, Military History, November 2010. Please note the DANFS entry has several inaccuracies.

[1] Photo from USMC History Division. [2] Hulbert in France, 1917. Library of Congress photo via Wikipedia.
Dave Wright

35k
On 07 December 1941, Seaman 2nd class Marion Ray Kesler, a cook's helper, was standing on the deck of Hulbert at the Submarine Base at Pearl Harbor, talking with the cook, Wally Martenson, when they heard and saw the Japanese planes "coming in out of the sun". As the ship's alarm didn't work, Kesler ran below to tell the crew, who just laughed at him. That is, until the deck antiaircraft batteries above them opened up. Kesler spent the rest of that morning's attack loading .50-caliber cartridges into a belt that was then fed into the machine gun. In the photo, Kesler (third from left, with the hat clearly marked Hulbert) and other survivors listen as Taps is played during the Pearl Harbor Day ceremony in the rotunda of the Utah State Capitol on Wednesday, 07 December 2011.
Photo by Laura Seitz, Deseret News
Brian Baird