NavSource Online: Submarine Photo Archive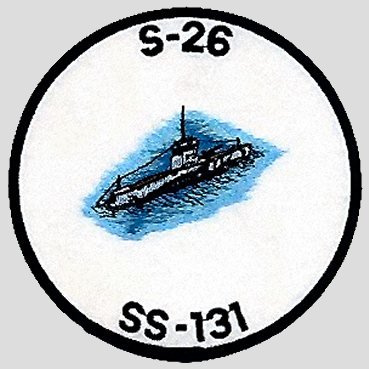 Contributed by Mike Smolinski
S-26 (SS-131)

---
S-1 Class Submarine (Holland-type): Laid down, 7 November 1919, at Bethlehem Shipbuilding Corp., Quincy, MA.; Launched, 22 August 1922; Commissioned, USS S-26 (SS-131), 15 October 1923; Sunk by collision with PC-460, January 24, 1942 in the Gulf of Panama about 14 miles west of San Jose Light in three hundred feet of water.
I have been informed that the Panamanian Periodical, La Estrella de Panama, has written that divers descended 25 times and that they could not open the hatchway of the bridge and that the further work was canceled in February 1942.
The S-26 was found in 300 feet of water on 27/01/2017 by Tiburon Subsea Services Inc.
Struck from the Naval Register, (date unknown); Final Disposition, hull not salvaged.
Partial data submitted by Aldrin Carranza & Yves Hubert. Specifications: Displacement, Surfaced: 854 t., Submerged: 1,062 t.; Length 219' 3" ; Beam 20' 8"; Draft 15' 11"(mean); Depth Limit 200'; Speed, Surfaced 14.5 kts, Submerged 11 kts; Complement, 4 Officers, 34 Enlisted; Armament, four 21" torpedo tubes, 12 torpedoes, one 4"/50 deck gun; Propulsion, diesel-electric, New London Ship & Engine diesel engines, HP 1200, Fuel Capacity, 41,192 gals.; Ridgeway Dynamo & Electric Co., electric motors, Battery Cells, 120, twin propellers.
---
Click On Image
For Full Size Image
Size
Image Description
Source
54k
S-26 (SS-131) slides down the launching ways at Bethlehem Shipbuilding Corp., Quincy, MA., 22 August 1922.
USN photo courtesy of MMCM (SS) Greg Peterman USN Retired.
105k
Tied up along the dock from left to right:S-21 (SS-126), S-23(SS-128) and S-26 (SS-131) at Groton CT., 4 May 1923.
USN photo # 19-N-10270, from the National Archives and Records Administration (NARA), courtesy of Daniel Dunham.
103k
S-26(SS-131) & S-35 (SS-140) on a cruise to the West Indies, circa January - February 1924. They are shown at Target Bay on the island of Culebra.
Photo courtesy of Robert M. Cieri.
43k
S-26 (SS-131) entering Pearl Harbor, circa 1924-38.
Photo courtesy of Hyperwar US Navy in WWII.
900k
I included the original Mare Island Public Works photo (above) which show waterfront paving work at the yard on 25 June 1925 and a cropped view of the S class submarine on the far left of the photo.
"Prison labor" means that the prisoners from Mare Island Naval Brig were doing the work, another story of the yard not often told.
Shipyard journals of the period indicate that the submarine in the foreground is S-33 (SS-138) and she was in overhaul at the yard from 1 September 1924 until 3 October 1925. You will note the temporary access patch over her engine room. The six boats in the background are S-24 (SS-129), S-25 (SS-130), S-26 (SS-131), S-27 (SS-132), & S-28 (SS-133) & S-29 (SS-134), all arrived at the yard on 24 June 1925 along with Savannah (AS-8). It appears the photo was taken from the stern of the Savannah.
Vallejo Naval & Historical Museum photo courtesy of Darryl L. Baker.
Photos added 01/01/18.
731k
All the boats in the image are S-boats.
On the left is the S-9 (SS-114). The next is probably S-24 (SS-129). All of the rest are 20 series boats. The boat in the background IS NOT the S-2 (SS-106). It is a 20 series like the others. The last digit in the boat's name is obscured by the torpedo davit on the boat in the middle.
As for a location, the pier in the background looks like some images I have seen of San Pedro, California. Although the fact that this came from the New York Daily News Archive seems to indicate the Brooklyn Navy Yard or some location in the city.
I can't see the stern of any of the boats. This helps in dating the photo. It appears that the aft skeg of the S-24 is still in place and there are no post S-4 (SS-109) safety modifications so this would indicate that the photo was taken in the mid to late 1920's, but this is only a rough guess.
Photo & text i.d. courtesy of Dave Johnston (USNR).
Photo by NY Daily News Archive via Getty Images, courtesy of gettyimages.com.
163k
Port quarter view looking to aft end of the S-26 (SS-131) & S-25 (SS-130), in Mare Island dry dock about 1926-28.
Photo courtesy of Phil Lucy.
108k
S-25 (SS-130), and S-26 (SS-131) in dry-dock, circa 1926-28, at Mare Island.
Photo courtesy of Phil Lucy.
345k
S-26 (SS-131) probably at San Diego harbor, circa 1927-30. The vessel in the background appears to be the Tern(AM-31).
USN photo courtesy of Angie Mattke. Partial text courtesy of DANFS.
91k
S-26 (SS-131) entering San Diego harbor, circa 1930's.
Photo courtesy of Ric Hedman.
110k
E.B.'s S-26 (SS-131), shown in the early 1930's, was one of the company's first series S-18-41. She had been modified for greater safety, with an escape hatch installed in her motor room aft and her skeg cut away to clear it.
Some S-boats were not so modified until they were reconditioned in 1941. The underwater blister visible forward contained a passive array (MV-tube), that replaced the earlier Y-tube. The SC tube, with its guard, is visible on deck. About 1935, JK, in a round housing, began to be installed atop the SC.
This arrangement was standard by 1941. The conning tower periscope was removed in the mid 1920's. The heavy cables suspended from the deck and from the A-shears atop the conning tower fairwater comprise the loop radio antenna.
At the outbreak of the war in 1941, S-26 was assigned to Coco Solo in the Canal Zone, she was rammed accidentally on 24 January 1942.

Drawing by Jim Christley. Text courtesy of U.S. Submarines Through 1945, An Illustrated Design History by Norman Friedman. Naval Institute Press.

152k
S-26 (SS-131), date and place unknown.
USN photo courtesy of Joe Radigan, MACM, USN Ret.
450k
Submarines S-47 (SS-158), S-32 (SS-137), S-26 (SS-131) & Argonaut (SS-166) in Honolulu Harbor in 1936. Notice Aloha Tower in the background.
Notice that all the S-boats have the post S-4 (SS-109) accident messenger buoy modifications to their stern, and how deeply in the water the stern light sits, making visibility of this light problematic in anything but glass calm seas.
Partial text & i.d. courtesy of David Johnston (USNR). Photo by Edward Cwalinski, submitted by Barry Litchfield.
18k
Commemorative post mark from S-26's (SS-131) partial decommissioning while being placed in Commission in Reserve, 13 March 1939.
Curtesy of Jack Treutle.
135k
S-26 (SS-131) was proceeding from Balboa, Canal Zone, to its patrol station in company with S-21 (SS-126), S-29 (SS-134) and S-44 (SS-155) and an escort vessel, PC-460, at the time of the disaster. At 2210 the escort vessel sent a visual message to the submarines that she was leaving the formation and that they could proceed on the duty assigned.S-21 was the only boat to receive the message. Shortly thereafter PC-460 struck S-26 on the starboard side of the Torpedo Room and the submarine sank within a few seconds.
Salvage operations started immediately under Captain T.J. Doyle, USN, Commanding SubRon3 and Submarine Base, Coco Solo, Canal Zone; they were not successful.
Photo courtesy of Bob Daly/PC-1181. Text courtesy of ussubvetsofworldwarii.org.
83k
Google Earth satellite photo of the location where the S-26 (SS-131) was lost, in the Gulf of Panama about 14 miles west of San Jose Light.
I have been informed that the Panamanian Periodical, La Estrella de Panama, has written that divers descended 25 times and that they could not open the hatchway of the bridge and that the further work was canceled in February 1942.
View courtesy of Google Earth.
Text i.d. courtesy of Aldrin Carranza.
163k
Commemorative photo in honor of the memory of the S-26 (SS-131).
Photo courtesy of Tom Kermen. Dante's Prayer courtesy of Loreena McKennitt via quinlanroad.com.
117k
Joyce DaSilva, the wife of Jesse DaSilva of the Tang (SS-306), one of the nine survivors of the boat, tosses a flower into a reflecting pool to honor the memory of one of the 52 submarines lost during World War II at the National Submarine Memorial-West on board Naval Weapons Station Seal Beach, Calif. On this Veterans Day, the Submarine Veterans of World War II transferred ownership of the memorial to the U.S. Navy.

The following text is from The Coming Fury by Bruce Catton., pg. 478.
"Major Sullivan Ballou of Rhode Island was killed in the battle, and just before it he had wrote to his wife, Sarah, to tell her that he believed he was going to be killed and to express a tremulous faith that could see a gleam of light in the dark:
"But O Sarah! If the dead can come back to this earth and float unseen around those they loved, I shall always be near you in the gladdest days and in the gloomiest nights, always, always, and if there be a soft breeze upon your chest it shall be my breath, as the cool air fans your throbbing temple it shall be my spirit passing by. Sarah, do not mourn me dead; think I am gone and wait, for we shall meet again!"
Text i.d. courtesy of Marlynn Starring. Photo i.d. courtesy of Chuck Senior, Vice Commander, Los Angeles-Pasadena Base, USSVI.
USN photo # N-1159B-021 by Journalist 2nd Class Brian Brannon, courtesy of news.navy.mil.
229k
Sidescan sonar image of the S-26 (SS-131),STB 9.

In Memorium:

In the Second Book of Shmuel (Samuel), 22nd chapter, 5th through the 20th verses, translated from the original in Hebrew and published by the Koren Publishers of Jerusalem, Israel 1982, can perhaps aptly describe the fate of the crew and all other U.S. submariners who died defending their county:

"When the waves of death compassed me / the floods of ungodly men made me afraid; / the bonds of She'ol encircled me; / the snares of death took me by surprise; / in my distress I called upon the Lord, / and cried to my G-D: / and he heard my voice out of his temple, / and my cry entered into his ears. / Then the earth shook and trembled; /the foundations of heaven moved / and shook because of his anger /...the heavy mass of waters, and thick clouds of the skies /... And the channels of the sea appeared, / the foundations of the world were laid bare, / at the rebuking of the Lord, at the blast at the breath of his nostrils. / He sent from above, he took me; / he drew me out of many waters; / he delivered me from my strong enemy, and from those who hated me; for they were too strong for me. / They surprised me in the day of my calamity: / but the Lord was my stay..."

Photo & accompanying PDF courtesy of hydro-international.com.
PDF added 01/02/18.
---
View the S-26 (SS-131)
DANFS history entry located on the Haze Gray & Underway .
---
Crew Contact And Reunion Information
U.S. Navy Memorial Foundation
Fleet Reserve Association

---
Additional Resources and s of Interest
On Eternal Patrol
ComSubPac Report of loss of USS S-26 (SS 131) January 24, 1942 - 46 Men Lost
PigBoats.COM TM A Historic Look at Submarines
---
Problems and site related matters, E-mail Webmaster.

This page is created by Gary Priolo and maintained by Michael Mohl
©1996 - 2018, NavSource History All rights reserved.