NavSource Online: Submarine Photo Archive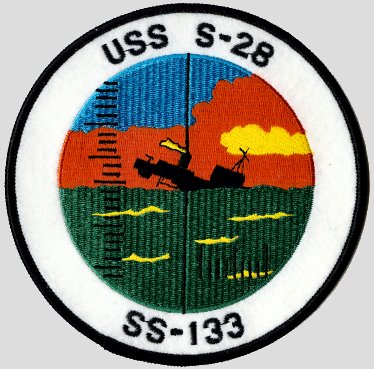 Contributed by Don McGrogan, BMCS, USN (ret.)
S-28 (SS-133)




Radio Call Sign: November - India - November - Sierra

---
S-1 Class Submarine (Holland-type): Laid down, 16 April 1919, at Bethlehem Shipbuilding Corp., Quincy, MA.; Launched, 20 September 1922; Commissioned, USS S-28 (SS-133), 13 December 1923; Lost at sea, last contract made with S-28, 4 July 1944, with USCGC Reliance (WSC-150); A Court of Inquiry was unable to determine the cause of her loss. S-28 was awarded one battle star for her services in World War II.
Her wreck was found in over 8.500 feet of water in December 2017 by tiburonsubsea.com. Specifications: Displacement, Surfaced: 854 t., Submerged: 1,062 t.; Length 219' 3" ; Beam 20' 8"; Draft 15' 11"(mean); Depth Limit 200'; Speed, Surfaced 14.5 kts, Submerged 11 kts; Complement, 4 Officers, 34 Enlisted; Armament, four 21" torpedo tubes, 12 torpedoes, one 4"/50 deck gun; Propulsion, diesel-electric, New London Ship & Engine diesel engines, HP 1200, Fuel Capacity, 41,192 gals.; Ridgeway Dynamo & Electric Co., electric motors, Battery Cells, 120, twin propellers.
---
Click On Image
For Full Size Image
Size
Image Description
Source
379k
S-24 (SS-129), S-25 (SS-130) & S-28 (SS-133) at Groton, CT, 4 May 1923.
USN photo # 19-N-10271, from the National Archives and Records Administration (NARA), courtesy of Daniel Dunham.
105k
Savannah (AS-8) with five submarines alongside, during the 1920s. S-24 (SS-129) is the inboard submarine on Savannah's port side. Those moored to her starboard side are (from inboard to outboard): S-27 (SS-132), S-20 (SS-125) and S-28 (SS-133).
USN photo # NH 72921 from the collections of the US Naval Historical Center, photo donated to the US Naval Historical Center by LT. Gustave Freret, USN (Retired), 1970.
900k
I included the original Mare Island Public Works photo (above) which show waterfront paving work at the yard on 25 June 1925 and a cropped view of the S class submarine on the far left of the photo.
"Prison labor" means that the prisoners from Mare Island Naval Brig were doing the work, another story of the yard not often told.
Shipyard journals of the period indicate that the submarine in the foreground is S-33 (SS-138) and she was in overhaul at the yard from 1 September 1924 until 3 October 1925. You will note the temporary access patch over her engine room. The six boats in the background are S-24 (SS-129), S-25 (SS-130), S-26 (SS-131), S-27 (SS-132), & S-28 (SS-133) & S-29 (SS-134), all arrived at the yard on 24 June 1925 along with Savannah (AS-8). It appears the photo was taken from the stern of the Savannah.
Vallejo Naval & Historical Museum photo courtesy of Darryl L. Baker.
Photos added 01/01/18.
731k
All the boats in the image are S-boats.
On the left is the S-9 (SS-114). The next is probably S-24 (SS-129). All of the rest are 20 series boats. The boat in the background IS NOT the S-2 (SS-106). It is a 20 series like the others. The last digit in the boat's name is obscured by the torpedo davit on the boat in the middle.
As for a location, the pier in the background looks like some images I have seen of San Pedro, California. Although the fact that this came from the New York Daily News Archive seems to indicate the Brooklyn Navy Yard or some location in the city.
I can't see the stern of any of the boats. This helps in dating the photo. It appears that the aft skeg of the S-24 is still in place and there are no post S-4 (SS-109) safety modifications so this would indicate that the photo was taken in the mid to late 1920's, but this is only a rough guess.
Photo & text i.d. courtesy of Dave Johnston (USNR).
Photo by NY Daily News Archive via Getty Images, courtesy of gettyimages.com.
56k
S-28 (SS-133), probably in San Diego harbor during the late 1920's.


USN photo / goatlocker.exis.net
296k
S-28 (SS-133) with the S-23 (SS-128) dressed up for her part in the 1933 movie "Hell Below" wearing the fictional "AL-14" for Hollywood and country.
Text & Photo i.d. courtesy of Ric Hedman.
USN photo courtesy of Scott Koen & ussnewyork.com.
314k
Brief history of S-28 (SS-133) and others of her class.
Photo courtesy of ussnewyork.com.
115k
Dockside view of the S-28 (SS-133), in San Diego sometime during the mid-to-late thirties.
Courtesy of Desda Allnut, from the Allnut estate. Submitted by Kenneth T. Wilhite, Jr.
73k
An 1942 oil painting on board, by the artist William F. Draper entitled "Sub and Yippy Tie Up."
In a quiet inlet of the Bering Sea in 1942, a YP boat gets a coat of paint and an S-boat ties up for fuel and provisions. The short Alaskan day is ending and lights may be seen in the barracks until total darkness requires a blackout.
The S-boats that served in the Aleutians theater were:
S-18 (SS-123),
S-23 (SS-128),
S-27 (SS-132),
S-28 (SS-133),
S-30 (SS-135),
S-31 (SS-136),
S-32 (SS-137),
S-33 (SS-138),
S-34 (SS-139),
S-35 (SS-140),
S-36 (SS-141),
S-40 (SS-145),
S-41 (SS-146),
S-42 (SS-153),
S-44 (SS-155),
S-45 (SS-156),
S-46 (SS-157), &
S-47 (SS-158).
Sub and Yippy Tie Up by William F. Draper.
Painting #13 / 88-189-N. Courtesy of the USNHC.
108k
Near Seattle Washington, the S-28 (SS-133) appears here in a head on view while doing 10 knots on 10 June 1943.
USN photo # 1615-43, courtesy of Tracy White @ Researcher @ Large.
62k
Near Seattle Washington, the S-28 (SS-133) appears here while directly astern on 10 June 1943.
USN photo # 1615-43, courtesy of Tracy White @ Researcher @ Large.
68k
S-28 (SS-133) port side amidships, 11 June 1943 at time of inclining experiment while at Puget Sound Navy Yard.
USN photo # 1615-43, courtesy of Tracy White @ Researcher @ Large.
118k
S-28 (SS-133), underway through Puget Sound Navy Yard, 24 June 1943 after a refit. She was typical of early E.B.("Holland") S-boats (S-18-41) modernized from late 1942 on, with surface-search radar (SJ) but without air search (SD) sets.
In some cases modernization came in two stages: first urgent items such as SJ radar & keel sonar, then structural items such as the 20-mm gun, elimination of the marker buoy aft, & air conditioning.
Partial text courtesy of U.S. Submarines Through 1945, An Illustrated Design History by Norman Friedman. Naval Institute Press.
Photo # 80-G-176129 from NARA, College Park, Maryland, courtesy of Sean Hert.
80k
S-28 (SS-133), underway through Puget Sound Navy Yard. 24 June 1943. Broadside view, starboard side.
Courtesy of ussubvetsofworldwarii.org.
64k
S-28 (SS-133) underway through Puget Sound Navy Yard, 24 June 1943 after a refit.
USN photo.
14k
Jack Gordon Campbell, Lieutenant Commander (Commanding Officer) of the S-28 (SS-133) at the time of her loss.
USN photo courtesy of oneternalpatrol.com.
43k
Google Earth satellite photo of the area off of Honolulu where the S-28 (SS-133) was at the time of her loss.
View courtesy of Google Earth.
42k
Commemorative photo in honor of the memory of the S-28 (SS-133).
Photo courtesy of Tom Kermen. Dante's Prayer courtesy of Loreena McKennitt via quinlanroad.com.
117k
Joyce DaSilva, the wife of Jesse DaSilva of the Tang (SS-306), one of the nine survivors of the boat, tosses a flower into a reflecting pool to honor the memory of one of the 52 submarines lost during World War II at the National Submarine Memorial-West on board Naval Weapons Station Seal Beach, Calif. On this Veterans Day, the Submarine Veterans of World War II transferred ownership of the memorial to the U.S. Navy.

The following text is from The Coming Fury by Bruce Catton., pg. 478.
"Major Sullivan Ballou of Rhode Island was killed in the battle, and just before it he had wrote to his wife, Sarah, to tell her that he believed he was going to be killed and to express a tremulous faith that could see a gleam of light in the dark:
"But O Sarah! If the dead can come back to this earth and float unseen around those they loved, I shall always be near you in the gladdest days and in the gloomiest nights, always, always, and if there be a soft breeze upon your chest it shall be my breath, as the cool air fans your throbbing temple it shall be my spirit passing by. Sarah, do not mourn me dead; think I am gone and wait, for we shall meet again!"
Text i.d. courtesy of Marlynn Starring. Photo i.d. courtesy of Chuck Senior, Vice Commander, Los Angeles-Pasadena Base, USSVI.
USN photo # N-1159B-021 by Journalist 2nd Class Brian Brannon, courtesy of news.navy.mil.
103k

BREAKING NEWS:
S-28 (SS-133) Discovered Off Hawaii
Bathymetric Image of S-28 on slope.

In Memorium:

In the Second Book of Shmuel (Samuel), 22nd chapter, 5th through the 20th verses, translated from the original in Hebrew and published by the Koren Publishers of Jerusalem, Israel, 1982, can perhaps aptly describe the fate of the crew and all other U.S. submariners who died defending their county:

"When the waves of death compassed me / the floods of ungodly men made me afraid; / the bonds of She'ol encircled me; / the snares of death took me by surprise; / in my distress I called upon the Lord, / and cried to my G-D: / and he heard my voice out of his temple, / and my cry entered into his ears. / Then the earth shook and trembled; /the foundations of heaven moved / and shook because of his anger /...the heavy mass of waters, and thick clouds of the skies /... And the channels of the sea appeared, / the foundations of the world were laid bare, / at the rebuking of the Lord, at the blast at the breath of his nostrils. / He sent from above, he took me; / he drew me out of many waters; / he delivered me from my strong enemy, and from those who hated me; for they were too strong for me. / They surprised me in the day of my calamity: / but the Lord was my stay / He brought me forth also into a large place: / he delivered me because he delighted in me./"
Photo courtesy of tiburonsubsea.com
---
View the S-28 (SS-133)
DANFS history entry located on the Haze Gray & Underway Web Site.
---
Crew Contact And Reunion Information
U.S. Navy Memorial Foundation
Fleet Reserve Association

---
Additional Resources and Web Sites of Interest
On Eternal Patrol
ComSubPac Report of loss of USS S-28 (SS 133) July 4, 1944 - 49 Men Lost
PigBoats.COM TM A Historic Look at Submarines
---
Problems and site related matters, E-mail Webmaster

This page is created by Gary Priolo and maintained by Michael Mohl
©1996 - 2018, NavSource History All rights reserved.