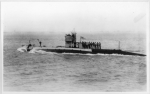 86k
H-8 (SS-151) on maneuvers, off San Pedro, 1918, where she was attached first to SubDivs 6 and 7. Operating with her sister ships, H-8 engaged in extensive battle and training exercises out of San Pedro, varying this routine with patrols off Santa Catalina Island. Note the ship's offficers in the conning tower and the crew on deck.

US Navy photo # 19-N-20293, from (NARA), courtesy of Daniel Dunham. Text courtesy of DANFS.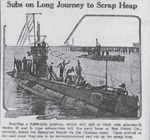 977k
Starting a 5,000-mile journey, which will end at their own graveyard,twelve H and L type submarines left the Navy base at San Pedro, CA, recently, bound for Hampton Roads, VA. through the Panama Canal. Upon arrival on the East coast they are to be decommissioned and cut up for scrap iron.
Ten of the boats were:
H-2 (SS-29),
H-3 (SS-30),
L-6 (SS-45),
L-7 (SS-46),
H-4 (SS-147),
H-5 (SS-148),
H-6 (SS-149),
H-7 (SS-150),
H-8 (SS-151),
H-9 (SS-152).

Image and text provided by University of Utah, Marriott Library.
Photo from The Lehi Sun. (Lehi, Utah) 1913-1949, 17 August 1922, Image 4, courtesy of chroniclingamerica.loc.gov.
PDF added 03/11/11.