Please report any broken links or trouble you might come across to the Webmaster.
Please take a moment to let us know so that we can correct any problems and make your visit as enjoyable and as informative as possible.
---
NavSource Online: Submarine Photo Archive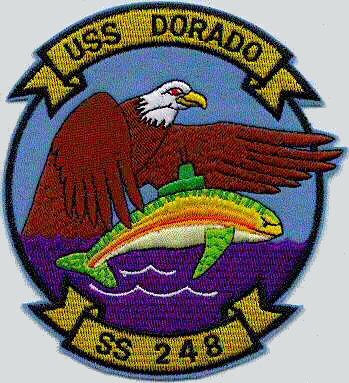 Patch contributed by Mike Smolinski
Dorado (SS-248)
The Search

---
To Additional Pages
Keel Laying - Sinking
Abbott Collection of Submarine Paintings of the Dorado
USCS Log
---
Gato Class Submarine: Laid down, 27 August 1942, at Electric Boat Co., Groton, CT.; Launched, 23 May 1943; Commissioned USS Dorado (SS-248), 28 August 1943; Final Dispostion, lost at sea while in transit from New London, CT. to the Panama Canal; Struck from the Naval Register, (date unknown). Specifications: Displacement, Surfaced: 1,526 t., Submerged: 2,424 t.; Length 311' 9"; Beam 27' 3"; Draft 15' 3"; Speed, Surfaced 20.25 kts, Submerged 8.75 kts; Complement 6 Officers 54 Enlisted; Operating Depth, 300 ft; Submerged Endurance, 48 hrs at 2 kts; Patrol Endurance 75 days; Cruising Range, 11,000 miles surfaced at 10 kts; Armament, ten 21" torpedo tubes, six forward, four aft, 24 torpedoes, one 3"/50 deck gun, two .50 cal. machine guns, two .30 cal. machine guns; Propulsion, diesel electric reduction gear with four General Motors main generator engines, 5,400HP, Fuel Capacity, 97,140 gal., four General Electric main motors, 2,740HP, two 126-cell main storage batteries, twin screws.
---
Click On Image
For Full Size Image
Size
Image Description
Source
304k
Google Earth satellite photo of the site and surrounding islands of Dorado's (SS-248) last known position (based on reports from the flight crew of the plane that bombed her, thinking she was a U-Boat) was 15 18'N, 073 13'W.(More or less near the letter a of the Caribbean Sea on the map)
After the war the U-boat logs were turned over to the Allies and translated into English. The U-boat that was attacked by the same aircrew was the aircrew's second attack but the U-Boat's first. The U-boat log says that they saw a bright light on the horizon at exactly the same time that the PBM dropped a flare after bombing another sub - Dorado. Now, where Dorado sank is another problem as there were no oil slicks or debris found at the location. The oil slick they thought they found turned out to be "oleous in nature" - rotting vegetation (seaweed) as discussed in the Court of Inquiry. But her datum is right in the middle of the Caribbean, having passed through Mona Passage and was supposed to be on a course of 243 degrees taking her directly to the Panama Canal.
View courtesy of Google Earth. Text courtesy of Douglas E. Campbell, Ph.D. President & CEO Syneca Research Group, Inc. & ussdorado.com.
304k
A view of the Dorado (SS-248) at a fitting-out pier where technicians install interior equipment.
Note the ship's bell.
PDF on the Summer 2007 expedition on the search for the Dorado (SS-248).
Photo from the Photo Essay How To Build A Submarine at Electric Boat Co. New London, Conn.
Photographer: Bernard Hoffman, courtesy of Life.
PDF courtesy of Dr. Douglas Camp.
---
View the Dorado (SS-248)
DANFS history entry located on the Haze Gray & Underway Web Site.
---
Crew Contact And Reunion Information
Not Applicable to this Vessel
---
Additional Resources and Web Sites of Interest
On Eternal Patrol
ComSubPac Report of loss of USS DORADO (SS 248) October 12, 1943 - 77 Men Lost
In Search of the U.S.S. Dorado (SS-248)
U.S.S. Dorado (SS-248)
Ep-21 (1) - Victory At Sea ~ Full Fathom Five - HQ
---
Problems and site related matters, E-mail Webmaster

This page is created by Gary Priolo and maintained by Michael Mohl
©1996 - 2015, NavSource History All rights reserved.