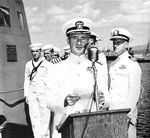 177k
Captain Ignatius J. Galantin at change of command ceremony relinquishing command of Submarine Squadron 7, Pearl Harbor, to Captain R.H. O'Kane, 6 July 1954 aboard the Pickerel (SS-524).
---
1. Schratz, Paul Richard, LCDR 04.04.1949 00.00.1951 FDC
2. Sweitzer, Henry Becker, CDR 00.08.1951
3. Hopley, Eric Earle, CDR 00.02.1954
4. Paul Lindsay Lacy Jr, a native of Dallas, Texas, graduated from the U.S. Naval Academy in 1943 and attained the rank of Rear Admiral in July, 1967. After duty aboard the Cleveland (CL-56), he served aboard the submarine Sea Cat (SS-399) in the closing days of World War II. He has commanded three submarines -- Guitarro (SS-363), Pickerel (SS-524) and the nuclear-powered Fleet Ballistic Missile Submarine Ethan Allen (SSBN-608). Prior to SUBPAC, RADM Lacy was assigned as Manager, Later Design Attack Submarine Project in Washington, D.C. Lacy assumed the duties of Commander Submarine Force, U.S. Pacific Fleet on 13 October 1970. He died on Sunday, 14 July 2013.
5. Adams Jr., Will Mont, CDR ~1956
6. Lyon, Harvey Eugene, CDR :RADM ~1958
7. Nicholson, John Harris, LCDR :VADM 06.01.1959 26.08.1959
8. Ellis, Samuel Schild, CDR 26.08.1959 00.06.1960
9. Hanson, Edgar Guest, LCDR 00.06.1960
10. Dyer, Gerald Wesley (Jerry), LCDR 12.11.1962
11. Madera, Harry Paul, LCDR 00.04.1964
12. Shaugnessy, William David, LCDR 00.06.1966
13. Carter, Winfred Gibson, CDR ~1967
14. Pasquinelli, Francis Chris, CDR 00.07.1969 00.06.1971
15. Siegel, Kent R., CDR 00.06.1971 18.08.1972 LDC

USN photo via Bill Gonyo & ADM John H. Nicholson, USN (ret.)
List of CO's courtesy of Wolfgang Hechler & Ron Reeves.