Please report any broken links or trouble you might come across to the Webmaster. Please take a moment to let us know so that we can correct any problems and make your visit as enjoyable and as informative as possible.
---
NavSource Online: Service Ship Photo Archive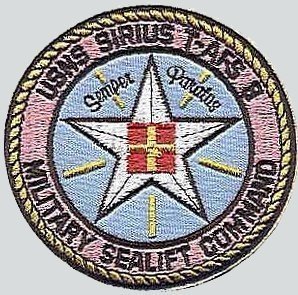 Contributed by Mike Smolinski
USNS Sirius (T-AFS-8)
History
by
RM1 (Ret) TJ Tropea; 4 September 2010 USNS Sirius
I
SIRIUS: Pronunciation: 'sir-E-us
Function: noun
Etymology: Middle English, from Latin, from Greek Seirios
: a star of the constellation Canis Major that is the brightest star in the heavens -- called also Dog Star
1. USS Sirius AK-15
2. USS Sirius AF-60
3. USNS Sirius T-AFS 8:
II
(T-AFS-8: dp. 16,680 (f.); l. 524'; b. 72'; dr. 26'; s. 18 k.(tl.); cpl. 123 (civilian) 47 (navy); a. none; cl. Lyness or Sirius; Navy Call Sign: NPGA)
III
The third SIRIUS was laid down on 01 April 1965 at Swan Hunter and Wingham, United Kingdom for the Royal Navy as RFA LYNESS (A339) and launched 01 April 1966.
In December 1980, Lyness steamed for Norfolk, VA to be purchased by the US Navy due to increased tensions in the middle east. Lyness was purchased by the US Navy on Sunday 18 January 1981 and renamed USNS Sirius (T-AFS 8).
USNS Sirius first Med Cruise was commanded by Captain Manny Vierra, Master, MSC.
First Mildet consisted of:
Officer In Charge was Lt F. Patrick Ostronic, USN.
AOIC: RMC Paul Miller
LPO: ET1 Rick Berryman
RM1 Rich Vidal
SM1 Eric Derksen
OS1 Rocky Marvin
YN2 Larry Mauldin
RM2 Don Miller
ET2 Richard Caplette
RM2 Keith Shivers
DP2 Tom May
SM2 Charlie Aytes (TAD from USNS Marias T-AO 57)
RM3 Don Gragg
ET3 Randy Bouffler
RM3 TJ Tropea
RM3 Bobby Reeves
RM3 Kevin Larose
SMSN Al Hamilton
SMSN Mark Terry
USNS Sirius started her maiden voyage to the Med in early 1981 where she relieved the USNS Rigel (T-AF 58) and worked in concert with the USS Sylvania (AFS 2), who was the on station combat store ship. Sirius made various port visits throughout her first Mediterranean deployment. At the end of her first deployment, Sirius was sent to England for a port visit. Sirius was not considered a fully capable combat store ship from 1981 to 1983 and only had a small military detachment which only consisted of 18 permanently assigned navy personnel. Since the Sirius was not in the rotation of Med deployed combat store ships, she alternated with USNS Rigel on a rotation of a 4 month Med cruise and 1 month in Norfolk. It was during her second Med Cruise that Anwar Saddat was assassinated and her deployment was extended for an extra month. At the end of her second Med deployment, while enroute back to Norfolk, VA, USNS Sirius was diverted to search for survivors of a German Tanker which had sunk in a hurricane off Burmuda. No survivors were found.
After USNS Sirius completed it's second Med Cruise, she was selected to support the UNITAS XXIII battlegroup. USNS Sirius departed Norfolk with a stop at Port Canaveral, Florida then proceeded to Salvador, Brazil where she resupplied the US Navy ships participating in UNITAS XXIII. Upon completion, Sirius returned home to Norfolk, VA where she quickly began work up for her next Med Deployment.
USNS Sirius continued the rotation with USNS Rigel until 1983, where Sirius was sent to Braswell Shipyard in Charlestson, SC for AFS conversion. This included updated communications suite, unrep stations, upgraded helo deck, helo hanger, & an increase in crew size. It was during this conversion with the installation of the new helo deck & hanger, which is located directly above the Officer's Mess, that a fire broke out in the officer's mess. This was quickly extinguished without incident. Upon completion of the AFS conversion, Sirius became a fully capable combat store ship. This included the return of Captain Manny Vierra, Master, MSC. The Mildet was now commanded by Captain Williams, Supply Corp. After Sirius completed training and qualifications, she was placed in the AFS rotation with the other Lant AFS' (USS Sylvania AFS 2, USS Concord AFS 5, & USS San Diego AFS 6). This marked the inclusion of an Airdet, which would now deploy with USNS Sirius during a cruise. It was during Sirius' first med cruise as a fully capable AFS that she was assigned as a Helo Platform off Lebanon. Sirius remained on station for over 2 weeks in this capacity. She was relieved by the USS Butte AE 27. At the end of Sirius' first Med Cruise as a fully capable AFS' Sirius was sent back to England to participate in joint exercises. Upon completion, Sirius transited back to Norfolk for 2 weeks. Sirius was then sent to New York, New York to participate in Maritime Day.
In April of 1985, while in drydock in Boston, MA, the last of the original 18 Mildet (RM2 TJ Tropea) transferred from USNS Sirius to COMSUBGRU 7 in Yokosuka, Japan.
On 19 November 1998, USNS Sirius suffered its first Helo fatality while off the coast of Sicily. One of Sirius' CH-46 SeaKnight helicopter crashed into the Mediterranean Sea during Vertrep Ops with the USS Stump DD 978. Lt AJ Barbosa & AMS2 Ross E. Daniel were pronounced "lost at sea."
Early in 2000, USNS Sirius assisted in the testing of civilian SA-330J Puma Helicopters to replace the aging CH-46 helicopters being used for vertical replenishments (Vertreps), and Pax (Passenger) transfers. Military Sealift Command awarded a three-year $20.3 million contract; with an additional two-year $10.9 million option to Geo-Seis Helicopters Inc., based in Fort Collins, Colo. Two SA-330J Puma helicopters deployed on board the USNS Sirius for six months. The helicopters rotated between the USNS Sirius, her sister ship USNS Saturn T-AFS 10, and the Mars class, USNS Concord T-AFS 5 on future six month deployments. This event marked the first time a civilian Puma deployed on a US Navy ship.
In June of 2001, USNS Spica T-AFS 9 (a Westpac asset) & USNS Concord T-AFS 5 (a Lant asset) swapped coasts. This milestone left the 3 Lyness/Sirius class british AFS' (Sirius, Spica, & Saturn) deployed to the east coast, and the 3 Mars class AFS' (Niagara Falls, Concord, & San Jose) deployed to the west coast.
On 01 July 2005, the USNS Sirius was deactivated by Military Sealift Command and struck from the naval Register that same day and transferred to the US Maritime Administration (MARAD). Custody was then assigned to Texas Maritime Academy where the USNS Sirius will serve as their training ship TS Texas Clipper III, replacing TS Texas Clipper II (Formerly the USNS Chauvenet T-AGS 29).
On 09 September 2005, USNS Sirius, under Texas A & M, was deployed to New Orleans in support of humanitarian efforts for Hurricane Katrina & Rita under the command of Captain Sam Stephenson, Master.
In 2007, USNS Sirius was used in an episode of the Fox TV Show, "PRISON BREAK".
On 14JAN2009, Texas A&M conversion of the USNS Sirius to the USTS Texas Clipper III was canceled & custody was transferred back to MARAD. Sirius' status was downgraded to non-retention on 28APR2009 & her final disposition was awaiting disposal.
On 14AUG2009, the USNS Sirius' status was changed to retention fleet support.
USNS Sirius is currently being held at the Beaumont Fleet Reserve anchorage in Beaumont, Texas and is being retained for fleet support. The SS Cape Gibson AK 5051 is now scheduled to be converted to become the new USTS Texas Clipper III.
By: RM1 (Ret) TJ Tropea: Saturday, 04 SEP 2010 (updated)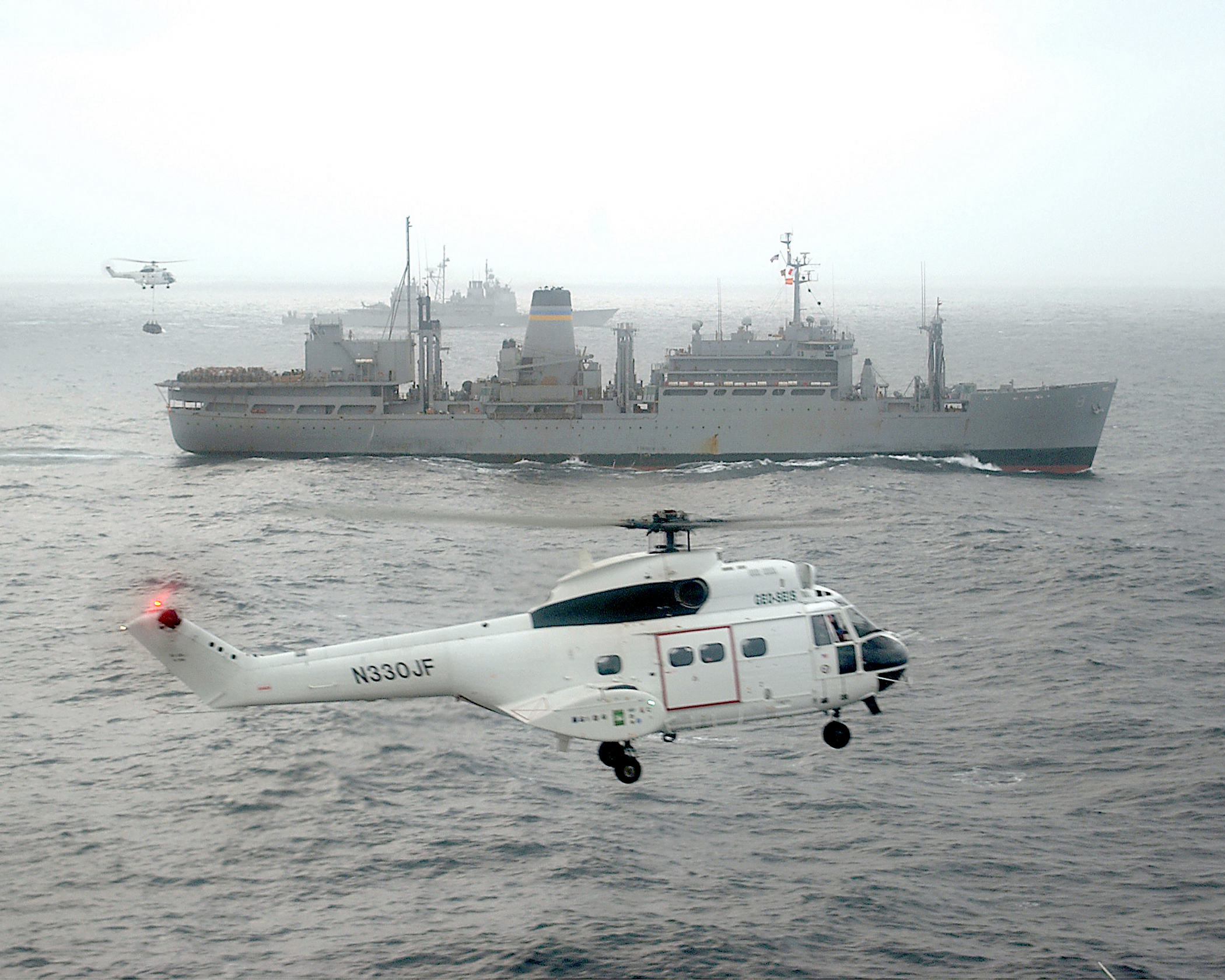 USNS Sirius deployed with civilian PUMA helos.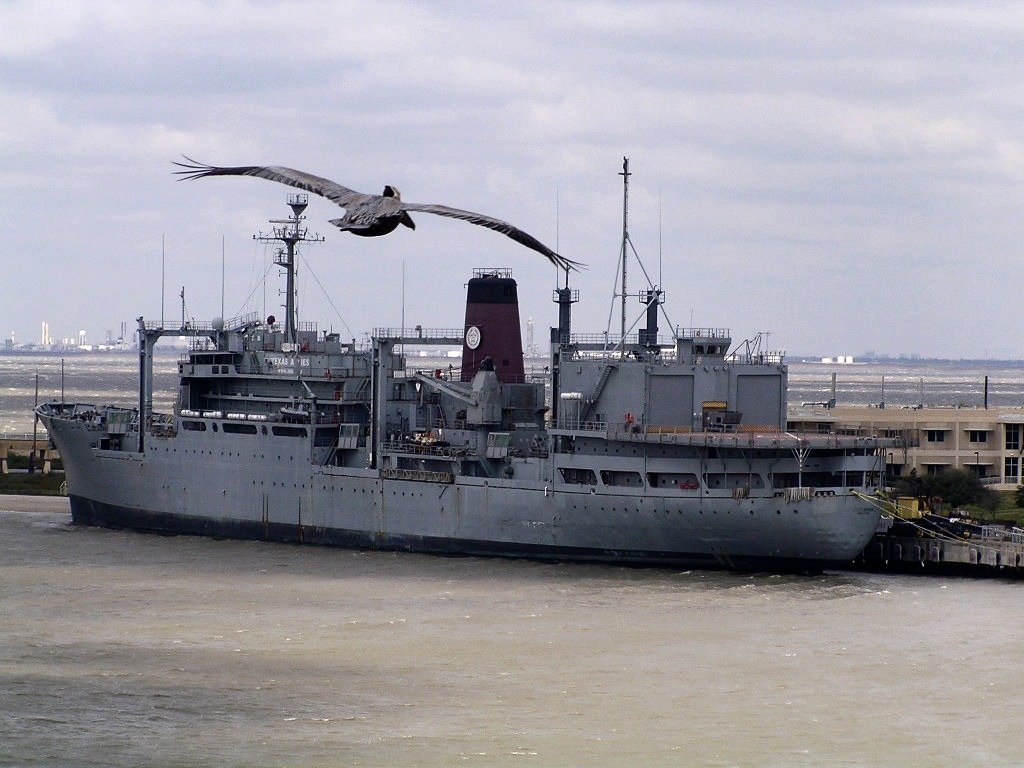 M/V Sirius at Texas A&M in Galveston, TX, awaiting conversion to USTS Texas Clipper III
---
This page is created and maintained by Gary P. Priolo