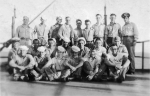 83k
USS Riverside (APA-102) Engineering Department photo, B Div., date and location unknown. Front Row right to left; Crain, Stavec, Nelson, Parks, Hawley, Leon G. Good. Second row right to left; Chief WT, Hackstein, Syzmastie?, Golden, Perry, Casey, Chief WT. Third row right to left; Joseph Harry Roberts Engineering Officer, Menard, Sood G.P., Moore?, Warthol, Herrman, Schoenster, White, Division Officer.
William A. Good for his Leon G. Good USS Riverside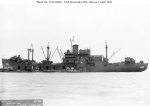 57k
USS Riverside (APA-102) at San Francisco, 7 April 1945. The deckhouses containing the Reserve AGC spaces are clearly visible in this profile view. The rig, a goalpost forward and two single masts, was typical of the later Ingalls-built hulls after conversion. This ship also had an extra pair of booms stepped directly on the front of the main superstructure.
US National Archives, RG-19-LCM, Photo # 19-N-82861 a US Navy Bureau of Ships photo now in the collections of the US National Archives.
Mike Green