Please report any broken links or trouble you might come across to the Webmaster. Please take a moment to let us know so that we can correct any problems and make your visit as enjoyable and as informative as possible.
---
NavSource Online: Amphibious Photo Archive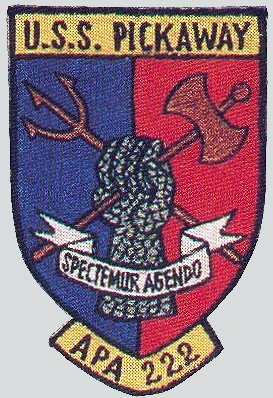 Contributed by Mike Smolinski
USS Pickaway (LPA-222)
ex
USS Pickaway (APA-222) (1944 - 1969)





International Radio Call Sign:
November - Papa - Romeo - Echo
NPRE
---
Awards, Citations and Campaign Ribbons

Haskell Class Amphibious Transport:
Laid down, 1 September 1944, as a Maritime Commission type (VC2-S-AP5) hull, under Maritime Commission contract (MCV hull 570) at Permenente Metals Corp., Richmond, CA.
Launched, 5 November 1944
Acquired by the Navy from the Maritime Commission on loan-charter and Commissioned USS Pickaway (APA-222), 12 December 1944, CDR. H. L. Bixby in command
During World War II USS Pickaway (APA-222) was assigned to the Asiatic-Pacific Theater:
TransRon Twenty-Three, COMO. A.S. Witherspoon;
TransDiv Sixty-Nine, CAPT. P.R. Glutting USN (16) and participated in the following campaign:

Campaign and Dates
Iwo Jima operation
Assault and occupation of Iwo Jima, 6 to 16 March 1945
During the Korean War USS Pickaway (APA-222) participated in the following campaigns:
Campaigns and Dates
Campaigns and Dates
North Korean Aggression
2 to 3 August 1950
7 to 12 September 1950
18 to 25 September 1950
7 to 29 October 1950
Second Korean Winter
5 to 6 December 1951
17 to 18 December 1951
23 to 30 December 1951
3 to 4 February 1952
Inchon Landing
13 to 17 September 1950
Third Korean Winter
15 December 1952
13 to 15 February 1953
13 to 20 March 1953
UN Summer-Fall Offensive
2 to 3 August 1951
26 to 29 October 1951
11 November 1951
Korea, Summer-Fall 1953
1 to 11 June 1953
During the Vietnam War USS Pickaway (APA-222) participated in the following campaigns:
Campaigns and Dates
Campaigns and Dates
Vietnam Defense
4 to 7 July 1965
Vietnam Counteroffensive - Phase II
to 3 July 1966
14 to 30 June 1966
Vietnam Counteroffensive
24 March to 7 April 1966
21 April to 8 May 1966
10 to 30 June 1966
Vietnam Counteroffensive - Phase III
28 to 30 June 1967
19 to 28 September 1967
17 to 23 October 1967
Redesignated Amphibious Transport (LPA-222), 1 January 1969
Decommissioned and struck from the Naval Register in January 1970
Returned to the Maritime Administration, 26 August 1970 for lay up in the National Defense Reserve Fleet Suisun Bay, Benecia, CA.
Final Disposition, withdrawn from reserve, 26 March 1980, and delivered to A. L. Burbank & Co.(MARAD Trade-in and Exchange Program), Moore McCormack sold vessels with MARAD approval to Carol Shipping and Trading Co., Liberian Corp. for scrapping. Carol Shipping resold the ship Kang Hua Enterprise Co, Taiwan for scrapping in Taiwan.
USS Pickaway received one battle star for World War II service, six battle stars for Korean War service and four campaign stars for Vietnam War service
---
Specifications:
Displacement 6,873 t.(lt) 14,837 t.(fl)
Length 455'
Beam 62'
Draft< 24' (lim)
Speed 17.7 kts (trial)
Complement
Officers 56
Enlisted 480
Troop Accommodations
Officers 86
Enlisted 1,475
Largest Boom Capacity 35 t.
Cargo Capacity 2,900 DWTs
non-refrigerated 150,000 cul ft.
Boats
two LCMs
one open LCPL
one covered LCPL (Captain's Gig)
two LCPRs
eighteen LCVPs
Armament
one single 5"/38 cal dual purpose gun mount
four twin 40mm AA gun mounts
one quad 40mm AA gun mount
ten single 20mm AA gun mounts
Fuel Capacities
NSFO 7,800 Bbls
Diesel 970 Bbls
Propulsion
one Westinghouse geared steam turbine
two Combustion Engineering header-type boilers, 465psi 750&deg
double Westinghouse Main Reduction Gear
three turbo-drive 300Kw 120V/240V D.C. Ship's Service Generators
one propeller, 8,500shp
---
Click On Image
For Full Size Image
Size
Image Description
Contributed
By
232k
USS Pickaway (APA-222) change of command. CAPT. Augustus R. St Angelo (Left) relieved CAPT. Samuel H. Crittenden, Jr. at Mare Island, 6 January 6 1951.
File name: APA 222 7933-1-51, US Navy Photo, 1/6/51 from the collections of the Vallejo Naval and Historical Museum collection.
Darryl Baker
126k
Stern view of USS Pickaway (APA-222) while at anchor in San Diego Bay, CA., circa 1952.
Don Garner
44k
USS Pickaway (APA-222) underway, circa 1953, location unknown.
Robert Hurst
111k
USS Pickaway (APA-222) moored pierside at Naval Station Subic Bay, Philippine Islands circa December 1962. Pickaway had transported a battalion of Marines to the Philippines for jungle warfare training.
R.P. Richard USMC 1960-64.
147k
62k
USS Pickaway (APA-222) center and USS George Clymer (APA-27) (right) at anchor off the Hawaiian Islands, 1964.
Photo by LT. Richard Dawson USS Renville.
69k
USS Pickaway (APA-222) at Subic Bay PI, April 1966
&copy Richard Leonhardt
27k
USS Pickaway (APA-222) underway, date and location unknown.
USS Pickaway
web site
68k
USS Pickaway (APA-222) at Manila, P.I., date unknown.
USS Pickaway
web site
48k
USS Pickaway (APA-222) underway, date and location unknown.
Tom Crew
---
USS Pickaway (APA-222 / LPA-222)
DANFS history entry located at the US Naval History and Heritage Command
---
Commanding Officers

01
CDR. Bixby, Harry Llewellyn
12 December 1944 - 21 February 1946
02
CAPT. McMurtrey, Thomas Bradford
21 February 1946 - July 1947
04
CAPT. Crittenden Jr., Samuel Hallett :RADM
1950 - 6 January 1951
05
CAPT. St. Angelo, Augustus Robert
6 January 1951 - ?
06
CAPT. Robbins Jr., Berton Aldrich :RADM
1953 - ?
09
CAPT. Ross, James Grant
August 1959 - August 1961
10
CAPT. Leon, Strauss Samuel
August 1961 - November1962
11
CAPT. McDougal, Clifford Alexander
no dates
15
CAPT. Holder, Billy Douglas :RADM
1966 - ?
Courtesy Wolfgang Hechler and Ron Reeves
---
Crew Contact And Reunion Information Web Sites
U.S. Navy Memorial Foundation - Navy Log
---
Additional Resources and Web Sites of Interest
USS Pickaway APA 222
---
This page is created and maintained by Gary P. Priolo


Last Updated 7 March 2013