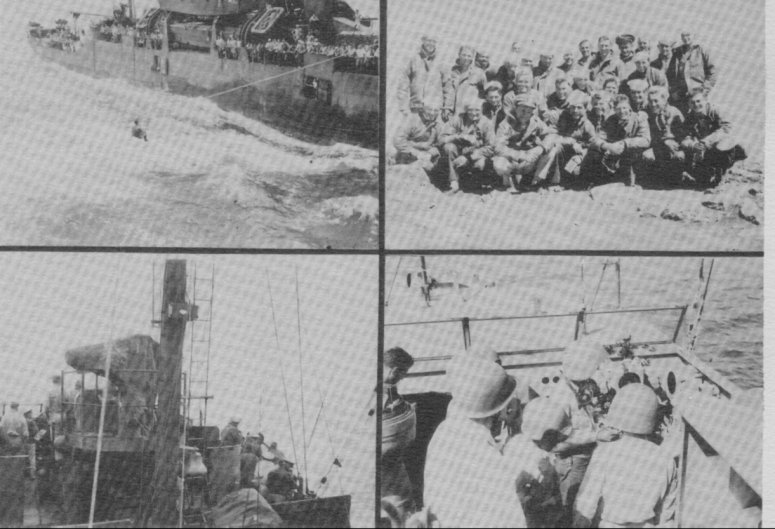 small and numerous, rising abruptly from small sandy beaches to great heights. When we reached Hiro Wan, we found a small fishing village whose only importance was its proximity to the great naval base at Kure, and to Hiroshima.
Our control post was at the entrance to Bungo Suido, where we anchored this time rather than patrolled. While anchored here we had numerous steak fries and mine hunts on one of the small rocky islands which dotted the channel. In this way we added four more mines to our list.
When we returned it was to Kure, where we found the ruins of the Imperial Japanese fleet. One large battleship of the Nagato class had run aground just off shore and had been riddled by our aircraft and by direct bomb hits. Few of the ships there were in operating condition, and probably none of them will ever be underway again.
The shipyards at Kure were leveled, as was most of the city itself. A few days later, a sightseeing trip to Hiroshima was arranged. We made the two hour trip in LCVP'S, and crossed the harbor to the village of Ugine, a suburb of the city. In trucks which carried us around the ruined city, we were able to see the vast damage done by the now famous atomic bomb. The bomb exploded in the center of the city, near the City Hall, and the surrounding area of about five.square miles was wiped completely clean, except for the skeletons of a few sturdier buildings, and the scarred, blackened trunks of trees rising grotesquely from the ruins.
At this time we went alongside the repair ship Vulcan for more boiler repairs. But after five days, we were on our way out to Bungo Suido to resume our entrance control post.
---
This page is created and maintained by Gary P. Priolo