---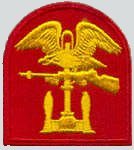 NavSource Photo Archives:
Landing Craft Support(Large)(Mark 3) LCS(L)(3)
Landing Ship Support Large (LSSL)
Operational Description
The amphibious landing at Tarawa on 20 November, 1943 demonstrated a problem in our assault operations. Navy ships had bombarded the beaches prior to the landings, however, their large guns had a flat trajectory and were not as effective against the Japanese defenders as was desired. The lapse in time between the bombardment and the actual assault allowed the Japanese to regroup and our Marines were met with a murderous fire as they approached the beaches. Because of this, it was determined that close in fire support of the troops was necessary. As an experiment, a couple of LCI(L)s were retrofitted with additional guns and thus was born the LCI(L)(G). This conversion proved successful in subsequent landings at Cape Gloucester and additional LCI(L)s were converted with a variety of armaments. Thus the LCI(R), LCI(M), LCI(D) and other gunboats came into existence. The letters stood for guns, rockets, mortars or demolition.
As a result of the success with these vessels, a new gunboat was conceived. It was based on the hull of the LCI(L), but the entire superstructure was redesigned as well as the interior compartments. The George Lawley & Sons shipyard in Neponset, Massachusetts performed the design work and produced the first of the ships. They were designed for the purpose of providing close in fire support during assault landings and also for intercepting inter-island barge traffic. With their new armament, they were described as the most heavily armed gunboats in the war and some observers claimed that they had more firepower per ton than any ship in the Navy. Their bow gun was either a 3"50, a single 40mm or a twin 40mm. Number two and Number three guns were twin 40mm and they also mounted four 20mm cannons and four 50 caliber machine guns. Between the forward twin 40mm and the bow gun were ten Mark 7 rocket launchers.
These vessels were usually the lead ships in the assault. Attacking the beach in a line, they usually made three runs on the beach, firing rocket barrages at 1000, 800 and 500 yards. After the last rocket round, they opened up with the bow guns and when a few hundred yards off the beach turned and ran broadside, firing on targets of opportunity. On the third run they were followed by the landing craft. As they approached the shore, they would slow down as the landing craft passed through their lines and hit the beach. The LCS(L) ships remained close inshore, providing fire support for the troops.
At Okinawa, the ships had additional duties, screening the anchorages for suicide boats and offshore intercepting kamikazes while on radar picket duty. The ships also had excellent fire-fighting equipment and were able to aid other vessels which had been damaged by enemy action.
In all, 130 of the ships were built by George Lawley & Sons, Neponset, Massachusetts, Albina Engine and Machine Works and Commercial Iron Works. The last two yards were located in Portland, Oregon. In 1949, the LCS(L)(3)s still in the U.S. Navy's inventory were re-designated as Landing Ship Support Large (LSSL). Beginning in 1952, many of the ships were transferred to allies, with 53 going to the Japan Maritime Self-Defense Force and still others to France for use in Vietnam. One ship, the Nakkha (ex LCS(L) 102), remains in active service with the Thai Navy. The National Association of USS LCS(L) 1-130, a veteran's group of World War II Navy men, has been campaigning actively for her return and use as a museum. - Robin L. Rielly