Please report any broken links or trouble you might come across to the Webmaster. Please take a moment to let us know so that we can correct any problems and make your visit as enjoyable and as informative as possible.
---
NavSource Online: Amphibious Photo Archive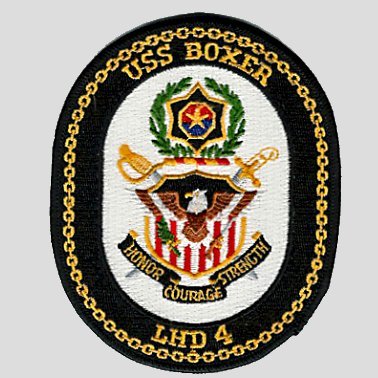 USS Boxer (LHD-4)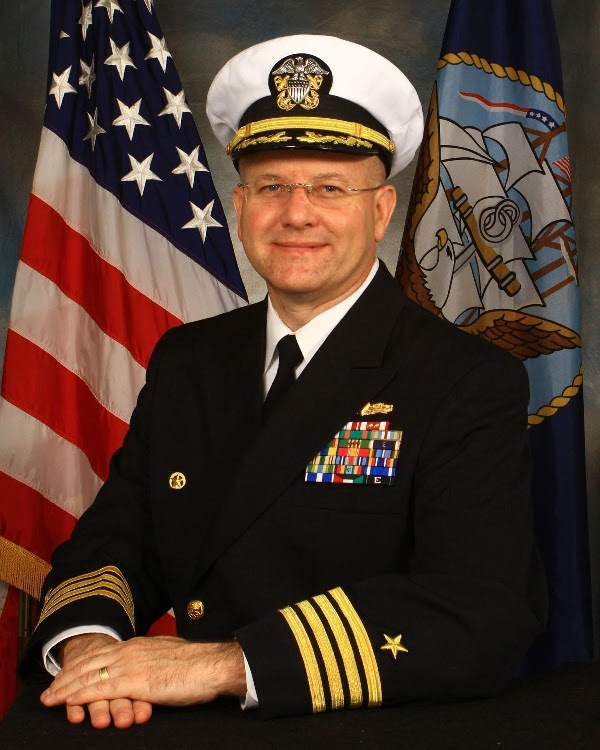 CAPT. Martin L. Pompeo
---
Originally hailing from Hot Springs, Arkansas, Captain Martin L. Pompeo enlisted in the Navy in 1982. Upon completion of Recruit Training and the BOOST Program in San Diego, California, he was selected for a Naval Reserve Officer Training Corps (NROTC) scholarship to the University of Missouri at Columbia. He graduated in 1988 with a Bachelors of Science Degree in Management.

Sea duties have included 6 ships, 1 staff, and 9 deployments: Damage Control Assistant (DCA) in USS BARNSTABLE COUNTY (LST 1197), where he completed a MED deployment, a West African Training Cruise (WATC) /Non-combatant Evacuation Operation (NEO) off Monrovia, Liberia, and a UNITAS/WATC; Operations Information (OI) Division Officer tour in USS THEODORE ROOSEVELT (CVN 71) where TR conducted operations DENY FLIGHT and PROVIDE PROMISE within the Adriatic Sea and SOUTHERN WATCH over Iraq; Operations Officer in USS CARTER HALL (LSD 50); First Lieutenant in USS SAIPAN (LHA 2); Executive Officer in USS SHREVEPORT (LPD 12) less than two months after the events of 9/11. SHREVEPORTís Marines were the first to enter Afghanistan during the initial phase of operation ENDURING FREEDOM. CAPT Pompeo commanded USS FORT MCHENRY (LSD 43) from August 2006 to February 2008, and conducted the first Africa Partnership Station deployment where a team of American, European, Non-Governmental Organizations, & 14 West African Nations combined to professionally train and promote Maritime Safety and Security throughout the Gulf of Guinea region. CAPT Pompeo commanded Amphibious Squadron ONE from July 2010 to June 2013 while embarked on the USS BOXER (LHD 4). The BOXER Amphibious Ready Group deployed to FIFTH and SEVENTH Fleet Areas of Responsibility, conducted nine Theater Security Cooperation (TSC) events and flew 65 combat sorties in direct support of our Nationí s struggle against violent extremism (SAVE).

Shore duties included: Combat Systems Department Head at Fleet Combat Training Center, Atlantic where he also completed a Master of Science in Management from Troy University; completed his Joint Professional Military Education (JPME) at the Armyís Command and General Staff College in Fort Leavenworth, Kansas; A member on the Chief of Naval Operations (OPNAV N75) staff as the Future Amphibious Ship Requirements Action Officer building Landing Platform Dock (LPD 17), Landing Helicopter Assault Replacement (LHA-R), and Landing Helicopter Dock (LHD 8); United States Joint Forces Commandís (USJFCOM) Joint War Fighting Center as a Modeling and Simulation Planner responsible for providing realistic Joint training to all of our Combatant Commanders and her war fighters; and Executive Officer of Surface Warfare Officer School from March 2008 to April 2010, where he was instrumental in bringing back the Division Officer course for our newest Ensigns and the Senior Officer Ship Material Readiness Course (SOSMRC) for our Prospective Commanding Officers.

CAPT Pompeo most recently served as the Commanding Officer of Expeditionary Warfare Training Group, Pacific from June 2013 to October 2014. He reported as Commanding Officer of USS BOXER on October 31, 2014. His personal awards include 2 Legion of Merits, Defense Meritorious Service Medal, 3 Meritorious Service Medals, 6 Navy-Marine Corps Commendation Medals, Navy-Marine Corps Achievement Medal, and numerous unit and service awards.
---
This page is created and maintained by Gary P. Priolo