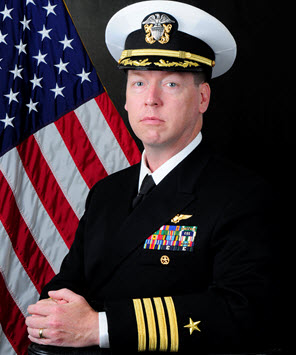 CAPT Kevin P. Lenox Commanding Officer
Captain Kevin P. Lenox is a 1990 graduate of Duke University where he received a Bachelor of Science degree in Biomedical Engineering and was commissioned through the NROTC unit.
Captain Lenox was designated a Naval Aviator in October 1990. His initial assignment was to NAS North Island, California with the "Eightballers" of HS-8 embarked on USS CARL VINSON (CVN-70). Flying the SH-60F and HH-60H, he completed two deployments and served in numerous junior officer billets before reporting to the "Warhawks" of HS-10 for a two year tour as a flight instructor.
Returning to sea duty in April 1998, Captain Lenox reported to the Carrier Air Wing FIVE staff in Atsugi, Japan. Following his overseas tour, Captain Lenox reported to the U.S. Naval War College in Newport, Rhode Island. He graduated with Distinction and was awarded a Master of Arts in National Security Studies in June 2001.
In December 2001 he reported to the HS-4 "Black Knights" for his department head tour. During this tour he completed a 9-month deployment on USS ABRAHAM LINCOLN (CVN-72) and flew numerous combat sorties in the opening days of Operation IRAQI FREEDOM.
In February 2004 Captain Lenox transferred to NAVAIR as the team lead for all Navy Helicopter Weapons Systems.
In December 2006, Captain Lenox reported to Helicopter Anti-Submarine Squadron SEVEN as Executive Officer and on September 13, 2007 he assumed command. During his CO tour, the "Dusty Dogs" completed a 7-month deployment to the Arabian Gulf which included 13 rescues, small boat defense in the Strait of Hormuz, defense of Iraqi Oil platforms and logistics support to the U.S. Embassy in Beirut. At home the "Dusty Dogs" provided helicopter rescue support for hurricanes Gustav and Ike.
In January 2009, Captain Lenox reported to Navy Nuclear Power School where he graduated with honors in July 2009. He reported to USS RONALD REAGAN (CVN-76) as Executive Officer in September 2010. During this tour REAGAN was first on the scene for Operation Tomodachi, providing support to Japan in the wake of the 2011 Earthquake/Tsunami.
Captain Lenox's personal awards include the Meritorious Service Medal (3 Awards), the Navy Commendation Medal (5 Awards) and the Navy Achievement Medal (2 Awards), along with various unit and campaign awards