Please report any broken links or trouble you might come across to the Webmaster. Please take a moment to let us know so that we can correct any problems and make your visit as enjoyable and as informative as possible.
---
NavSource Online: Amphibious Photo Archive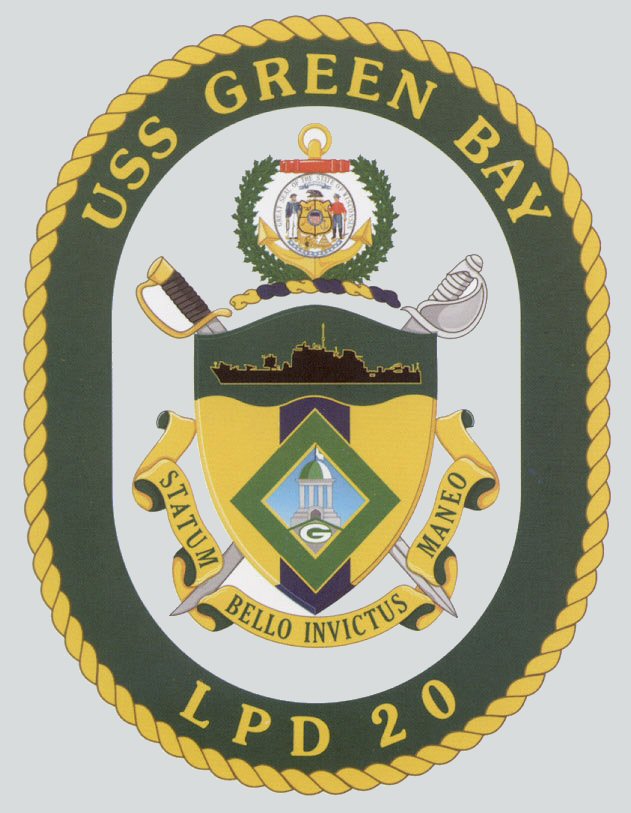 Contributed by Richard Miller BMCS USNR Ret.
USS Green Bay (LPD-20)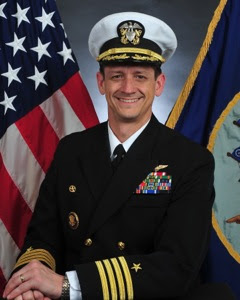 CAPT. Gregory C. Huffman USN
---
Captain Gregory C. Huffman is the son of a career naval officer. He was commissioned upon his graduation from the United States Naval Academy in May 1989. Capt. Huffman then attended the University of Maryland where he received a Master of Arts degree in December 1989.

He earned his wings in 1992 upon completion of advanced jet training at NAS Chase Field, Beeville, TX. After completing replacement pilot training with the GLADIATORS of VFA-106 at NAS Cecil Field, Jacksonville, FL, Captain Huffman joined the RAMPAGERS of VFA-83. He completed two deployments with VFA-83 in USS SARATOGA (CV-60) and USS ENTERPRISE (CVN-65) participating in combat operations over Bosnia and Iraq. He earned a Wing Landing Signal Officer qualification and was named the Strike Fighter Wing, U. S. Atlantic Fleet FA-18 Pilot of the Year for 1996.

Capt. Huffman attended the U. S. Navy Test Pilot School (USNTPS) at NAS Patuxent River, MD and graduated with Class 112. He then served two years as a test pilot at the Naval Weapons Test Squadron in China Lake, CA, participating in initial developmental testing of the FA-18E/F and serving as program manager for Electronic Warfare and FA-18E/F systems. During this time he earned a Master of Science degree from the University of Tennessee and became a Member of the Society of Experimental Test Pilots. In 2000 Capt. Huffman reported to the SUNLINERS of VFA-81 as a Department Head. Immediately following the events of September 11, 2001, he flew Combat Air Patrol missions off of New York City from the USS GEORGE WASHINGTON (CVN-73) in support of Operation Noble Eagle. He also deployed twice in USS GEORGE WASHINGTON and flew combat missions over Iraq, Kosovo and Afghanistan. In 2001 Capt. Huffman received the Mike Longardt Leadership Award from Commander, Strike Fighter Wing, U. S. Atlantic Fleet. In 2002 Capt Huffman transferred to the White House where he served as Military Aide to the President of the United States until 2005. In April 2005 he reported to VFA-122 for refresher training in the FA-18 E/F Super Hornet and remained with the FLYING EAGLES as Executive Officer.

Capt. Huffman reported to the ROYAL MACES of VFA-27, homeported in Atsugi, Japan, as Executive Officer and assumed command in August 2007. He completed multiple Western Pacific deployments in USS KITTY HAWK (CV-63) culminating with the successful crossdeck of the squadron to the USS GEORGE WASHINGTON. Following his command tour Capt. Huffman reported to Naval Personnel Command, Millington, TN as the Head Aviation Detailer for LCDRs and Junior Officers.

He commenced nuclear power training in May 2009 and reported as the final operational Executive Officer of the USS ENTERPRISE in March, 2011. During this tour he completed two combat deployments, including Big E's 25th and final deployment He has logged more than 2,800 flight hours in 24 different aircraft types and has accumulated over 700 arrested landings. Individual awards include the Defense Superior Service Medal, Meritorious Service Medal (two awards), Strike-Flight Air Medal (two awards), Navy Commendation Medal (four awards, one with Combat V), Navy Achievement Medal, and numerous unit citations.
---
This page is created and maintained by Gary P. Priolo