Please report any broken links or trouble you might come across to the Webmaster. Please take a moment to let us know so that we can correct any problems and make your visit as enjoyable and as informative as possible.
---
NavSource Online: Amphibious Photo Archive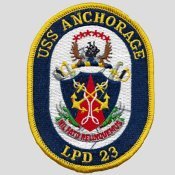 Contributed by Don Mc Grogan BMCS USN Ret.
USS Anchorage (LPD-23)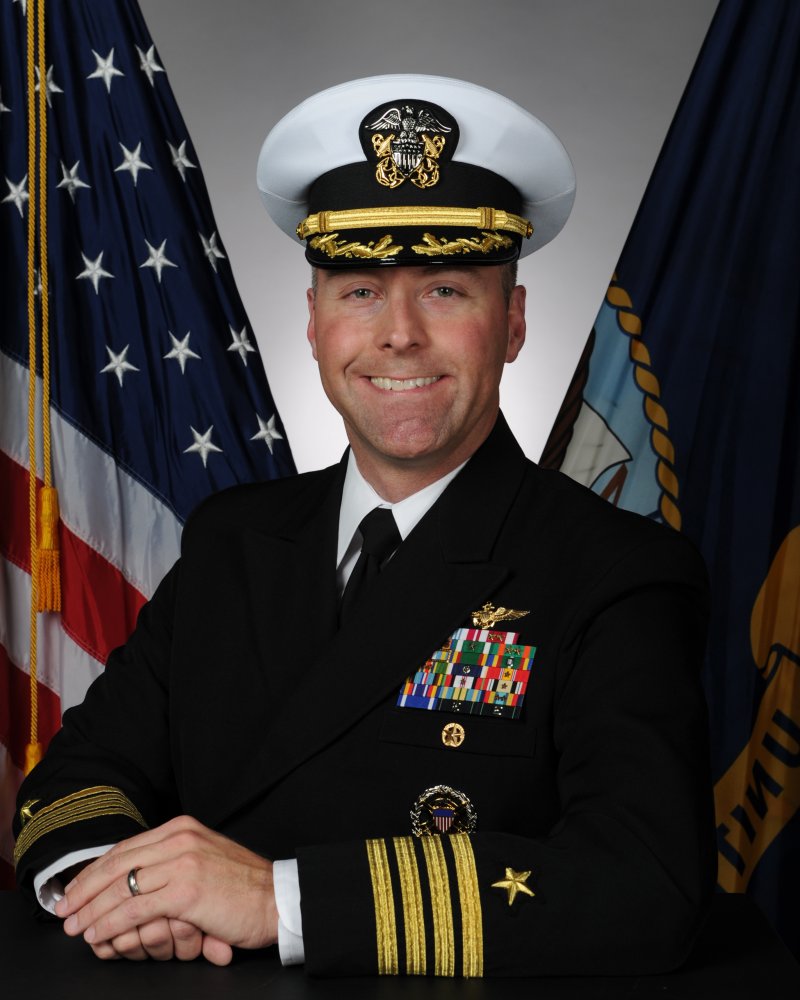 CAPT. Jeffrey Andrew Craig, USN
Commanding Officer
---
A native of Panama City, Florida, Captain Craig graduated from the United States Naval Academy (Annapolis, MD) in May 1992 with a Bachelor of Science degree in Aerospace Engineering and received his commission as an Ensign.
Captain Craig received his wings as a Naval Aviator in September 1995 and, after training in the EA-6B Prowler at VAQ-129, was assigned as a pilot to VAQ-139 at NAS Whidbey Island, Washington. While assigned to the COUGARS, Captain Craig deployed to the Western Pacific and Arabian Gulf onboard USS ABRAHAM LINCOLN (CVN 72) with CVW-14 in support of Operation SOUTHERN WATCH. As a COUGAR, Captain Craig served as the Legal Officer, NATOPS Officer, Safety Officer, Training/Assistant Operations Officer, Avionics/Armaments Division Officer and Quality Assurance Officer.
In February 2000, Captain Craig reported to the Electronic Attack Weapons School as an EA-6B Instructor Pilot and was designated a Prowler Tactics Instructor in June 2000. While at the Weapons School, he served as the Assistant Training Officer and Reactive SEAD Phase Head.
In June 2002, Captain Craig was assigned to the VAQ-137 ROOKS for his department head tour. As a ROOK, he deployed to the Mediterranean Sea and Arabian Gulf with CVW-1 onboard USS ENTERPRISE (CVN 65) in support of Operations ENDURING FREEDOM and IRAQI FREEDOM, where he served as the Tactics Officer, Administrative Officer, Maintenance Officer and Operations Officer. During this deployment, Captain Craig forward deployed to Bagram Air Base, Afghanistan as a part of the first-ever EA-6B squadron on the ground there.
In November 2005, Captain Craig reported to the Joint Staff J-3 Directorate, Washington, D.C, as an action officer in the Space and Missile Defense Division of the Global Operations Directorate. He also served as the daily briefing officer to the J-3 Director and concluded his tour on the Joint Staff as the Executive Assistant to the J-3 Global Operations Director. During this tour, Captain Craig was selected for Operational Command and graduated from Duquesne University in Pittsburgh, PA, with a Master of Science degree in Leadership and Business Ethics.
In April 2008, Captain Craig reported as the Executive Officer of the EA-6B/EA-18G Fleet Replacement Squadron, the VAQ-129 VIKINGS. During this tour, he transitioned to the EA-18G Growler.
In May 2009, Captain Craig reported to the VAQ-132 SCORPIONS as the Executive Officer and assumed command of the SCORPIONS in July 2010. In November 2010, he led the SCORPIONS on the first operational deployment of an EA-18G Growler squadron, supporting Operation NEW DAWN from Al Asad Air Base, Iraq. In March 2011, responding to immediate expeditionary tasking, Captain Craig redeployed the SCORPIONS from Al Asad into Aviano, Italy, and into combat within 36 hours. Captain Craig led the squadron's first combat mission into Libya in support of Operation ODYSSEY DAWN and completed the deployment in support of Operation UNIFIED PROTECTOR. Under his leadership, the SCORPIONS were awarded the 2010 and 2011 Commander, Naval Air Forces Battle "E" and CNO Safety "S".
In July 2011, Captain Craig was selected for a second command tour and returned to VAQ-129 as the squadron's Commanding Officer. As a VIKING, Captain Craig ensured the timely production of EA-6B and EA-18G student aircrew and the on-time transitions of two EA-6B squadrons to the EA-18G. During this tour, Captain Craig was selected for Aviation Major Command and the US Navy Nuclear Power Program. >br?In April 2014, Captain Craig successfully completed the Navy's Nuclear Power Program and reported to USS THEODORE ROOSEVELT (CVN 71) as the aircraft carrier's Executive Officer. In this capacity, Captain Craig successfully completed an around-the-world deployment to the Arabian Gulf with CVW-1 in support of Operation INHERENT RESOLVE and a home port change and historic three carrier crew swap for the ship from Norfolk, VA to San Diego, CA.
In April 2016, Captain Craig completed his tour onboard USS THEODORE ROOSEVELT (CVN 71) and was selected as the Prospective Commanding Officer of USS ANCHORAGE (LPD 23). Captain Craig's personal decorations include the Defense Meritorious Service Medal, Meritorious Service Medal, Air Medal with Combat "V", Strike Flight Air Medal, Navy and Marine Corps Commendation Medal, Navy and Marine Corps Achievement Medal, and various campaign and unit awards.
---
This page is created and maintained by Gary P. Priolo