Please report any broken links or trouble you might come across to the Webmaster. Please take a moment to let us know so that we can correct any problems and make your visit as enjoyable and as informative as possible.
---
NavSource Online: Amphibious Photo Archive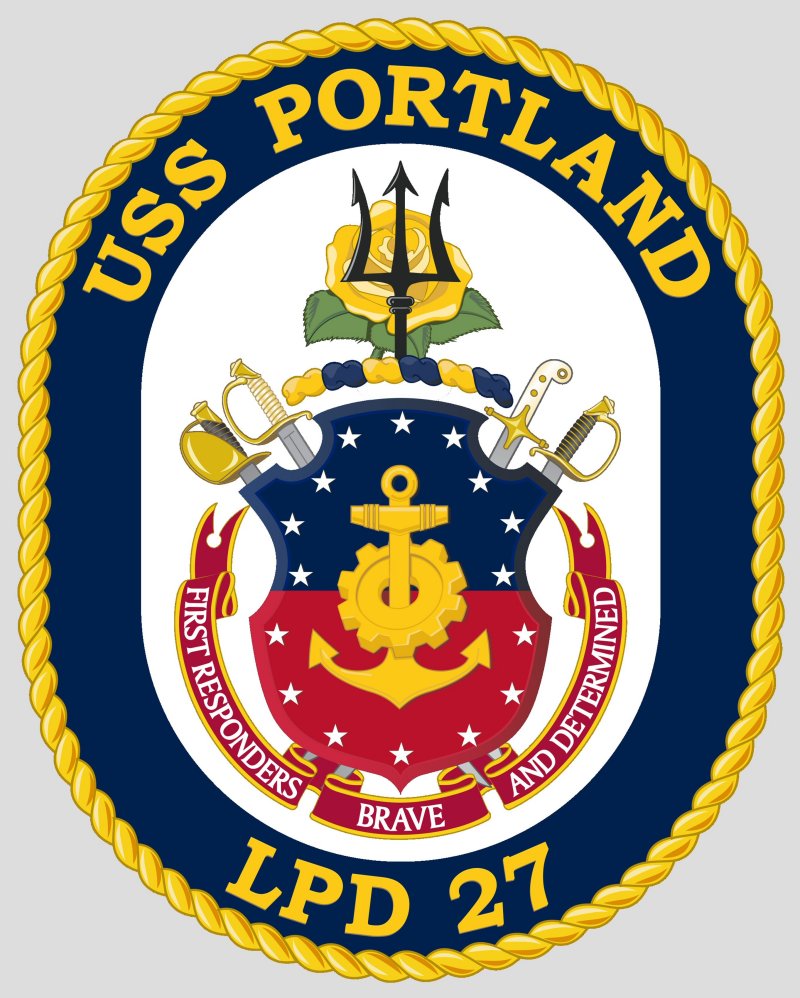 Contributed by Wolfgang Hechler

USS Portland (LPD-27)
---
San Antonio Class Amphibious Transport Dock:
Laid down, 2 August 2013, at Ingalls Shipbuilding, Pascagoula, MS.
Launched, 12 February 2016
Christened, 23 May 2016
Successfully completed Acceptance Trials, 18 August 2017
Delivered to the Navy, 18 September 2017
Scheduled commissioning date, 21 April 2018
---
Specifications:
Displacement 25,000 t.(fl)
Length 684'
Beam 105'
Draft 23 ft.
Speed 22 kts.
Complement 33 Officers, 411 Enlisted
Troop Accommodations 66 Officers, 625 Enlisted

Mission Systems

Vehicles/Cargo (Net): Three Vehicle Decks (2323 sq m)
Two Cargo/Ammo Magazines (708 cu m)
Cargo Fuel, JP-5 (1190 cu m) , MOGAS (38 cu m)
Two LCACs

Medical

Two Operating Rooms
24 Person Hospital Ward
100 Casualty Overflow Capacity:
Aviation Facilities
Hangar - "O" Level, Maintenance Facilities for; One CH-53E, or Two CH-46s, or One MV-22, or Three UH/AH-1s
Landing - Two CH-53s, or Four AH/UH-1s, or Four CH-46s, or Two MV-22s, or One AV-8B Harrier:

Main Propulsion

4 - Medium Speed Turbocharged Marine Diesels
2 - Shafts
2 - Single Reversing Reduction Gears
2 - Inboard Rotating (top) Fixed Pitch Propellers

Electric Plant

5 - 2500 KW Ship Service Marine Diesel Generators
5 - Main Ship Service 60 Hz SWBS
3 - Ship Service 400 Hz SWBS
3 - 60 to 400 Hz solid State Frequency changers
Zonal 60 Hz Power distribution system
Advanced Degaussing System

Auxiliaries

7 - 700 KW Non-CFC Air conditioning Plants
5 - 12000 GPD Reverse Osmosis Desalination Plants
10 - 1000 GPM Navy Standard Firepumps
2 - HP Air Compressors
3 - LP Air Compressors
3 - Deballast Air Compressors

Navigation

Digital Flux Gate Magnetic Compass
AN/WSN-7(V)1 Inertial Navigation System
AN/WQN-2 Doppler Sonar Velocity Log System
AN/UQN-4A Sonar Sounding Set, Dead Reckoning System
Navigation Telex System
AN/SSN-6 NAVSSI

Armament

1 - MK 41, 16 Cell VLS, (Space & Weight)
2 - MK 31 Mod 0 RAM Launchers
2 - MK 46 Mod 1 30mm Machine Guns
2 - MK 26 Mod 17 .50 Cal Machine Guns

Command & Control

AN/SPQ-12(V) Radar Display Dist. Distribution System
MK 2 SSDS
AN/USQ-119C(V)27 JMCIS
AN/KSQ-1 Amphibious Assault Direction System
MK 91, 2 Channel MFCS
AN/USG-2 CEC
Radar Systems
AN/SPS-48E
AN/SPQ-9B
AN/SPS-73

EW & Decoy Systems

AN/SLQ-25A NIXIE
AN/SLQ-32Q(V)2
MK 36 SRBOC
MK 53 / NULKA
---
Click On Image
For Full Size Image
Size
Image Description
Source
183k
During the Keel Authentication Ceremony for Portland (LPD-27), 2 August 2013. Bonnie Amos, wife of Commandant of the Marine Corps Gen. James Amos, and ship sponsor, looks at the ceremonial keel plate with her initials on it that will remain with the ship during its naval service.
US Navy photo # 130802-N-ZZ999-001 PASCAGOULA, Miss. (Aug. 2, 2013) courtesy of Huntington Ingalls Industries, Inc. by Lance Davis.
463k
Portland (LPD-27) on the builders ways, at Ingalls Shipbuilding, Pascagoula, MS.
Photo courtesy Ingalls Shipbuilding
USS Portland Commissioning Committee
1020k
Portland (LPD-27) launch, 9 April 2016, at Ingalls Shipbuilding, Pascagoula, MS.
Photo courtesy Ingalls Shipbuilding
Tommy Trampp
199k
Portland (LPD-27) running her first set of sea trials in the Gulf of Mexico. Ingalls' test and trials team spent four days operating the 11th San Antonio-class ship and demonstrating its systems.
US Navy Photo # 170703-N-N0101-001 GULF OF MEXICO (July 3, 2017), by Lance Davis
Lee Wahler
205k
Portland (LPD-27) moored pierside at Huntington Ingalls Industries, Pascagoula, MS., 16 September 2017. Portland was moored forward of Tripoli (LHA-7) during that ship's christening ceremony, which is the reason for the red, white and Blue bunting.
Photo by Dale Hargrave
---
There is no DANFS history available for USS Portland (LPD-27) at NavSource
---
Crew Contact And Reunion Information
U.S. Navy Memorial Foundation - Navy Log
---
Additional Resources and Web Sites of Interest
USS Portland Commissioning Committee
Navy Fact File - Amphibious Transport Dock - LPD
Federation of American Scientists, Military Analysis Network, US Navy Ships
---
This page is created and maintained by Gary P. Priolo


Last Updated 22 September 2017