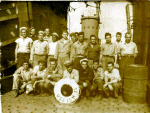 128k
USS LSM-31 crew photo, Yokosuka, Japan, late August 1945.
Front Row kneeling, left to right; William Sanford (contributor), Walton, unk, Inglekey, Boss (cook), unk, Liptock
Second Row standing left to right; Abbott (cook), Wheelan, "Outlaw", Epperson (Corpsman), Evans (Signalman), Collins (Quartermaster), Fleisehman (Yeoman). unk
Back Row standing left to right; unk, unk, Garrity, with ball cap, (Storekeeper), unk, unk.
Rick Goodwin for his father-in-laws BMCM William "Sandy" Sanford USN Ret. LSM-31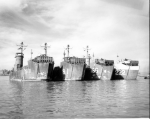 67k
USS LSM-31, USS LSM-187, USS LSM-186 and USS LSM-222 in a nest moored to a buoy, date and location unknown. Photo by &copyAtlantic Fleet Sales Co., Norfolk, VA.
USS LSM / LSMR Association