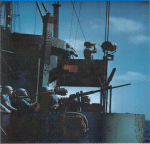 326k
USS LC(FF)-988, flagship of Gunboat Support Group 52.5, 12-18 January, near Maui, Hawaiian Islands during a rehearsal for the Iwo Jima invasion which took place in February 1945.
Photo from USS LCI National Associations newsletter, "Elsie Item", September 2017 issue.
Ardie Hunt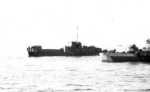 27k
USS LC(FF)-988 at anchored at Aomori Wan, Japan while serving as flagship for LCS Flotilla 3. She is with USS LCS(L)(3)-36 and USS LCS(L)(3)-35 (cropped from photo). Source - Diary entry of Clarence Libby USS LCS(L)(3)-36 contributed by Kevin Libby "arrived at Hokido this morning early, came through mine fields and channel last night and early this morning. Hokido is about 550 miles from Yokohama. We are to make landings here for occupation when we left Yokohama for this place we were joined by another group, making a total force of 21 L.C.S.ís and three L.C.I.ís, L.C.S.ís are NO. 11, 12, 13, 14,16,17,18,19, 20, 22, 23, 24, 25, 38, 39, 40, 109, 110, 111, 112, 113,. L.C.Iís are 485, 536, 988." September 27th diary entry indicated LCS(L)(3)-36 anchored in Aomori Wan harbor.
Photo courtesy on behalf of Mrs. Francis M. Zachara.
Michael Hollis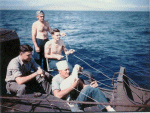 304k
USS LC(FF)-988 crewmen trying their hand at fishing, late 1945. From left: Chief Radar Tech. WM. H. Bell, Ensign J.W. Fanz, Chief Signalman J.J. Hrazdil, and Ship's cook W.H. Porter, holding mascot dog Trixie.
Photo from the November 2016 issue of the USS LCI National Association's newsletter "Elsie Item".
Ardie Hunt