Please report any broken links or trouble you might come across to the Webmaster. Please take a moment to let us know so that we can correct any problems and make your visit as enjoyable and as informative as possible.
---
NavSource Online: Amphibious Photo Archive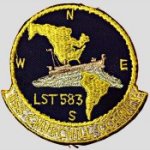 Patch contributed by Mike Smolinski, Shoulder tab by Al Grazevich
USS Churchill County (LST-583)
ex
USS LST-583 (1944 - 1955)






International Radio Call Sign:
November - Echo - Yankee - Echo
NEYE
---
Awards, Citations and Campaign Ribbons

LST-542 Class Tank Landing Ship:
Laid down, 18 May 1944, at Missouri Valley Bridge & Iron Co., Evansville, IN.
Launched, 5 July 1944
Commissioned USS LST-583, 2 August 1944, LT. Philip E. Acker, USNR, in command
During World War II USS LST-583 was assigned to the Asiatic-Pacific Theater and participated in the following campaigns:
Campaign and Dates
Campaign and Dates
Luzon operation
Lingayen Gulf landings, 4 to 18 January 1945
Consolidation and capture of the Southern Philippines
Mindanao Island landings, 10 to 11 March and 17 to 23 April 1945
Manila Bay-Bicol operation
Zambales-Subic Bay, 29 to 30 January 1945
Following World War II USS LST-583 was assigned to Occupation service in the Far East for the following periods:

23 September to 14 October 1945
10 to 20 December 1945
Decommissioned, 13 September 1946
Laid up in the Reserve Fleet
Named Churchill County (LST-583), 1 July 1955
Recommissioned, 1 November 1960, and assigned to Commander, Amphibious Force, Atlantic Fleet
Personal Recollection of LT. Robert Burris, Executive Officer USS Churchill (LST-583)
"Summer 1965 - In the Aero Jet General yards in Jacksonville FL.
Fall 1965 - Cruise to Panama through Christmas. Liberty in Puerto Lemon, Costa Rico and Santa Marta, Columbia
Also went to the San Blas Islands to deliver aid material to the San Blas Indians. The last time any ship was there was 1790's and that was the Spanish, all the soundings on the chart are mine. We followed a US Army Q boat which was following an Indian canoe though the reefs where we anchored in a small bay where we had about 15 feet of spare room on each end of the ship Rex [Commanding Officer LCDR Carpenter] was a great ship driver, and had lots of guts.
Spring 1966 - to Panama stopping in Kingston Jamaica where we took on a 50 ft boat on the main deck, and delivered it to Panama, LT. Michael H.V. Nolan relieved LCDR. Carpenter in Panama. We went to the back country south of the canal to support prep for a new canal. Big tide range and on the way home, we stopped in the Dominican Republic and evacuated the last US Army troops from the 1964 invasion. I was in USS Monrovia (APA-31) which sent in the first wave there in 1964.
Summer 1966 - We went to the head of the Chesapeake Bay to Havre De Grace Maryland to act as the judges stand for a hydra plane race, followed by a cruise to Argentia, Newfoundland Ireland and Iceland. I am pretty sure that this is the time frame when we hit the Chesapeake Bay bridge tunnel.
Spring 1967 - Back to Panama, sailed to Lima Peru but had to turn around and return... This is when we had the "crossing" shellback celebration. We went to support the second canal again, and broached on the beach but with major effort and a hell of a lot of luck, we got off with no problem. We went to the San Blas Islands again, and that is where we hit a reef and ripped a hole in the bottom big enough to drive a Volkswagen through. Back to Little Creek and I left the ship...All of these things happened and I think I have the dates pretty close Many thanks Bob"
Decommissioned, 11 December 1968
Struck from the Naval Register, 15 September 1974
USS LST-583 earned three battle stars for World War II service
Sold for scrapping by the Defense Reutilization and Marketing Service (DRMS), 1 August 1975
Acquired by Minerve Shipping & Trading Corp. S.A., Panama and renamed Petrola 131, circa 1976-1977.
---
Specifications:
Displacement
1,625 t.(lt)
4,080 t.(fl) (sea-going draft w/1675 ton load)
2,366 t. (beaching displacement)
Length 328' o.a.

Beam 50'

Draft
light 2' 4" fwd, 7' 6" aft
sea-going 8' 3" fwd, 14' 1" aft
landing 3' 11" fwd, 9' 10" aft (landing w/500 ton load)
limiting 11' 2"
maximum navigation 14' 1"
Speed 11.6 kts. (trial)

Endurance 24,000 miles @ 9kts. while displacing 3960 tons

Complement
9 officers, 120 enlisted
Troop Accommodations
14 officers, 131 enlisted
Boats 6 LCVPs

Cargo Capacity (varied with mission - payloads between 1600 and 1900 tons)
Typical loads
One Landing Craft Tank (LCT), tanks, wheeled and tracked vehicles, artillery, construction equipment and military supplies. A ramp or elevator forward allowed vehicles access to tank deck from main deck
Additional capacity included sectional pontoons carried on each side of vessel amidships, to either build Rhino Barges or use as causeways. Married to the bow ramp, the causeways would enabled payloads to be delivered ashore from deeper water or where a beachhead would not allow the vessel to be grounded forward after ballasting
Armament (varied with availability when each vessel was outfitted. Retro-fitting was accomplished throughout WWII. The ultimate armament design for United States vessels was
2 - Twin 40MM gun mounts w/Mk. 51 directors
4 - Single 40MM gun mounts
12 single 20MM gun mounts
Fuel Capacity
Diesel 4,300 Bbls
Propulsion
two General Motors 12-567A, 900hp Diesel engines
single Falk Main Reduction Gears
three Diesel-drive 100Kw 230V D.C. Ship's Service Generators
two propellers, 1,700shp
twin rudders
---
Click On Image
For Full Size Image
Size
Image Description
Contributed
By
USS LST-583

250k
USS LST 583 under way with LCT-737 secured to her main deck.
US Navy photo from "Allied Landing Craft of World war Two".
Robert Hurst
237k
USS LST 583, and USS LST-379 with LCT(6)-707 on her main deck, beached, probably in Philippines sometime in 1945. James H Murphy standing on far right.
Kathleen Golden for her father James H. Murphy USS LST-623
USS Churchill County (LST-583)

57k
USS Churchill County (LST 583) beached, date and location unknown.
Francis Hilliker
372k
USS Churchill County (LST 583) underway in 1963, location unknown.
US Naval History and Heritage Command Catalog # L45-51.09.01
Mike Smolinski
133k
USS Churchill County (LST 583) under way at Naval Station Coco Solo, Panama in 1963.
Francis Hilliker
77k
USS Churchill County (LST 583) moored pierside at Naval Station Rodman, Panama in 1964.
Francis Hilliker
185k
USS Churchill County (LST 583) beached at Turbo, Columbia in 1964. Drums contains a chemical defoliant.
Francis Hilliker
19k
USS Churchill County (LST 583) follows USS Walworth County (LST 1164) while transiting the Panama Canal, circa 1968.
USS Walworth County (LST-1164) web site
---
USS LST-583 / USS Churchill County (LST-583)
Dictionary of American Naval Fighting Ships (DANFS)
---
Commanding Officers

01
LT. Acker, Philip E., USNR
2 August 1944 - November 1945
02
LTjg. Stockton, Ralph Howell, USNR
November 1945 - 13 September 1946
Decommissioned
13 September 1946 - 1 November 1960
03
LT. McClenahan, Richard Myrl
no dates
04
LCDR. Miale, Robert Eugene, USN
1961 - July 1962
05
LCDR. Rowsey Jr., James Melvin, USN
December 1962 - 5 June 1964
06
LCDR. Carpenter, Rex, USN
5 June 1964 - 1966
07
LCDR. Nolan, Michael Howard Vance
1966 - 1968
08
LCDR. Bishop, William Richard
1968 - 11 December 1968
Courtesy Wolfgang Hechler and Ron Reeves
---
Crew Contact And Reunion Information
U.S. Navy Memorial Foundation - Navy Log
---
Additional Resources and Web Sites of Interest
The USS LST Ship Memorial
LST Homeport
State LST Chapters
United States LST Association
---
This page is created and maintained by Gary P. Priolo


Last Updated 24 December 2020