Please report any broken links or trouble you might come across to the Webmaster. Please take a moment to let us know so that we can correct any problems and make your visit as enjoyable and as informative as possible.
---
NavSource Online: Amphibious Photo Archive
USS LST-755





International Radio Call Sign:
November - Golf - Foxtrot - Xray
NGFX
---
Awards, Citations and Campaign Ribbons

LST-491 Class Tank Landing Ship:
Laid down, 20 May 1944, at American Bridge Co., Ambridge, PA.
Launched, 11 July 1944
Placed in reduced commission, 26 July 1944, LT Hyman Harris, USN in command
Commissioned in full USS LST-755 upon arrival at her fitting out yard at New Orleans, 3 August 1944. LT. Hyman Harris, USN in command
During World War II USS LST-755 was assigned to the Asiatic-Pacific Theater and participated in the following campaigns:

Campaign and Dates
Campaign and Dates
Luzon operation
Lingayen Gulf landings, 13 to 18 January 1945
Consolidation and capture of the Southern Philippines
Mindanao Island landings, 17 to 23 April 1945
Following World War II USS LST-755 was assigned to Occupation and China service in the Far East for the following periods:
| | |
| --- | --- |
| 2 to 8 September 1945 to 29 May 1946 | 8 September 1945 to 29 May 1946 |
Decommissioned, 29 May 1946
Transferred to the Republic of China. named ROC Chung Hai (LST-201)
In August 1958 ROC Chung Hai was involved in a battle in the Taiwan Straits. Kin-Men, a small island under Taiwan's control near Mainland China, was being threatened by the Peoples Republic of China (Mainland China). During the battle Chung Hai was credited with the sinking of at least one PRC torpedo Boat on 24 August. During a voyage from Taiwan to Kin-Men Chung Hai, with 800 army troops aboard, was struck by an enemy torpedo causing heavy damage, including 30 casualties among the army personnel and 8 dead and 12 wounded crew members. Chung Hai was towed to the US Naval Base Subic Bay in the Philippines for repair which included building her a new bow. Total cost of repairs was US$500,000. The Republic of China Navy converted their surviving LSTs with new German engines and enlarged bridge in the Plan "Chung-Hsin" (which means "New Chungs"). Chung Hai steamed 75,126hrs and 556,728nms during her service in the Republic of China Navy. She was retired by the Taiwanese Navy, 1 February 2010.
Struck from the Naval Register, 12 March 1948
Current Disposition, the Republic of China Navy plans are to keep ROCS Chung Hai as a memorial ship
USS LST-755 earned two battle stars for World War II service
---
Specifications:
Displacement
1,625 t.(lt)
4,080 t.(fl) (sea-going draft w/1675 ton load)
2,366 t. (beaching displacement)
Length 328' o.a.

Beam 50'

Draft
light 2' 4" fwd, 7' 6" aft
sea-going 8' 3" fwd, 14' 1" aft
landing 3' 11" fwd, 9' 10" aft (landing w/500 ton load)
limiting 11' 2"
maximum navigation 14' 1"
Speed 11.6 kts. (trial)

Endurance 24,000 miles @ 9kts. while displacing 3960 tons

Complement
13 officers
104 enlisted
Troop Accommodations
16 officers
147 enlisted
Boats 2 LCVP

Cargo Capacity (varied with mission - payloads between 1600 and 1900 tons)
Typical loads
One Landing Craft Tank (LCT), tanks, wheeled and tracked vehicles, artillery, construction equipment and military supplies. A ramp or elevator forward allowed vehicles access to tank deck from main deck
Additional capacity included sectional pontoons carried on each side of vessel amidships, to either build Rhino Barges or use as causeways. Married to the bow ramp, the causeways would enabled payloads to be delivered ashore from deeper water or where a beachhead would not allow the vessel to be grounded forward after ballasting
Armament (varied with availability when each vessel was outfitted. Retro-fitting was accomplished throughout WWII. The ultimate armament design for United States vessels was
2 - Twin 40MM gun mounts w/Mk. 51 directors
4 - Single 40MM gun mounts
12 single 20MM gun mounts
Fuel Capacity
Diesel 4,300 Bbls
Propulsion
two General Motors 12-567A, 900hp Diesel engines
single Falk Main Reduction Gears
three Diesel-drive 100Kw 230V D.C. Ship's Service Generators
two propellers, 1,700shp
twin rudders
---

ROCS Chung Hai (LST-201)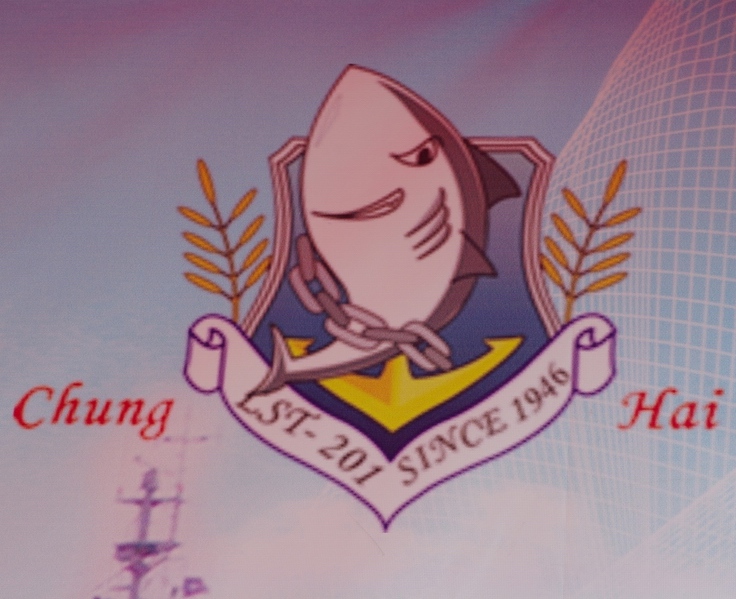 Contributed by Erwin Cheng




International Radio Call Sign:
Bravo - Charlie - Foxtrot - Mike
BCFM
---
ROCS Chung Hai (LST-201)

53k
Ex-USS LST-755 in the Republic of China service as ROCS Chung Hai (LST-201) at anchor, date and location unknown.
Official Republic of China Navy photo from "Jane's Fighting Ships", 1958-59.
Robert Hurst
19k
ROCS Chung Hai (LST-201) under way, date and location unknown.
Yu-Lun Miao
17k
ROCS Chung Hai (LST-201) moored pierside at West Wharf, Keelung, Taiwan, circa after 2000.
Yu-Lun Miao
36k
ROCS Chung Hai (LST-201) loading out at Pier 13, Kaohsiung, Taiwan, date unknown.
Larry Lin ROC Chung Shun (LST-208)
22k
ROCS Chung Hai (LST-201) dry docked probably circa August-September 1958 at US Naval Base Subic Bay, Philippines.
Erwin Cheng
478k
ROCS Chung Hai (LST-201) underway with modernized bridge structure and new German engines, date and location unknown.
Erwin Cheng
469k
ROCS Chung Hai (LST-201) decked out in red white and blue bunting during her decommissioning ceremony, 1 February 2010.
Erwin Cheng
140k
Ex-ROCS Chung Hai (LST-201) moored pierside at the ROC naval base, Cijin Island, Kaohsiung, Taiwan, 24 May 2016.
Jeff Clark
---
USS LST-755
Dictionary of American Naval Fighting Ships (DANFS)
---
Commanding Officers

01
LT. Harris, Hyman, USN
26 July 1944 - April 1945
02
LT. Johnson, William L., USNR
April 1945 - January 1946
03
LTjg. Guna, Andrew, USNR
January 1946 - 1 May 1946
Courtesy Wolfgang Hechler and Ron Reeves
---
Crew Contact And Reunion Information
U.S. Navy Memorial Foundation - Navy Log
---
Additional Resources and Web Sites of Interest
History of LST-755
The USS LST Ship Memorial
LST Home Port
State LST Chapters
United States LST Association
---
This page is created and maintained by Gary P. Priolo


Last Updated 15 July 2016