Please report any broken links or trouble you might come across to the Webmaster. Please take a moment to let us know so that we can correct any problems and make your visit as enjoyable and as informative as possible.
---
NavSource Online: Amphibious Photo Archive
USS LST-853
Autobiography of Naval Service for Radioman 2nd Class Joseph R Riling, USN
---
JOSEPH R. RILING, PETTY OFFICER 2ND CLASS (RADIO) , U.S.NAVAL AMPHIBIOUS CORPS. NOVEMBER 18,1943 - FEBRUARY 14, 1946
On November 18, 1943 1 received my "greetings" from Uncle Sam notifying me to appear on the 30th of November at the Armory at 32nd and Lancaster Ave. for determining my availability for training and service in the land or naval forces of the United States. After undergoing my physical I was drafted into the United States Navy.
I arrived at the U.S.Naval Training Station, Sampson, New York on December 8, 1943 at the height of a blizzard and was assigned to Unit F, Co. 432. We had reveille at 5:30 each morning, ate breakfast at 5:50, lunch at 12:00, and supper at 5:30. In between we drilled all day until taps at 9:30 p.m.
After a few weeks of training I was interviewed for the possibility of going to school for a rating. During this period I received notice of my passing the examination for entry into the Merchant Marine Officers school at Kingspoint, New York. I had taken a test prior to getting my "greetings" aboard their school ship "Keystone State" moored on the Delaware River earlier in November. I declined to accept this appointment and decided to stay in the navy.
The results of my tests while at Sampson qualified me to go to radio school. Those who had taken the tests and not qualified for schooling were sent immediately for sea duty. On December 10, 1943, I graduated from Sampson and was given a short leave to go home before getting my next assignment.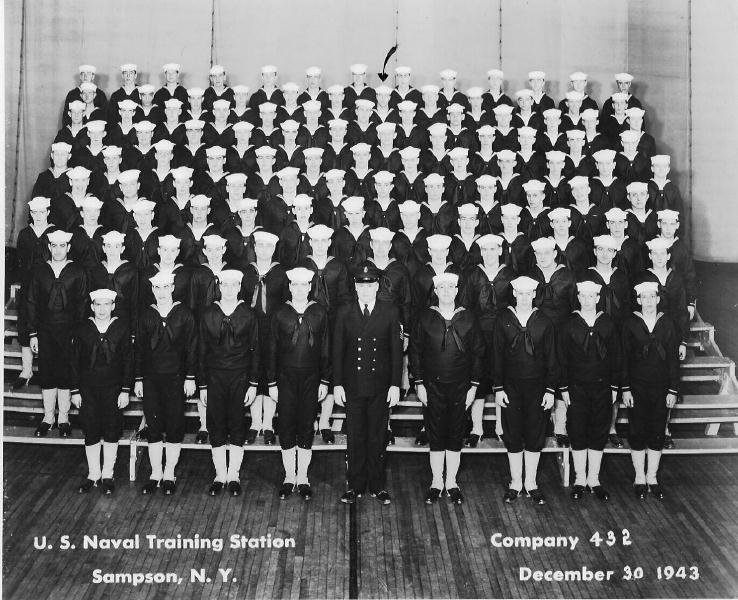 On February 10, 1943 1 arrived at my next assignment, the U.S. Naval Training School for Radio, at Keystone Schools, Bedford Springs, Pa. where we now became known as the "Mountain Navy".
Keystone Schools was housed in the former Bedford Springs Hotel which had been taken over by the U.S.Navy. The hotel had a golf course and tennis courts which we could use. A stream ran through the golf course and this had trout and other smaller fish in it. Many of which I caught during my
stay there. The food was excellent since the original hotel cooks and bakers were kept on. I spent sixteen weeks studying Morse code and radio procedure and typing. During my stay there I formed a swing band and we played for dances at the local WMCA. On the weekends I would get a pass and hitch-hike home which was nice.
On June 27,1944 1 graduated from the school as a radioman striker and was sent to the Amphibious Training Base, Camp Bradford, Norfolk, Virginia. At Camp Bradford we were assigned to four in a tent. Each day we drilled and trained on amphibious craft. On my weekends off I would hitch-hike
home just to spend a few hours with Mom. Ray was overseas in the Army in Germany. I had to take the ferry in those days since there was no Bay Bridge built yet. I never had trouble getting a lift since people were very kind to servicemen during the war years.
Our crew was formed in late November and we left Camp Bradford for Chicago. After a two day train ride we arrived there and were assigned to the Navy Pier where we stayed for two weeks. I had liberty every night while in Chicago and went to see some great band's including Gene Krupa who was playing at the Panther Room of the hotel Sherman. Eight of the division heads were sent to Seneca, Illinois. Since I was the head of the radiomen I was included in this group. The balance of our crew was sent to Great Lakes Naval Training Station for gunnery practice.
We arrived at the shipyard in Seneca. It was really nothing but a former cow pasture on the banks of the Illinois River. The name of the shipyard was the Chicago Bridge and Iron Works. Our ship LST 853 (Landing Ship Tank) had already been launched and was tied up at the wharf. My job was to
become familiar with the ships radio equipment. The radio room was located on the bridge behind the wheelhouse. To my relief it turned out that most of the equipment was the same as I trained with at Camp Bradford. Any questions I did have were answered by a civilian from the company who made the gear. We had liberty from 4 o'clock until 8 o'clock the next morning, and I would go into the town of Ottawa, Illinois which was nearby. They had a good band at one of the local pubs and I would sit in on the drums quite often which were a blast. On December first the balance of our crew returned from gunnery school. Due to the fact that our ship was not officially in commission our Captain was not in charge, and we had a ferry crew aboard all of who were members of the Coast Guard to man our ship. There were about fifteen men in the ferry crew, however none were radiomen so I was responsible for the efficiency of the radioroom and the sending and receiving of any messages.
On the whole the trip down the Illinois River into the Mississippi River was quite unimpressive. The Mississippi River was the muddiest river I have ever seen. We were in contact with the Coast Guard station in St.Louis and every evening we had to send out a dispatch to let them know our ETA (estimated time of arrival) at various positions. The Coast Guard captain told our captain that our radio crew was really on the ball which made him quite pleased since things had been going wrong in most of the other divisions on the ship. One day the engineer department members opened a wrong valve and the next morning the main deck was covered with fuel oil. There we no ships stores aboard as yet and nearly everyone was out of smokes. It was even hard to find a butt in an ashtray. When we reached Baton Rouge, Louisiana we tied up to a French tanker to take on fuel and our fellows were paying as much as five dollars a pack for smokes. This was quite an increase for smoking since the price aboard navy ships normally is a nickel a pack.
When we finally reached New Orleans we tied up to a dock at the Naval Repair Base. We no sooner had our lines secured than a gang of workers piled aboard to install our equipment. We were only in port a couple of weeks in New Orleans. I didn't have much time for liberty there since we were busy getting the radioroom ready for our shakedown cruise. I did go to one jazz concert that featured Louis Armstrong and renamed a street. Basin Street.
We left New Orleans for Panama City, Florida for our shakedown cruise and when we arrived other LST's were already there. For the next two weeks we underwent various operations that we had to known to prepare-us for invasion landings. We practiced beaching and even went on a mock invasion
of a small nearby island off Florida which included air attacks. On our last day we had a final inspection by a Commander and then we pulled up anchor and headed back to New Orleans. We were only there a couple of days when we received orders to go to Balboa in the Canal Zone.
On January 19th we left the United States for Balboa. We had a very good trip until we entered the Caribbean where the weather became a bit choppy.
On January 25th at 9:30 we lay off the Panama Canal. The next day we started through the Canal. When we reached Gatum Lake we anchored beside the battle cruiser Guam and some of our men went swimming off our ship. After leaving the Canal we came up along the coast of Mexico on our way to San Diego, California. During this trip we saw schools of tuna and many billfish. On February 11th we reached San Diego and pulled into the Destroyer Repair Base. We were at the Base for a couple of days and then left for Port Hueume, California, but while underway we received a message to proceed to San Francisco instead. On February 18th we passed under the Golden Gate Bridge and dropped anchor near the Oakland Bridge. I had quite a few liberty days in Frisco and Oakland.
On February 25th we left Frisco for Seattle, Washington and arrived there on the first of March. We tied up to Pier 90 for a short time and then shifted our berth to the Sound Construction and Engineering Dock to take on a cargo of trucks, jeeps, and Piper Cub planes. Liberty in Seattle was pretty good. I saw some excellent bands while I was there. We were told that this was our last stop in the States and it was. On March 10th we took on 111 Negro soldiers of "C" Company, 1908 Engineer Aviation Battalion and their equipment. With us were three other LST's and on our main deck we carried an LCT (Landing Craft Tank). Most of the colored troops had never been aboard a ship before and the waters off the Washington coast at that time of year were quite rough. We had a bunch of seasick soldiers on board for the next week. our next destination was Pearl Harbor, Hawaii.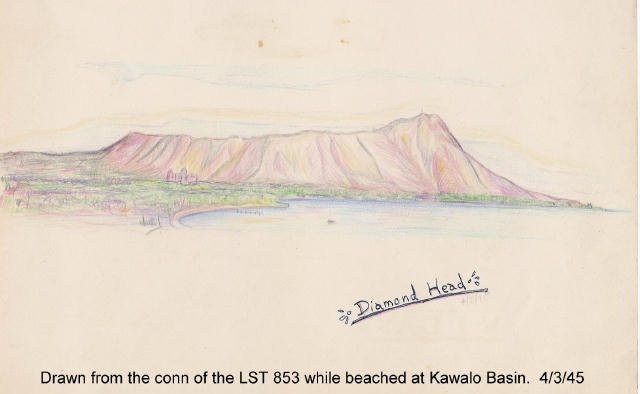 On the 23rd of March we entered Pearl Harbor with Diamond Head on our starboard side and we unloaded our jeeps and trucks at Hickum Field and then docked at Kewalo Basin, Honolulu and the soldiers were put ashore for some special training. Some years later my son Jay's boat, the Maggie Joe, used this same mooring location. While in Hawaii we had repairs done to both propellers and our bow doors which had been damaged from a collision with another landing craft after leaving New Orleans. We also had two 2x3O pontoons lashed to the sides of our ship. These pontoons were to be used in beachhead landings. On the 4th of April we left Pearl Harbor for the island of Eniwetok in the Marshal' Island chain in company with 11 LST's and 8 LCM )Landing Craft Medium). On the 10th of April we crossed the International Date Line and I became an official member of the "Sacred Order of the Golden Dragon".
We entered Eniwetok lagoon on the 16th and were there for 36 hours before getting underway for Guam in the Marianas islands. On the 21st of April entered Port Apra, Guam and were there two days before we got further orders to go the Saipan in the Marianas, a two day run. Upon arriving at Saipan we anchored in Tanapag Harbor where we discharged the men of Co. "C",1908th Aviation Engineers and received aboard Co. "C", 1878th Engineer Aviation Battalion for transfer to Okinawa in the Ryukyu Islands. I became very friendly with one of the officers of this outfit who-had a small record player and he would come up to the radioroom with it. I had some drumsticks which I bought in Seattle and he wanted to learn to play the drums. We had some great jam sessions together. He had been on Saipan since D-Day which was over a year ago and he said that there were still hundreds of Japanese soldiers in caves who were refusing to surrender.
We left Saipan on the 27th of April for Okinawa in the company of 7 LST's, 2 LSM's and 2 destroyer escorts. A few days out heavy weather caused the pontoon on the starboard side of the ship to break loose and since we couldn't recover it one of the destroyer escorts sank it with gunfire. On the night of the 28th we picked up an SOS from the Navy hospital ship "Comfort" which was being bombed and strafed off the coast of Okinawa. On the 2nd of May we lay off the coast of Okinawa at night and you could plainly see star shells and gun flashes all over the island. On the 3rd day of May we anchored in Hagushi Anchorage and were treated to four air raids that day. On the afternoon of the next day we fired our starboard batteries at an enemy bomber (Betty) that was approaching our ship, just off the water. The portside 20mm gun on the LCT we were carrying on our deck suffered at hit with three men wounded, on seriously. We had two other air raids that day. Sometimes we would get an air raid alert but would never have planes come over. The reason for this was the fact that the planes never got past the picket line. This line was made up of destroyers and other ships stationed about five miles off the coast that used their radar controlled anti-aircraft guns to shoot down the Japanese planes as they came into the island. The ships on the picket line took the brunt of the raids but usually succeeded in shooting down the enemy planes. The Navy suffered the greatest loss of ships and personnel during the war at the battle of Okinawa.
On May 6th we beached our ship at Green Beach #1, Hagushi, to unload personnel and equipment of CO."C" 18178th Engineer Aviation Battalion. We had six air raids this date followed by two more the next day. On the 8th we completed unloading our cargo and retracted from the beach. We shifted our berth to Nakagusuku Wan, later called Buckner Bay after General Buckner who was killed by a sniper during the invasion. We had three air raids this day. We anchored about a half mile from the carrier Bennington. The next day we had a daylight raid and two Japanese Zeros were hit by the guns of the Bennington. One plane crashed into the ocean but the other made a suicide dive into the bridge of the Bennington. We learned later that the plane went through four decks and killed seventeen sailors. On this day we heard the good news of Germany's surrender which gave us much to celebrate.
On May 10th the remaining pontoon tied to the side of our ship was launched and the following day the LCT was launched from our main deck. During this time we had three air raids. On the night of the 11th we had an unidentified plane with no recognition lights showing fly over us. We did not open fire since we were covered with a smoke screen from our smoke generator but some of the other ships did. We found out the next day that it was one of our older type seaplanes still carried on some cruisers. No one it the plane so it didn't become a victim of friendly fire.
This was the night that I almost became a casualty of war. I had been on radio watch continuously for almost 24 hours because of the constant air raids I had gotten off duty and hit the sack to get some badly needed rest. The sleeping quarters for Petty Officers were in the fantail of the ship. Our bunks were in tiers of three, and I had the middle bunk in my tier. Because of an impending air raid we had started our smoke generator which was on the main deck above my sleeping quarters. Above my bunk area there was an escape hatch which was to be closed during general quarters, someone had failed to close this hatch. I had fallen to sleep and didn't hear the alarm for general quarters and smoke from smokescreen generator poured down into the after crews quarters. I awakened from the smell of the smoke hardly able to get my breath. I started to get out of my bunk and the smoke was so thick I could hardly see. I must have passed out from smoke inhalation onto the steel deck. The combination of the cold deck and being down low caused me to gain consciousness and through the smoke I could make out the light at the passageway hatch. I crawled towards it on my hands and knees. In the meantime one of the other radiomen had come to hunt for me since I was not at my post in the radioroom. He found me at the hatch entrance and helped me to sickbay where they gave me oxygen and in a short while I recovered. This was the closest call I had during my tour in the service.
A mass of shipping such had seldom been assembled in history lay off the coast of Okinawa carrying supplies and reinforcements and this caused the Japanese to stop at nothing to destroy the ships with every weapon at their disposal. There was the ever-present threat of suicide weapons other than aircraft, such as explosive motor boats, human torpedoes and swimmers carrying limpet mines. The Japanese had positioned a large number of Shinyo type suicide craft on Okinawa. These were explosive motor boats about 21 feet in length with a speed of 28 knots. The armament was an explosive charge of TNT or two depth charges stowed in the bow. These boats would approach the target in groups of three from astern. The boats fitted with depth charges would drop them within a few feet of the ship's side while the boats with TNT bow charges would make a high-speed run-in and impact the ships side. Some of these crafts were intended to carry swimmers armed with limpet mines or íspar' type explosive charges. One evening while we were at anchor our lookouts spotted a large floating log off our starboard side. We turned on our floodlights and one of our twin 40mm guns opened fire on it, blowing it out of the water. Japanese swimmers were known to hide behind such floating objects and when they got close to a ship they would throw hand grenades on the deck. We might have had such a situation that night but we never found out since the blast from the 40mm threw everything sky high.
Between the 12th and 17th of May we averaged at least one air raid a night. On the 17th the head of each division was allowed to go ashore. I went into some village that had really been leveled by gunfire. The people there were native .0ki.nawans. and they were friendly and glad to see Americans. I traded for some coins with them. On the 18th of May we were underway from Okinawa enroute to Saipan in the company of 7 other LST's, 26 LSM's, and 4 destroyer escorts. on the 25th of May, 1945 we anchored in Saipan harbor where we took on troops and supplies. On June 4th we left Saipan enroute to Leyte, P.I. in the company of 30 other LST's.
On June 10th we anchored in San Pedro Bay, Leyte, P.I., where we stayed for two days before heading for Luzon, P.I., in the company of various LST's of the Pacific Fleet. On the 15th of June we entered Subic Bay, Luzon, P.I. and beached prior to loading cargo. The next day we completed loading troops and equipment of CO. "B", 440th Signal Heavy Construction Battalion, and retracted from the beach and anchored in Subic Bay.
On the 18th of June we left Luzon enroute to Okinawa in the company of 8 LST's. The next day we picked up two escorts at San Fernando Roads, Luzon, P.I. We arrived at Okinawa on the 24th of June where we anchored in Hagushi Anchorage. The following day we shifted our berth to Toguchi, Okinawa where we beached and commenced unloading our cargo. After a day of unloading we retracted from the beach. That day we ran aground on a reef in the Toguchi Anchorage. The ship was finally floated free from the reef with the a6sistance of another LST in the afternoon. We did not sustain any major damaged to our ship. On the 25th of June we were underway for Hagushi Anchorage from Toguchi, Okinawa. We moored our bow to a pontoon causeway at Purple Beach #2, Hagushi where we loaded troops and equipment of the 307 Infantry, U.S.Army.
On the 29th of June we got underway from Okinawa enroute to Leyte, P.I. in the company of 10 LST's and 3 escorts. We arrived in the San Pedro Bay, P.I. on the 4th of July. The following day we left Leyte for Cebu, P.I. which was a one day trip. We anchored in Magellan Bay, Cebu, P.I. on July 6th and the following day we left for Danao, Cebu. We beached north of Danao Point and disembarked troops and equipment of the 307th Infantry. We retracted from the beach and anchored in Magellan Bay. On the 8th of July we shifted our berth from Magellan Bay to Cebu City, P.I. and the following day left for Subic Bay where we arrived and commenced a three day anchor availability. On the 14th of July we beached at Subic Bay and commenced loading personnel and equipment of the 5th Air force. After a days loading we retracted from the beach and anchored in Subic Bay. The following day we left our anchorage enroute to-Okinawa in the company of 14 LST's and 3 escorts. On the 17th of July we anchored in San Fernando Roads, Lingayen, P.I. On the 18th we finally got underway for Okinawa. We had a U.S.Army air-sea rescue boat in tow but in heavy weather the bridge of the crash boat broke loose and our tow was lost. The crash boat had to return to port. Our convoy had to maneuver off eastern Luzon to avoid a typhoon to the North.
On July 23rd we arrived at Okinawa and anchored in Hagushi area. The following day we beached at Hamasak Beach, Okinawa and commenced unloading Personnel and cargo of the 5th Air force. The following day we completed our unloading and headed for Buckner Bay where we anchored. The next day we moored our bow onto the Yonabaru landing dock. We loaded U.S. Army infantry units of the 96th D-division and then cast off from the dock and anchored in Yonabaru Wan. We had four air raids over the next three days.
On August 1, 1945 we got underway from Yonabaru Wan enroute to Leyte, P.I. in the company of 24 LST's and 3 escorts. Three days out to sea we were attacked by two Japanese submarines who fired there torpedoes but hit none of our convoy. One of the destroyer escorts with us dropped her depth charges and sank one of the subs. We sent a message to Leyte for aircover and they sent out a Mariner flying boat. The following day we ran into a typhoon and the flying boat was forced to land because of the heavy weather and it was badly damaged. Being unable to get airborne one of our escorts rescued the drew and then sank the Mariner with gunfire. This trip was very eventful. Our escorts sighted floating mines ahead of our convoy which could have been laid by the submarines that attacked us. These mines were exploded by our escorts by gunfire.
On August 7th we finally arrived at Leyte and anchored in San Pedro Bay. We stayed there two days and then in the company of 9 other LST's left for Mindoro, P.I. On August 11th we anchored in Mangarin Bay, Mindoro, P.I. and shortly after- wards we were underway for beaching south of Bugsango Point to unload personnel and equipment of army infantry units of the 96th Division. Upon completion of unloading we returned to our anchorage in Mangarin Bay. The following day we left Mindoro enroute to Zamboanga, Mindanao, P.I. in the company of 9 other LST's. Two days later we arrived at Zamboanga and beached at San Mateio Beach. On August 15th we received news of the surrender of Japan and we broke out our supply of beer and all the guns on our ship were fired in celebration. Three days later we left Zamboanga in the company of 9 LST's for Leyte and went from there to Batango, Luzon, P.I. We beached at Taloga Beach, Luzon on the 30th of August and loaded service units of the 8th Army. On September 3, 1945 we left for Yokohama, Japan in the company of.16 LST's and one escort.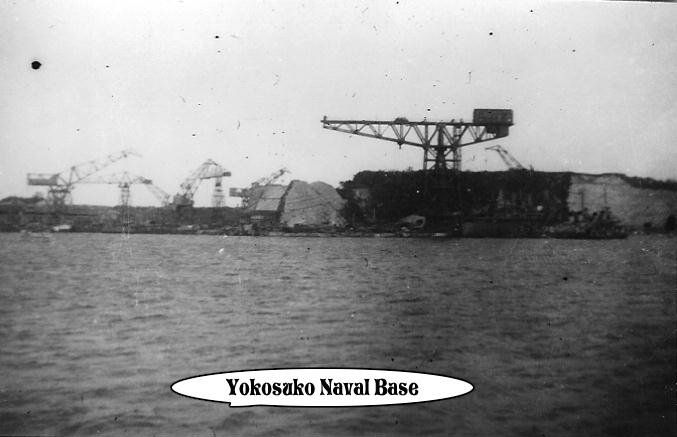 On September 12th we arrived at Japan and moored our bow onto the Takashima Loading Dock, Yokohama, and unloaded our cargo. We shifted our berth to an anchorage in Yokohama Bay. The following day we beached at Yokosuka Naval Base which was the largest naval installation in Japan. We commenced loading personnel and equipment of the 4th Marine Division. While beached at Yokasuka Naval Base we had liberty to go ashore. Some of our crew got loaded on too much saki and stole a fire truck and drove it aboard our ship. Needless to say they caught hell and had to return it to the firehouse. While at the naval base I went on liberty into Tokyo. The city had been bombed quite heavily and many homes were destroyed. People were living in tents and crude buts. The only structures not leveled were the large concrete buildings. Our crew members came back after liberty with all sorts of souvenirs. I had gotten into a damaged Army & Navy store and brought back all sorts of medals and insignia.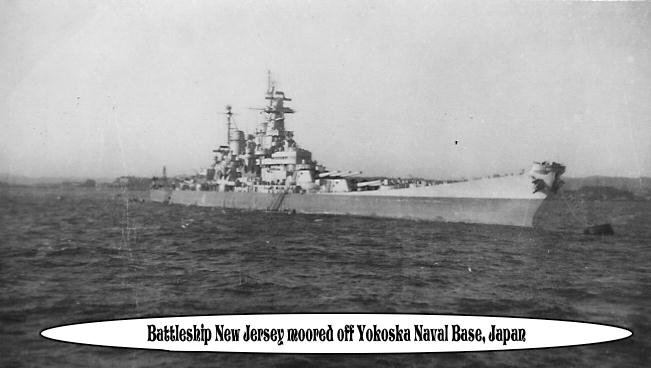 We stayed in Yokohama Bay for four days during which time I had the good fortune of being able to go aboard the Japanese battleship "Nagato". This had been the flagship of Fleet Admiral Yamamoto and it was on this ship that the sneak attack on Pearl Harbor was conceived. This was the only major Japanese naval ship still afloat. Sometime later it was sunk during the atomic bomb test at Bikini Atoll.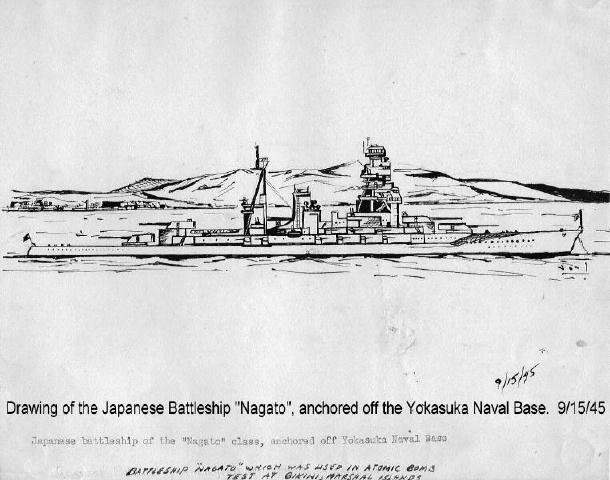 We got underway from Yokahoma Bay enroute to Guam in the Marianas Islands in the company of one other LST and an escort. On September 26 we arrived at Port Apra, Guam where we moored to an unloading dock and unloaded our cargo. The next day we shifted our berth to Galalan Banks Jetty. An LST was tied up to each side of our ship and members of their crews were welcomed aboard. They had just left the U.S. and had seen nothing of the war and were anxious to get some souvenirs to take home with them. Among some of the items our crew had collected in Japan were bolts of white silk. The married men had gotten these to take home to their wives. I managed to get a hold of a couple of bolts and cut them into the size of flags that the Japanese soldiers carried with them. I took a lid from one of the 50 gallon drums of red lead paint that was used as a primer coat when the ship needed touching up. The color of the paint and the size of the lid was perfect for making a Rising Sun in the center of piece of flag material. After a day of drying in the sun I had no trouble in getting $50.00 per flag for them. I also sold loads of the insignia and medals that I had gotten in Tokyo. There is a saying that "all is fair in love and war".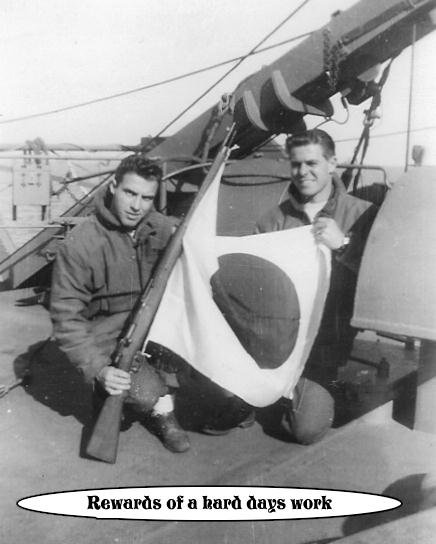 On October 9, 1945 we got underway from Guam enroute to Leyte, P.I. and arrived there on the 25th of October anchoring in San Pedro Bay, and we beached at Rizal, Leyte. We had liberty And went into a small village there. I was put on Shore Patrol duty and was given a club but no gun. There were still Japanese soldier hold-outs up in the hills and they would sneak down into the villages to get food. I'm glad I didn't meet any for the best I could do would have been to throw my club at them.
In the village they had a few so-called bars. These were simply huts where they sold homemade booze which I never touched. One of these bars had a sign on the roof of the hut "The American Bar". This must have been the number one night-club because it even had a six piece band. The drummer in the band had no regular drum sticks, only two made out of twigs. I had an extra set of sticks in the radioroom and the next day I took them to him as a gift. He insisted than I sit-in with the band and I guess they liked my playing as I became known as "Joe Krupa".
On October 26th we completed loading cargo and got underway from Leyte enroute to Aomori, Japan in the company of 14 LST's and one escort. Aomori is on the Northern tip of Honshu not very far from Russian territory and it was extremely cold there. When we arrived we were greeted with a blinding snowstorm. It was quite a change from the balmy South Pacific weather we had been use to.
After a few weeks at Aomori we went back to the Philippines and over the next few months we made milk-runs between Okinawa and Japan.
We finally got our orders to return to the good old U.S.A. and on February 2, 1946, we arrived in San Francisco, California where we passed under the Golden Gate bridge and anchored off Alcatraza Island. Later that morning I debarked from LST 853 along with 47 other members of our crew for the Intake Station Receiving Ship, Treasure Island, California. I was given a bunk and barracks number and a special liberty pass to go ashore whenever I wished. A week later I boarded a train for my cross-country trip home. I arrived in Philadelphia on February 14th, Valentine's Day. I took a cab from the train station to 7029 Mower Street. Before arriving there I asked the cab driver to stop at a flower shop and I bought Mom a bunch of roses. So ended my military career. I never fired at shot in anger and the only thing I ever killed was a glass of beer. For those who lived and were not seriously wounded the war had been a great experience.
When I was discharged from the Navy I stayed in the Reserve and with the outbreak of the Korean War some years later I received a second "Greeting" from Uncle Sam. I reported to the Philadelphia Navy Yard for my physical. One of the examining doctors thought he found a problem with my heart sounds and after deliberating with a couple of other doctors they told me I could go home but I would be called back in a few weeks for additional tests. My Reserve time was up in a few days so being released from the Reserve I never got a call back. I spent 12 hours as a participant in the Korean War.
---