Please report any broken links or trouble you might come across to the Webmaster. Please take a moment to let us know so that we can correct any problems and make your visit as enjoyable and as informative as possible.
---
NavSource Online: Amphibious Photo Archives
Personnal Collection of Harold E Carter
USS LST-885
---
Extracted from an email message written by Suzanne M Carter Isaacson: A little history on my father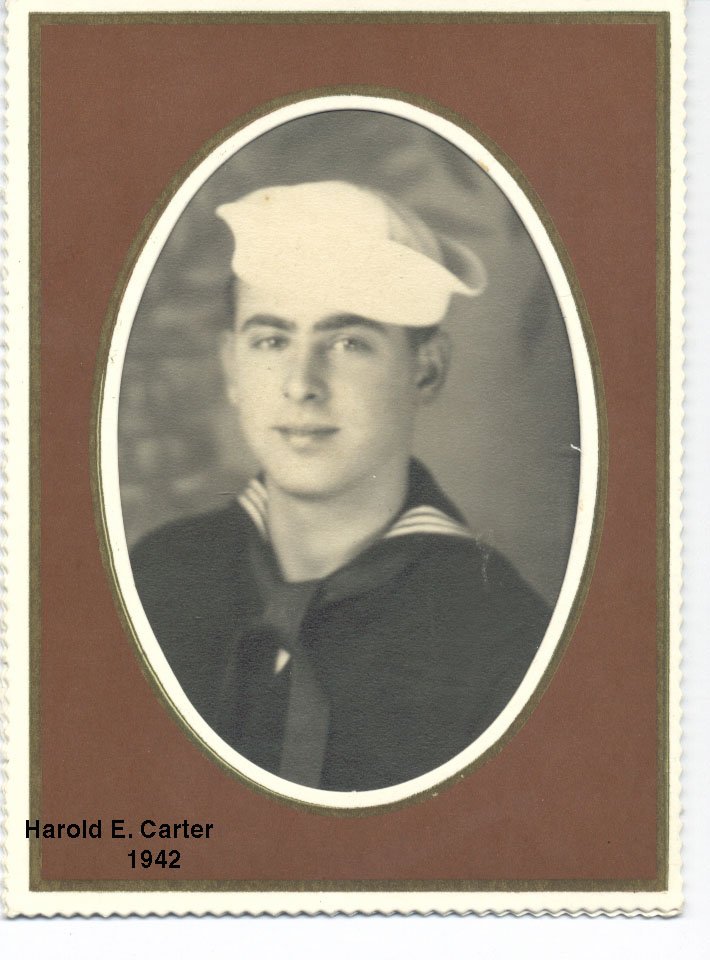 Harold E. Carter
1924-present


Enlisted in Coast Guard 1942
Basic Training at Manhattan Beach NY
Served on Patrol boats in the Boston area
Assigned to amphibious training Camp Bradford, VA, upon amphib. training completion, he was sent to Pittsburgh to board LST 885 for the shakedown cruise, late (Sept-Oct?) 1944. When LST-885 reached New Orleans, crew members were given 3 day passes, and he took the train from New Orleans to Little Rock to visit his family. That is the time frame the picture of him and his father was taken. once the crew returned they headed 885 out of New Orleans, down through the Gulf of Mexico and through the Panama Canal. They headed on to Pearl Harbor and on into the pacific. They passed through the Guadalcanal area and stopped in the Marshall Islands. This was the 1st time the crew had been ashore since leaving Hawaii. On Mog-Mog beach (I've yet to find this beach on any map, but it's suppose to be in the Marshall Islands) they were granted some furlough time (I'm not sure how much) and an allotment of 2 cans of beer, which were to be consumed on the island. I have pictures of this occasion that I will be scanning.
They served in the Philippine Island invasion, I don't have any specifics
They participated in the Okanawa Invasion
They were at the Ie Shima Battle (and my dad pointed out he was there when Ernie Pyle was killed...) -and they served as the Occupation force in Japan. My father says they were the 1st ship to land in Yokohama Bay (other units were 1st but they went by air. I have yet to substantiate this claim.)
My father tells the story that once they had docked at Yokohama Bay, he was granted a 3 or 4 hour pass to go ashore to visit with his cousin that was a Lt. on the Headquarters' staff. This was apparently a big deal for him, and quite a privileged. It had been some time since he had seen any of his family and years later as old men, I remember hearing them talk about it.
After surrender, 885 spent a week in Japan, then back to the Philippines, back to Japan. They carried Marines back to Honolulu, then on the Long Beach CA. My father says the ship was decommissioned in Orange TX, Feb. 1946.
He was then discharged from Coast Guard March 6, 1946. He rejoined 3 years later to have a 25 year career in the Coast Guard before retiring and working in the private sector for another 25 years. He has told me the Executive officer was a man named Tucker, from St. Louis MO and the Capt.. was O.T. Macintosh, from Atlanta GA. I have a picture of Capt.. Macintosh I will be scanning. There is also an informal group shot of all the officers that I will be scanning as well.
Another interesting point I've asked both my father and father-in-law about is all the pictures. My father was from a poor farm family in Arkansas. My father-in-law was from a poor farm family in Missouri. Both have said their families were too poor to notice there was a depression going on. so this lead me to wonder how either of them had cameras, and how they got film and how that film was processed. They both reported (my father-in-law was on a LCI in the PTO) that there was a ship photographer and he had a makeshift darkroom on board where he developed the pictures. Then you requested what pictures you wanted and he made them up for you, free of charge. So potentially, there are 10 other guys out there with the same pictures I have. Both also commented that you were under strict orders not to send any of those pictures in the mail. This would explain to me why the official looking pictures of the ship and crew members all have Coast Guard backmarks.

---
Click On Image For Full Size Image
---
| | | | | | |
| --- | --- | --- | --- | --- | --- |
| Harold Carter | John Calini | John Calini & Harold Carter | John Calini & Joe Sedegar | Harold Carter & friends | Harold Carter |