Please report any broken links or trouble you might come across to the Webmaster. Please take a moment to let us know so that we can correct any problems and make your visit as enjoyable and as informative as possible.
---
NavSource Online: Amphibious Photo Archive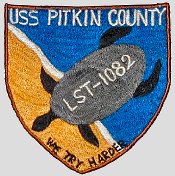 Contributed by Mike Smolinski
USS Pitkin County (LST-1082)
ex
USS LST-1082 (1945 - 1955)






International Radio Call Sign:
November - Alpha - Mike - Alpha
NAMA
---
Awards, Citations and Campaign Ribbons

LST-542 Class Tank Landing Ship:
Laid down, 18 November1944, at American Bridge Co. Ambridge, PA.
Launched, 26 January 1945
Commissioned, USS LST-1082, 7 February 1945, at Naval Repair Base, Algiers, LA., LT. John B. Cameron, USNR, in command
During World War II USS LST-1082 was assigned to the Asiatic-Pacific Theater;
LST Flotilla Thirty-Two, CDR. D. J. Sweeny (23)
LST Group Ninety-Five, CDR. J. Capponi;
LST Division One Hundred Ninety and participated in the following campaign:

Campaigns and Dates
Okinawa Gunto operation
Assault and occupation of Okinawa Gunto, 8 to 30 June 1945
Following World War II USS LST-1082 was assigned to Occupation service in the Far East for the following periods:

8 September to 1 October 1945
15 to 28 October 1945
10 November to 10 December 1945
Decommissioned, 5 August 1946, at Astoria, OR.
Laid up in the Pacific Reserve Fleet, Columbia River Group, Astoria
Recommissioned at Astoria, 6 September 1950, LCDR. John E. Chadwick, USNR, in command
During The Korean War USS LST-1082 participated in the following campaigns:
Campaigns and Dates
Campaigns and Dates
First UN Counter Offensive
10 to 20 March 1951
Korean Defense Summer-Fall 1952
13 to 17 May 1952
2 to 6 June 1952
13 June 1952
11 August 1952
27 August to 4 September 1952
20 to 23 September 1952
17 to 18 October 1952
Communist China Spring Offensive
28 April to 1 May 1951
9 to 12 May 1951
Named USS Pitkin County (LST-1082), 1 July 1955
Decommissioned, 1 September 1955, at San Diego, CA.
Laid up in the Pacific Reserve Flee, San Diego Group
Recommissioned, 9 July 1966, at Long Beach CA., LT. C. E. Quarles in command
During the Vietnam War USS Pitkin County (LST-1082) participated in the following campaigns:
Campaigns and Dates
Campaigns and Dates
Vietnam Counteroffensive - Phase II
22 to 23 December 1966
13 to 20 February 1967
26 February to 15 April 1967
Vietnam Counteroffensive - Phase VI
2 to 24 November 1968
6 to 24 December 1968
3 to 4 January 1969
6 to 7 January 1969
10 to 11 January 1969
16 January 1969
19 to 23 January 1969
Vietnam Counteroffensive - Phase III
17 June to 21 July 1967
13 September to 5 October 1967
21 to 25 October 1967
8 December 1967 to 17 January 1968
Vietnam Summer-Fall 1969
1 July 1969
1 August 1969
5 August 1969
7 to 8 August 1969
10 to 11 August 1969
13 to 16 August1969
27 August 1969
25 to 26 September 1969
28 September 1969
20 to 21 October 1969
Tet Counteroffensive
3 to 5 February 1968
12 to 17 February 1968
Vietnam Winter-Spring 1970
3 to 5 November 1969
7 to 9 November 1969
21 to 23 November 1969
29 to 30 November 1969
23 to 25 February 1970
28 February to 1 March 1970
Vietnam Counteroffensive - Phase IV
15 April to 7 May 1968
29 May to 30 June 1968
Sanctuary Counteroffensive
1 to 3 June 1970
Vietnam Counteroffensive - Phase V
09-October to 1 November 1968
Vietnam Counteroffensive - Phase VII
20 November 1970 to 11 January 1971
1 to 4 March 1971
Decommissioned, 1 September 1971
Struck from the Naval Register, 1 April 1975
Sold for scrapping, 19 December 1975, by DRMS (Defense Reutilization and Marketing Service)
Resold to Max Rouse & Sons, Beverly Hills, CA. and taken in hand by Marine Industries, Tacoma, WA. for conversion for commercial use
Sold to Landing System Technology Pte. Ltd,, Singapore (Lauritz Kloster, Norway) in 1975 and renamed MV LST 4
Arrived at Piraeus, Greece having been acquired by Maritime & Commercial Co. Argonaftis S.A., Panama (Greek flag) and renamed Petrola 144, 6 June 1978
Entered service, 26 October 1980: Entered service
Arrived at the ship breakers at Gadani Beach, Pakistan for demolition, 16 April 1988. LST-1082 earned one battle star for World War II service, four battle stars for Korean War service and ten campaign stars for Vietnam War service
---
Specifications: (as reported by Office of Naval Intelligence-1945)
Displacement 1,625 t.(lt), 4,080 t.(fl) (sea-going draft w/1675 ton load)
Length 328' o.a.
Beam 50'
Draft
(light) - 2' 4" fwd, 7' 6" aft
(sea-going) 8' 3" fwd, 14' 1" aft
(landing) 3' 11" fwd, 9' 10" aft (landing w/500 ton load)
Speed 12 kts. (maximum)
Endurance 24,000 miles @ 9kts. while displacing 3960 tons
Complement
7 officers, 104 enlisted
Troop Accommodations
16 officers, 147 enlisted
Boats 2 LCVP
Cargo Capacity (varied with mission - payloads between 1600 and 1900 tons)
Typical loads
One Landing Craft Tank (LCT), tanks, wheeled and tracked vehicles, artillery, construction equipment and military supplies. A ramp or elevator forward allowed vehicles access to tank deck from main deck
Additional capacity included sectional pontoons carried on each side of vessel amidships, to either build Rhino Barges or use as causeways. Married to the bow ramp, the causeways would enabled payloads to be delivered ashore from deeper water or where a beachhead would not allow the vessel to be grounded forward after ballasting
Armament (varied with availability when each vessel was outfitted. Retro-fitting was accomplished throughout WWII. The ultimate armament design for United States vessels was
2 - Twin 40MM gun mounts w/Mk. 51 directors
4 - Single 40MM gun mounts
12 single 20MM gun mounts
Propulsion two General Motors 12-567, 900hp diesel engines, two shafts, twin rudders
---
Click On Image
For Full Size Image
Size
Image Description
Contributed
By
USS LST-1082

27k
USS LST-1082 underway, date and place unknown.
LST Home Port web site
55k
USS LST-1082, with pontoons lashed to her side, at anchor opposite a small fishing village near Sasebo, Japan, 23 September 1945.
Richard W. Friedrich, F/1c, LSM-467, Collection, slide #20
51k
Left to right; USS LSM-344, USS LST-1074, and USS LST-1082 in Sasebo Harbor, Kyushu, Japan. Japanese Seaplane Base is at the left center of this photo.
Richard W. Friedrich F/1c, LSM-467, Collection, slide #19
USS Pitkin County (LST-1082)

19k
USS Pitkin County (LST-1082) tied up along side USS Washtenaw County (LST-1166) someplace in Vietnam, circa late 1968.
&copyJim Stock
223k
USS LST-1082 underway, in the harbor at Hong Kong, circa May 1970.
Bob Behm
---
USS Pitkin County (LST-1082)
DANFS history entry located at the US Naval History and Heritage Command
---
Crew Contact And Reunion Information
U.S. Navy Memorial Foundation - Navy Log
---
Additional Resources and Web Sites of Interest
The USS LST Ship Memorial
Mobile Riverine Force Association
LST Home Port
State LST Chapters
United States LST Association
---
This page is created and maintained by Gary P. Priolo


Last Updated 5 April 2013