Please Report Any Broken Links Or Trouble You Might Come Across To The Webmaster.
Please Take A Moment To Let Us Know So That We Can Correct Any Problems And Make Your Visit As Enjoyable And As Informative As Possible.
---
NavSource Online: Amphibious Photo Archive
Landing Craft Tank
LCT(6)-539
Ships Log for the Invasion of Europe, D-Day, 6 June 1944
Contributed by John Kellers LCT-539
---
Ships Log LCT 539

June 5 1944


0300 Skipper up. Sipes starts engines
0315 Woke Duty Sections 1-3
0330 Started generator
0733 Fist of air cover sighted 0800 Course 120&deg - speed 1600 RPM
0830 Course 123&deg - speed 1800 RPM
0900 Course 120&deg - speed 1800 RPM
0930 Course 120&deg - speed 1800 RPM
1000 Course 120&deg - speed 1700 RPM
1030 Course 120&deg - speed 1700 RPM
1100 Course 120&deg - speed 1600 RPM
1130 Course 120&deg - speed 1600 RPM
1140 Two Spitfires overhead
1200 Course 120&deg - speed 1600 RPM
1230 Course 120&deg - speed 1700 RPM
1300 Four Spitfires overhead
1320 Four Spitfires on std, two Spitfires on port
1330 Course 110&deg - speed 1500 RPM
1340 R.A.F. on both sides
1400 Course 120&deg - speed 1600 RPM
1430 Course 110&deg - speed 1600 RPM
1500 Course 120&deg - speed 1600 RPM
1505 New course 150&deg - speed 1600 RPM
1600 Course & speed the same
to
1900
1930 Change course 165&deg - speed 1700 RPM
to
2400 - Course and speed the same

June 6 1944


0030 Course 165&deg speed 1700 RPM
0100 Course 180&deg speed 800 RPM
0200 Bombing off shore on std bow
0230 Course 180&deg speed 1800 RPM
0300 Bombing and flares off starboard bow and stern
0330 Course 180&deg speed 1700 RPM
0400 Course 180&deg speed 17 RPM. Bright moon Allied fighters overhead
0430 Course 181&deg speed 1700 RPM
0500 Entered transport area
0530 Formed our column in wave 8 E.R.
0600 Proceeded towards beach with escort of mine sweepers
0630 Course 209&deg speed 1200 RPM
0700 Proceed to beach at 1800 RPM
0730 Hit beach. It being well guarded received two shells from 88mm. One in starboard locker. One in skippers quarters. One 47mm hole in starboard bulwark. Two soldiers killed. Two badly hurt. One 47mm thru port ramp extension.
0734 Retracted from beach
0800 Cruised off shore to find a more accessible landing place. All too well guarded
0830 Underway to keep out of range of German gunfire
0900 Cruising off shore
1000 Allied fighters overhead
1100 Gunfire from # ships batteries
# supporting ships - DD's BB's. ETC
1130 Still cruising off shore
1200 Destroyers scanning beach for gun placements
1230 Destroyer knocks out remaining guns
1300 Cruising off shore
1330 Infantry ashore to blast tank traps
1400 Cruising looking for opening in beach
1500 Beached & Army ashore with vehicles
1600 Proceeding towards transport area to deposit dead & wounded
1630 Traveling to transport area starboard engine out
1700 Signaled to hospital ship (Sam Chase)
1800 Sam Chase takes dead & wounded
1830 Proceeded to anchorage

June 7, 1944


0810 Transport area bombed. Secured from GQ
0900 pulled in anchor. Tryed to help sinking "Susan B. Anthony" but could not do so because of only one engine in operating condition
1100 Took on load from LST and proceeded to beach
1620 Beached & Army going off
1630 High & dry on beach. Standing by to take on wounded
1800 Took on - 3 wounded - German
- 1 " - British
- 2 " - Americans
2130 Pulled alongside of L.S.T. 134 unloaded wounded
---
Letter from John H. Kellers to Laurent Lefebvre, describing the action as noted in the above log
5/2/01

DEAR LAURENT

I AM SORRY FOR THE LONG DELAY IN PROVIDING THE INFORMATION YOU REQUESTED. I WILL START FROM THE BEGINNING TO TRY TO ANSWER YOUR LETTER. SOME OF YOUR QUESTIONS WILL BE ANSWERED BY THE ENCLOSED LITERATURE.

1. I WAS ON LCT 539 THE 0/C WAS ENS LINWOOD RIDEOUT I WAS A GUNNERS MATE 3/C

2. WE ARRIVED IN ENGLAND THRU SCOTLAND ON THE TROOP TRANSPORT FREDERICK LYKES. WE TRAVELED BY TRAIN TO THE ROYAL NAVAL COLLEGE AT DARTMOUTH DEVON. I WAS IN A CREW OF 12 WHICH WAS THEN SPLIT IN TWO GROUPS AND ASSIGNED TO LCT' S ALREADY IN TRAINING. AFTER THAT WE MOVED T0 VARIOUS AREAS AS TRAINING PROGRESSED. WE ENDED IN PLYMOUTH ENGLAND WHERE WE PREPARED FOR THE INVASION.

3. I HAVE INCLUDED A COPY OF OUR LOG INDICATING WE LEFT PLYMOUTH AT APPROXIMATELY 0330.
WE HAD ON BOARD MEMBERS OF THE 161ST INFANTRY OF THE 1ST DIVISION AND THE 37TH COMBAT ENGINEERS. A COPY OF THE DECK LOAD IS INCLOSED.

LIFE ON BOARD THE NIGHT OF (6/4/44) WAS QUITE NORMAL OTHER THAN CROWDED WITH TROOPS. AS WE HAD NEVER EXPERIENCED COMBAT WE HAD NO IDEA WHAT TO EXPECT.

4. THE NIGHT (6/5/44) BEFORE THE INVASION WAS VERY TENSE AS WE HAD ALREADY EMBARKED AT APPROXIMATELY THE SAME TIME ON THE 4TH BUT WERE ORDERED TO RETURN DUE TO WEATHER CONDITIONS.

5. REFERRING TO THE LOG, WE BEACHED AT 0730 IN THE 8TH WAVE AT EASY RED OMAHA. I WAS ASSIGNED TO THE PORT 20 MM. WE WERE UNDER INTENSE FIRE FROM THE BEACH AND SUFFERED NUMEROUS HITS.

6. THE FIRST DAY, 6TH OF JUNE, AFTER WE LANDED AND DISEMBARKED THE TROOPS TIME WAS SPENT HOSING DOWN THE DECK OF ALL THE BLOOD OF THOSE KILLED. IT WAS A TERRIBLE EXPERIENCE. WE THAN CARRIED WOUNDED FROM THE BEACH, TOOK ON A COUPLE OF WOUND GERMAN PRISONERS AND THAN PROCEEDED TO THE SAM CHASE TO DEPOSIT BOTH WOUNDED AND DEAD.

THE SECOND DAY WE HAD THE OPPORTUNITY SPEND ON THE BEACH. I REMEMBER THE ROWS OF THE DEAD AND PILES OF ARMS AND LEGS COLLECTED WITH NO OTHER REMAINS.

WE SPENT A FEW MONTHS TRANSPORTING TROOPS, SUPPLIES AND VEHICLES FROM LARGER SHIPS TO SHORE I ALSO REMEMBER THE SOUNDS OF THE SHELLS MAKING A SWISHING NOISE AS THEY PASSED OVERHEAD AS THE BATTLESHIPS FIRED AT TARGETS INLAND.

I REMEMBER THE OBSOLETE SHIPS BEING SCUTTLED TO PROVIDE A BREAKWATER HARBOR. I ALSO REMEMBER THE CONCRETE UNITS FLOATED FROM ENGLAND TO PROVIDE ADDITIONAL BREAKWATER PROTECTION.

7. REFERRING TO THE LOG. WE HAD CASUALTIES OF TWO KILLED AND TWO WOUNDED SOLDIERS (AFTER ALL THESE YEARS I CAN STILL HEAR THE SOUNDS OF THE SHELLS HITTING, THE NEAR MISSES, AND THE SOUNDS MADE BY THE MEN WHO WERE HIT). FOR TERRIBLE DETAILS, ONE OF THE SOLDIERS WHO WAS KILLED WAS HIT IN THE HEAD WITH WHAT MUST HAVE BEEN A VERY LARGE SHELL AS HIS HEAD VIRTUALLY EXPLODED. PARTS OF HIS BRAIN AND SKULL MADE A PINK SHOWER IN THE AIR AND COVERED US WITH THIS MATERIAL. IT WAS A HORRIBLE EXPERIENCE AS YOU MAY IMAGINE

8. I AM ENCLOSING A COUPLE OF PICTURES TAKEN IN NORMANDY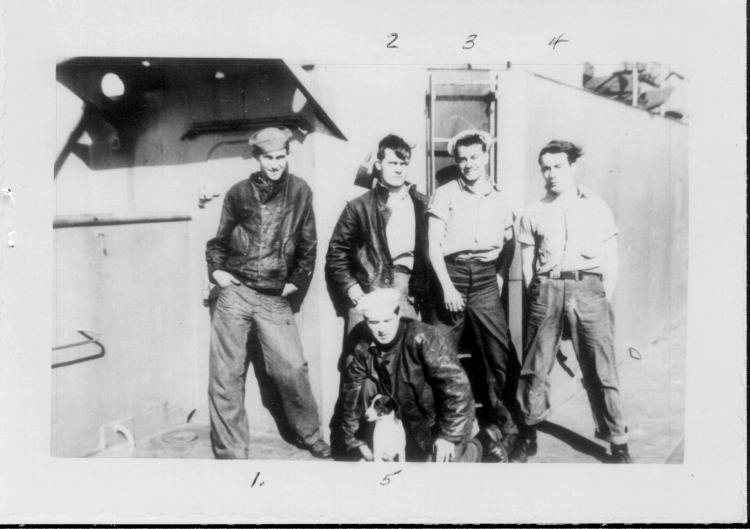 1. J H KELLERS, GM3/C
2. HANSON WEST, SM 2/C
3. RICHARD RUNG MM 3/C
4. CHARLES LAMPHERE SM 2/C (KILLED BY A TRAIN IN CALIFORNIA BEFORE DISCHARGE FROM NAVY IN l946)
5. CHET RUTKOWSKI MM3/C
9. ACTION REPORT ENCLOSED. LOG OF THE LCT 539
10 . I KEEP IN TOUCH WITH DICK RUNG, CHET RUTKOWSKI AND LARRY BONDI LARRY WAS THE EXEC OFFICER ON THE LCT 546 AT NORMANDY AND REPLACED LINWOOD RIDEOUT AS OUR SKIPPER FOR OUR PACIFIC ASSIGNMENT.
I ENLISTED IN THE NAVY IN JUNE OF 1943 AT THE AGE OF 17. I WAS 18 YEARS OLD DURING THE NORMANDY INVASION. I HOPE I HAVE ANSWERED YOUR QUESTIONS, AND APOLOGIZE FOR BEING SO GRAPHIC, BUT MEMORIES OF THAT TIME HAVE NEVER FADED
SINCERELY
---
This page is created and maintained by Gary P. Priolo