28k
Task Unit 76.4.10 LCTs, 10 December 1944, approaching Dulag, Leyte Island, P.I. Task Unit 76.4.10 consisting of;
LCT(6)-1039,
LCT(6)-1072,
LCT(6)-1074,
LCT(6)-1038,
LCT(6)-1068,
LCT(6)-1067,
LCT(6)-716,
LCT(6)-717,
LCT(6)-718,
LCT(6)-722,
LCT(6)-724,
LCT(6)-725,
LCT(6)-1071,
LCT(6)-1073 and
LCT(6)-1075.
Task Unit 76.4.10 departed Hollandia, 3 December 1944 and launched from LSD's in San Pedro Bay, 9 December 1944 to deliver companies of the US Army's 542 Engineers, Boat and Shore Regiment.
Photo taken by Bernard L. DeNoma (signalman) LCT-725 and submitted by John S. DeNoma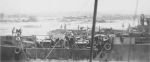 38k
LCT(6)-1039 beached near Tacloban, Leyte, January 3, 1945, to load 469th Anti-Aircraft Battalion personnel and equipment at Palo.
Photo by Bernard DeNoma LCT(6)-725 radioman and machine gunner.