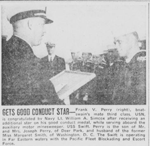 110212205
NR
GETS GOOD CONDUCT STAR
Frank V. Perry (right), boatswain's mate third class, USN, is congratulated bv Navy Lt. William A, Simcox after receiving an additional star on his good conduct medal, while serving aboard the auxiliary motor minesweeper, Swift (MSF-122). Perry is the son of Mr. and Mrs. Joseph Perry, of Deer Park, and husband of the former Miss Margaret Smith, of Washington, D. C. The Swift is operating in Far Eastern waters with the Pacific Fleet Biockading and Escort Force.
Image and text provided by University of Maryland, College Park, MD.
Text by The Republican. [volume] (Oakland, Md.) 1877-current, 23 December 1954, Image 14, courtesy of chroniclingamerica.loc.gov.