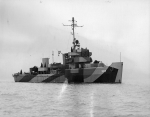 237k
Inscription on back of photo:
Navy Branch Public Relations Office
1100 Chester Avenue
Cleveland, Ohio
Lt. E. L. Wilson, USNR
Release for PM Papers
Monday December 11, 1944

The USS TOUCAN, one of two Cleveland and Lorain built 220 foot minesweepers which were rushed to completion in November to "beat the ice" through the St. Lawrence River. Captain Edward Ellsberg, USNR, Supervisor of Shipbuilding, Cleveland, told workers who built the ship that they had performed a "production miracle." The ships were built in the yards of the American Ship Building Company.
David Wright