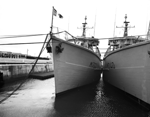 110524300
1.29k
Minesweeper Ceremony showing Rigel ((M-702) on the port side & Cassiopee ((M-740) starboard, circa 1953.
Photo from Record Group 286: Records of the Agency for International Development.
Series: Photographs of Marshall Plan Programs, Exhibits, and Personnel.
National Archives Identifier: 19989189
Photo courtesy of catalog.archives.gov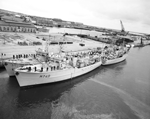 110524600
1.39k
Minesweeper Ceremony showing 4 boats: From left to right, front to back: Unknown, Cassiopee ((M-740), what looks to be Sirius ((M-701), & Castor (M-708), circa 1953.
Photo from Record Group 286: Records of the Agency for International Development.
Series: Photographs of Marshall Plan Programs, Exhibits, and Personnel.
National Archives Identifier: 19989187
Photo courtesy of catalog.archives.gov