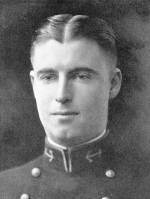 116k
Thomas Edward Fraser—born on 6 February 1901 in Stafford Springs, Conn.—was appointed to the United States Naval Academy on 3 September 1920. After graduating on 4 June 1924, he served in Wyoming (BB-32) for nearly a year and studied torpedo warfare at the Naval Torpedo Station, Newport, R.I., before reporting for duty on board Warden (DD-288) on 17 January 1926. He served in that destroyer until 1 May 1930. Following assignments in Ellis (DD-154) and at the New York Navy Yard, Fraser reported on 1 March 1934 for duties in connection with the fitting out of Tuscaloosa (CA-37). Assignments to the Philadelphia and Portsmouth Navy Yards followed in the late 1930's.

During 1940 and 1941, he briefly commanded, in turn, destroyers Yarnall (DD-143), Claxton (DD-140), and Broome (DD-210). On 10 November 1941, he became commanding officer of Walke (DD-416); and, on 20 August 1942, he was appointed to the temporary rank of commander.

On the night of 14 and 15 November 1942, Walke was a part of Rear Admiral Willis Augustus Lee's Task Force 64, when it encountered a large Japanese force off Savo Island attempting to bring reinforcements to Guadalcanal. Acting as the senior commander of the four destroyers of the task force, CDR Fraser boldly led them into action against the numerically superior Japanese force. The torpedoes and heavy gunfire of the Japanese vessels took a devastating toll of the American destroyers; and, shortly after midnight, CDR Fraser gave the order to abandon Walke. He was lost in the ensuing action and was posthumously awarded the Navy Cross for his valor and devotion to duty

CITATION:

The President of the United States of America takes pride in presenting the Navy Cross (Posthumously) to Commander Thomas Edward Fraser (NSN: 0-58890), United States Navy, for extraordinary heroism and distinguished service in the line of his profession as Commanding Officer of the Destroyer U.S.S. WALKE (DD-416), and Acting Division Commander of the destroyers in the task force during an engagement with Japanese naval forces near Savo Island on the night of 14 - 15 November 1942. Captain Fraser led his ships into action against a numerically superior force of Japanese vessels and succeeded in diverting a torpedo attack against our heavy ships while at the same time inflicting grave damage to the Japanese forces. His inspiring leadership and the valiant devotion to duty of his command contributed in large measure to the outstanding success of these vital missions and reflect great credit upon the United States Naval Service.
Bill Gonyo