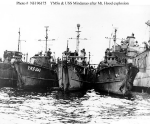 109k
Four motor minesweepers (YMS) alongside the starboard side of USS Mindanao (ARG-3) shortly after Mount Hood [AE 11] blew up about 350 yards away from Mindanao's port side. These wooden minesweepers were protected from most of the direct force of the blast by Mindanao's hull, but received some damage. USS YMS-340 is second from the left. Note that her open bridge bulwarks have been blown down. Also note differing types of retracting accoustic "hammer box" mountings on the bows of these ships.
Copied from the War Diary, Manus Naval Base, November 1944.
U S Navy Photo NH 96175.
Naval Historical Center