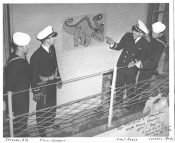 72k
The Commanding Officer, LT W. T. Coyle, ENS Gladson, QM3/c Landers, and S1/c Severns admire the art work of V. T. Hamlin, creator of the comic strip "Alley Oop."
Photo from the Vincent T. Hamlin Archives.
Margaret A. Howell
University of Missouri-Columbia Libraries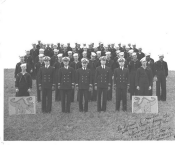 60k
PC-592 crew photo. From left to right:
First row: Chevlier S2/c, ENS Hyde, LT Hess, LT Coyle (Commanding Officer), LTJG Ross, ENS Gladson,
Severns S1/c.
Second row: Chiaro S2/c, Goff SoM3/c, Anderson SM2/c, Landers QM3/c, Morrison-Coxswain, Bosco S2/c, Eckberg MoMM2/c, Hinds S2/c, Johnson Matt3/c, Crane S2/c.
Third row: McClaren SF2/c, Brooks EM2/c, Granville MoMM2/c, Allen PhM1/c, Nichols SK3/c, Burford EM2/c,
Pitt GM3/c.
Fourth row: Lyman QM3/c, McRae GM2/c, Collier S2/c, Blodgett SC2/c, Conloy SC2/c, Marrula F3/c, Weisgerber S2/c, Odell MM1/c, Cronk MM1/c, Cohen S2/c, Caverlee Y3/c.
Fifth row: McFerrin SoM2/c, Grillo S2/c, Polin S2/c, Putnam SM3/c, Hawk S2/c, Luevans SM3/c, Cross MM2/c, Cole F3/c, Tierney S2/c. Sixth row: Beth S2/c, Davis Matt2/c, Dietz-Coxswain, Digby BM2/c, Greene F1/c, Shepherd MM2/c, Dokin MM2/c, Gross S2/c, Welter SoM3/c, Haynes F1/c.
Photo from the Vincent T. Hamlin Archives.