Please report any broken links or trouble you might come across to the Webmaster. Please take a moment to let us know so that we can correct any problems and make your visit as enjoyable and as informative as possible.
---
NavSource Online: Aircraft Carrier Photo Archive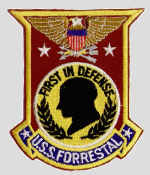 Courtesy of CAPT Gene Oleson, CHC, USN (Ret)
(bluejacket.com)
The Forrestal Fire,
July 29, 1967
Ship's Logs
Contributed by Ken Killmeyer, USS Forrestal Association Historian.
Aboard July 29, 1967.
---
---
May 20, 1967
Forrestal remained at Pier 12 Naval Operating Base, Norfolk, VA until very early 20 May 1967, 3,500 family members, friends and relatives of Forrestal crewmembers arrive on board Forrestal this clear, sunny Saturday for a Family Day Cruise.
Friends and family members start arriving early for the exciting day. Soon the mooring lines were hauled in and Forrestal began to get underway.
After Special Sea and Anchor Detail is secured families walked around the hangar bays, looking at the various aircraft. Friends and family members were shown the mess deck area and berthing compartments of their sailors. Sailors took their guests to the small store and jewelry shop on the second deck. They walked up to the 02 level and showed them the forecastle. The size of the anchor chain links really impressed them, when he told them each link of the chain weighed 360 pounds.
Later the destroyer USS Vogelgesang (DD-862) came alongside for the highline transfer. They watched the transfer from the starboard side. Ensign John F. Elsheimer, the First Divisionís junior division officer is being transferred over to, and back from the Vogelgesang because he is Forrestalís most junior officer. Some officers have all the luck.
| | |
| --- | --- |
| Friends and relatives arrive | Family Day on Flight Deck |
Later the families walked up on the flight deck before flight operations started. Air Wing SEVENTEEN treated the guests to an Air Show/Fire Power demonstration. The air wing pilots flew close by the ship, conducting a firepower demonstration dropping numerous types of ordnance for the guests to watch, plus mid-flight refueling.
The families had lunch on the forward mess deck and later he just walked them around to let them get the full feeling of what the Forrestal is all about. The sights and sounds of the aircraft landing and launching is an exciting experience. All on board had a good time.
Forrestal returned to pier 12 at later in the evening.
---
May 22, 1967
On 22 May 1967 Forrestalís Memorial Chapel located at 03-144-5-L is re-dedicated. Chaplain Calvin George Gardner was the keynote speaker.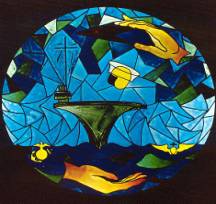 Chapel window


The U.S. Navy has many excellent types of ships to serve in, but if a person never felt the pulse of an aircraft carrier underway, he has yet to learn of a unique and unforgettable experience. Each person has his own story to tell. I am proud to have been a part of naval aviation and to have served in the USS Forrestal.
There is a spirit that prevails in this ship which I have been told goes back to its very beginning. CDR A. A. Ageton caught the significance of a shipís birth when he penned these lines:
Now some say that men make a ship and her fame
As she goes on her way down the sea
That the crew which first man her will give her a name
Good, bad or whatever may be.
The recruits coming after them soon fall in line
And carry tradition along
If the spirit was good it will always be fine
If bad, it will always be wrong.
There is no doubt or hesitancy to say that the men who have served in Forrestal from its inception to this very hour have made her fine. The perceptible personality of this ship is indescribably good. I believe that in our labor to beautify Forrestal's Chapel there has been an explication of this fine spirit.
There has been, even in spite of the major emphasis on our overhaul, a concern that our chapel reflect the deep conviction that God will have a rightful place in our ship. Now I know that a person can wax eloquent on this subject, that is to become overly sentimental and philosophical, but I want to assure you that a navy man when it comes to church does not look for the overly sentimental nor does he look for a person who will philosophize, but rather he would like to hear that God exist, and God intends me to live as though I believed. A person does not have to wax eloquent on that theme. For many church attendance is virtually impossible due to conflicts of military duty, but the interest and concern has nevertheless been there. The Chapel renovation and other religious services have been promoted. Like one shipmate said to a newly reporting officer: "One thing you can be sure of in Forrestal, if nothing else, divine services will go on." So this afternoon what you see is a true tribute to the men of Forrestal who wish to say: "I believe." This chapel has uniqueness and individuality because there has been a concerted effort to give recognition to a part of our lives which is unique and that is that we are children of God.
There has been an enthusiasm to provide something, which will not, reimbursed, but will be passed on. This sacrificial giving in its highest form. I will always think of the work done in our chapel as a labor of love. Not something to be paid back but to be passed on. To all who view it there will be awareness that God is a personal force — He knows, and wills and loves and does all three perfectly. Centrally and appropriately is man seeking always to work in harmony and brotherly love whether it is the white hat with the aviator or one nation with another. Our mission is global and out of our great heritage — Judean, Christian — we must creatively move toward freedom, equality, and an enduring peace.
LET US PRAY
Almighty and eternal God, thou who art ever near unto those who do down to the sea in ships and do business in great waters, we commit ourselves into thy hands. We would pray not that the face of the waters upon which Forrestal will sail to be always calm, but that her strength of hull and excellence of equipment shall ever enable her to conquer and raging of the sea and the violence of the enemy. We would pray for those who man her, that their integrity and courage and skill be so great that they will ever bring her mission may be accomplished and performed to the glory of the cause of freedom and justice, and to the honor of the holy name. We would pray for those who from her flight deck will rise on the wings of the wind. May their training and ability to do combat be a force to dissuade powers, which would enslave peoples of this world through aggression and violence. This we pray in thy most holy name. AMEN.
---
---
---
Comments, Suggestions or Image submissions, E-mail Carrier Information
Problems and site related matters, E-mail Webmaster
This page was created and is maintained by Fabio Peña


Last update: 8 July 2007