Please report any broken links or trouble you might come across to the Webmaster. Please take a moment to let us know so that we can correct any problems and make your visit as enjoyable and as informative as possible.
---
NavSource Online Naval History
U.S. AIRCRAFT CARRIERS:
THE FORERUNNERS
---
The birth date of U.S. Naval Aviation has been officially proclaimed to be May 8, 1911, the day Captain Washington I. Chambers prepared requisitions for two Curtiss biplanes. However, the use of air craft in U.S. military operations can be traced back to half a century earlier — to the Civil War. In the summer of 1861 the Union Army began hiring civilian aeronauts for aerial reconnaissance of Confederate forces and artillery spotting. Hydrogen-filled balloons, with attached baskets, were used to lift the observers. Main areas of operations were the Potomac and its tributaries, and the waters around Fort Monroe in the Chesapeake Bay.
Early in July 1861 aeronaut James Allen was ordered to carry out reconnaissance activities over Confederate forces near Washington, but one of his balloons burst while being inflated, and the second and last one was blown into a telegraph pole, and destroyed, by a gust of wind. Another aeronaut, John Wise, did make an ascension over Arlington later in July, but his balloon was damaged in a subsequent attempt and he returned home.
More successful were balloonists John La Mountain and Thaddeus S.C. Lowe. Although separately, because of their rivalry, they soon realized the limitations and hazards imposed by tethered balloons and the lack of portable gas generators, which required balloons to be inflated at one site, then towed to the spot where they were intended to be used. Both aeronauts began experimenting with barges to tow their balloons.
On August 3, 1861, John La Mountain made first ascent in one of his captive balloons, secured to the stern of the Union armed transport Fanny, to observe Confederate batteries on Sewell's Point, on Chesapeake Bay, Virginia. La Mountain reached 2,000 feet (610 meters) over the James River.
Thaddeus Lowe then convinced the Secretary of the Navy, Gideon Welles, to assign USS George Washington Parke Custis, a coal barge, to him. The barge, built in the mid-1850s and purchased by the Navy in August 1861, was 122' (37.2 meters) long, and was modified by John A. Dahlgren at the Washington Navy Yard as a balloon carrier which could be towed or poled along the Potomac and its tributaries. It was fitted with a gas-generating apparatus developed by Lowe and a flat deck that provided a large, level area where a balloon could be inflated and launched. Aeronauts' equipment was stowed beneath the flat deck. Early in the morning of November 10, 1861, side-wheel gunboat USS Coeur de Lion towed George Washington Parke Custis out of the Navy Yard and down the Potomac. The next day Lowe, along with General Daniel E. Sickles and others, ascended in his balloon from the barge off Mattawomen Creek, to observe Confederate forces on the Virginia shore some three miles (4.8 kilometers) away.

USS Coeur de Lion

Reconnaissance balloon Washington launched from the converted coal barge USS George Washington Parke Custis
Courtesy of the US Naval Historical Center
More ship-based operations followed these initial successes. Union tugboat Adriatic was also used to tow La Mountain's balloon. On one occasion, George Washington Parke Custis towed one of Lowe's balloons for 13 miles (21 kilometers) at an altitude of 1,000 feet (305 meters). The former coal barge saw considerable service during the Peninsular Campaign, in 1862.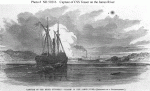 USS Maratanza (foreground) captures CSS Teaser. Line engraving published in "Harper's Weekly," July-December 1862.

Courtesy of the US Naval Historical Center


The Confederate Army also formed its own, smaller version of the Balloon Corps. The second Confederate balloon was constructed of multi-colored dress silk by Captain Langdon Cheeves during the spring of 1862 in Savannah, Georgia. It was gas-filled in Richmond, Virginia, and towed to the field by a locomotive. Later, when the battle area moved too far from the railroad, it was put, deflated, aboard the steam armed tug CSS Teaser and sent down the James River. It was planned to use the balloon for aerial reconnaissance of Union positions at City Point and Harrison's Landing. Unfortunately for the South, however, the wooden-hulled Teaser encountered the more heavily armed Union wooden steam gunboat Maratanza, July 4, 1862, at Haxall's on the James; a Union shell blew up Teaser's boiler and forced her crew to abandon the ship, which was then seized by Maratanza. The small number of available balloons and, above all, the lack of a field gas generator (comparable to that developed by Lowe) prevented the Confederacy from disputing the Union's supremacy as far as aeronautical activities are concerned.
While it is true that the results of balloon operations during the Civil War were mixed at best, the problems linked to filling and transporting the balloons sometimes outweighing their benefits, and despite the fact that interest in air craft was lost among U.S. military after the Civil War and did not revive until the early years of the 20th Century, there is no doubt that those pioneers did introduce Armies and Navies to the possibilities of aerial weapons. To a degree, the concept of a balloon tethered to a barge might well be considered the forerunner to basing aircraft aboard ships — Fanny and George Washington Parke Custis might then be regarded as the ancestors of current aircraft carriers.
Sources:
Gas Balloons: View from Above the Battlefield, Ben Fanton, Professor Thaddeus Sobieski Constantine Lowe
Kite Balloons to Airships... the Navy's Lighter-than-Air Experience, Roy A. Grossnick (Editor), published by the DCNO (Air) and NavAir Systems Command
Wings Over the Ocean (part 8), John M. Lindley, "Naval Aviation News," March 1978
United States Naval Aviation 1910–1995, Naval Aviation History Branch (Department of the Navy, Naval Historical Center), 1996
Dictionary of American Naval Fighting Ships (DANFS), Ships History Branch, Naval Warfare Division (Department of the Navy, Naval Historical Center), 1959–1981
Balloons in the American Civil War, U.S. Centennial of Flight Commission, 2003

---
---
Comments, Suggestions or Image submissions, E-mail Carrier Information
Problems and site related matters, E-mail Webmaster
This page was created and is maintained by Fabio Peña


Last update: 17 September 2006