NavSource Naval History
History of H.M.S. Speaker

(Part 2: February - September 1945)
---
SURVIVOR SEARCH.
Whilst still about 1000 miles off the coast of Western Australia, news came of the torpedoing of a "Liberty" troopship, and we were instructed to carry out a search for survivors. This divided itself into two parts. An American frigate signalled that she had picked up a large number of survivors from two rafts, but another raft was thought to be manned, and two boats under sail were said to have set out for Australia. We spent two days first of all looking for any further rafts, but found nothing but bits of wreckage and a lot of dead horses spread in a line about ten miles long. It seemed likely that any other drifting object would have been seen by now, so we followed up the most probable sailing track of the boats. Unfortunately the swell became too great for safe flying and surface search had to suffice. H.M.A.S. Dubbo (Corvette) co-operated, after fueling from Speaker. After a day of this Speaker was ordered urgently to Sydney, Slinger following a day later, still unsuccessful. One lifeboat nearly reached Australia before meeting a Naval patrol, and we later received a letter of thanks from the crew for our efforts.
SYDNEY (23rd Feb. to 9th March).
We flew 16 of our aircraft to N.A.S., Bankstown, in the morning and then had our first view of "The Heads" and were soon entering the well known and beautiful harbour, berthing at dolphins near Taronga Park (the Zoo). Every berth seemed to be occupied by B.P.F. ships, including tankers and supply ships, because, as we later realized, the final preparations were then being made for the British participation in the main Pacific operations.
Our first news was a heavy blow — we were to transfer eight pilots and their aircraft to Indomitable to bring the latter up to strength. The only compensating factors were that at least we would operate the remaining sixteen, whereas all other escort carriers would lose all they had on reaching Sydney, and be used for replenishment duties. The other factor was approval for 48 hours' leave to each watch, and when we found out what Australian hos­pitality meant, this was a wonderful break between two spells of sea-time. The British Centre and Victoria League made not the slightest difficulty in supplying addresses where about 700 officers and men could go in ones and twos or small parties and be received with warm pleasure into people's homes.
The Commander-in-Chief British Pacific Fleet, Admiral Sir Bruce Fraser, G.C.B., K.B.E., paid us a visit, explored the hangar and galley and spoke to many officers and men.
A hasty boiler clean and essential repairs were carried out meanwhile, and on 9th March we were on our way northward. It was most unfortunate that the Commander (W. C. Hudson) had to be left behind in hospital where he was invalided to shore service, leaving Commander Flying (Lt. Cdr. Darley) and the First Lieut. (Lt. Brereton) to share the executive duties for the next three months.
TO MANUS (9th to 15th March).
Our first transit of the Jomard Passage (a 3-mile wide gap in a 300-mile stretch of coral reefs and islands extending eastwards from the tip of New Guinea) was made entirely by radar in a visibility of one mile resulting from its coincidence with the inter-tropical front which awaits all seafarers somewhere in the neighbourhood of the Equator. The next day we intercepted an S.O.S. from the U.S.S. Robert Sylvester, "Aground on Vassee Island and pounding badly." (Afterwards she added the latitude and longitude.) This island fitted in with a D/F bearing of her signals and was found to be about 30
— Page 12 —
---
miles ahead, on our route, close to where we were expecting to be joined by an escort consisting of Pheasant (sloop) and Parrett (frigate).
We therefore organised a search of this very roughly charted area off the south-west corner of New Britain, two Hellcats from the air, and Parrett skirting the reefs, but in the whole area could be found no trace. In the evening we left Parrett and proceeded to Manus, picking up further D/F bearings on our way. The explanation of this mystery, when the survivors were eventually located ten days later, was that they were 75 miles out in their reckoning and had been to the south-east of us on the coast of New Guinea instead of the north-west off New Britain! They were very lucky to be rescued.
We reached Manus on 15th March and had a wretched visit. It blew hard, boatwork was difficult, and we could not even sample such recreational facilities as existed on the coral islands, fringing ths huge bay.
Here we made our first contact with Lothian, flying the flag of Raft (Rear-Admiral, Fleet Train — Rear-Admiral D. B. Fisher, C.B., C.B.E.), in control of the whole 'logistic' organisation for the B.P.F.
OPERATIONS (March to May).
On 18th March we sailed in company with Striker (Commodore W. P. Carne, commanding 30th Aircraft Carrier Squadron of which we were now a part) and an escort led by Kempenfelt (Captain MacGregor, D.S.O.— "D.27"). It was the latter officer who shed light on how the transfer of men and stores at sea could be effected by Jackstay — a task which was to become quite a big part of our daily lives.
Now that we were away from possible eavesdroppers it was possible to reveal to the ship's company that our new job was to provide C.A.P. (Combat Air Patrol) for the British fuelling area during "Operation Iceberg" (invasion of Okinawa). We tried to do some practice flying on the way but there was a big swell which made damage to our few aircraft too likely to be worth persisting. This swell was almost always an anxiety during the first fortnight of the operations and made flying off and landing on a slow and careful business. It was to the great credit of our pilots and maintenance ratings that after a month, 14 out of our 16 aircraft were still serviceable. One of these (chosen by the Squadron Commander as his personal machine) consisted of the power-plant of one damaged plane, buttoned on to the undamaged fuselage of another.
It would be impossible to describe each day's events in the fuelling area. The general idea was that up to four tankers and one replenishment carrier (and later on were added store, victualling, and ammunition ships) started every morning from a known rendezvous and steamed slowly up a pre-arranged course, returning at night. Thus the British Task Force (T.F. 57) could return and know where to find their replenishments any day they wished. To safeguard the "logistic" force was an escort of sloops, frigates and corvettes (such as Pheasant, Crane, Woodcock, Whimbul, Avon, Derg, Findhorn, Parrett, Bathhurst, Cessnock, Pirie, Whyalla). There were also usually a couple of destroyers added, but our principal contact with destroyers was their duty of 'postman' when the fleet was in company and they were detailed to call at each ship in turn with mails and stores. We remember particularly Whirlwind, Wager, Whelp, Napier, Nizam, Undaunted and Barfleur.
In tactical command of the fuelling area was "C.E.F." (Captain Escort Forces —, Captain Peter Frend, R.N.), in Pheasant, with whom Speaker, as "C.A.P. Carrier" soon developed a great liaison, in fact the
— Page 13 —
---
whole spirit of the "logistic force" was most cheerful. This even extended to the tankers (Wave Monarch, Wave King, Wave Governor, Dingledale, Carella, Cedardale, Olna and the Danish Aase Maersk), despite the very tough time they had, undermanned and working long hours with their heavy but vulnerable hoses.
On the mornings when the fleet returned, Speaker had to be ready to fly off C.A.P. (four Hellcats with one spare on deck) at first light, and keep four airborne till dusk, in two-hour sorties. The tankers streamed their hoses before dawn and course was adjusted into the wind. In swept the fleet and closed the tankers in turn, picking up or slinging in hoses with a skill which increased on each occasion. The waiting warships formed astern of the tankers and were protected by a huge circle of escorts consisting of all those not fuelling or doing postman's job.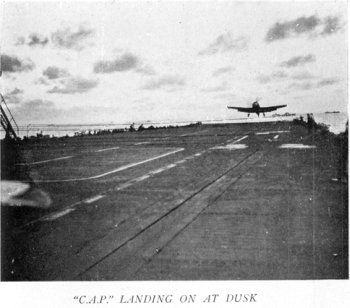 "C.A.P." landing on at dusk
(Larger copy of this photo, submitted by Robert M. Cieri)
The British Task Force was under the command of Vice-Admiral Sir Henry Rawlings, K.C.B., K.B.E., in K.G. V, with Rear-Admiral Sir Philip Vian, K.C.B., K.B.E., D.S.O., as second in command in Indomitable and in command of the Fleet Carriers. At various times this force included Howe, Duke of York, Illustrious, Formidable, Indefatigable, Implacable, Swiftsure (Rear-Admiral E. J. P. Brind, C.B., C.B.E.), Achilles, Argonaut, Ariadne, Bermuda, Black Prince, Ceylon, Gambia, Newfoundland, and Uganda.
At night the task force used to part company and steam independently at higher speed for safety against submarines, rejoining at dawn for a second day's fuelling. Then they would usually be away for three or four days carrying out strikes against enemy airfields and installations. Their principal objective was to neutralise the Sakishima Group of islands, thus preventing the Japanese from interfering from the westward with the American operations against Okinawa. They were completely successful, as expressed by Admiral Vian in a signal to those of us in the fuelling area on returning from the first strikes:—
"We bombed and strafed from morn till night
And found the opposition light;
They snooped us once at dead of night,
Although by day they would not fight;
We greet this respite with delight
And hope we find you all all right."
To this Speaker replied:—
"Your news has made us very glad.
We only wish that we had had
A share at hitting at the Jap
Instead of just providing C.A.P."
However, it was clear that our C.A.P. was appreciated, giving a rest, as it did, to the Fleet Carriers, as Admiral Vian, on parting company one day signalled to Speaker:—
"I am very grateful to you for providing C.A.P. to-day. We have all admired your Hellcats landing on over the bumps."
When the Task Force were not in company we had little respite, as we had to keep four aircraft at constant flying readiness and also had to fling all resources into maintenance work on the remainder. This did not, however, prevent deck hockey which soon became a passion which never seemed to lose its popularity.
The areas used for fuelling were changed from time to time. They
— Page 14 —
---
were all called after insects, thus we moved from 'Mosquito' to 'Midge' and then to 'Cootie.'
It was extraordinary that the Japanese never attacked any of the 'logistic groups' either by aircraft or submarine, in fact it was an undoubted disappointment to our pilots. At first our fighters were frequently sent to intercept approaching 'bogeys' in which they succeeded with a consistency creditable to the pilots and fighter direction officers, but only to find in each case that the alarm had been caused by an American patrol or transport aircraft which had not identified itself. Soon we learnt their routine and call signs and we could get into conversation and check up whether it was the "Leyte midday express," etc., before they were near enough to justify a "scramble" of our waiting Hellcats.
At the end of a month as C.A.P. Carrier our flying record was as follows:—
     Total number of pilots borne       16     Average number available,     15.
     Total number of aircraft carried   16     Average daily serviceability, 75.5%
     Total number of hours flown       446     Average per pilot available,  29.5      
     Total number of sorties .... .... 217     Average per pilot available,  14.5    
     Total number of pilot-hours in                        
      aircraft at readiness .... .... 1140     Average per pilot available,  76
Our best "landing on" time was four Hellcats in 77 seconds.
It was remarkable how quickly and pleasantly this month passed. We were busy, mails not more than three weeks old arrived twice a week, food was good, weather mainly fair, and deck hockey provided much exercise and enjoyment. The excellent relations between all the ships in the area, expressed in colourful signals, made it easy to ignore such trials and difficulties as were encountered and the frequent departure of the Task Force on the warpath and their return with news of more knocks inflicted on the Japs gave us all the inspiration we needed.
LEYTE (23rd April to 4th May, 1945).
Leyte in the Philippines was selected for British Task Force to return to at "Half-Time" to replenish with such requirements as could not yet be delivered at sea, and "R.A.F.T." and his many and varied supply ships were awaiting our return. The most welcome of all the replenishments was a bottle of beer per man per day to compensate for having no shore canteen within reach. Unicorn, Resource and Artifex gave us much help with repairs, etc.
On arrival we were met with a bitter blow. Our Hellcats had flown consistently well, the Fleet Carriers were again short of fighter strength, and we were told to transfer to Indomitable our remaining pilots and aircraft, together with about 70 of the Squadron maintenance ratings. The only comforting thoughts were that the original pilots of 1840 Squadron would be re-united, and that they would all now have the chance to win distinction in the fighting area. The ship, however, would revert to replenishment duties, and with this in view we were soon embarking a selection of Avengers, Hellcats, Corsairs, Seafires and Fireflies ready to replace the Fleet Carriers' losses when the operations recommenced.
Ruler had now arrived and she was ordered to become C.A.P. Carrier for which she retained 16 of her less experienced pilots with the idea of working them up for later absorbtion by the Fleet Carriers.
FURTHER OPERATIONS.
In accordance with our new role we were soon on our way up with tankers and escorts and a little rescue tug (Weasel) to rejoin the
— Page 15 —
---
'Logistic Group,' now commanded by Captain Philip Love (C.L.S.G.) in the Crane. The scene was much the same, but now, when the Task Force rejoined it was our duty to report what aircraft we had brought. Pilots were then sent to Speaker from the Fleet Carriers by destroyer, and, seizing a moment when fuelling and other commitments did not interfere, we would fly off the new aircraft to the ship concerned. The Fleet Carriers usually had some "Flyable Duds" to send us back, for return to the base or repair ship, and we always had miscellaneous stores, personnel, mails, etc., for delivery via the duty 'postman' destroyer.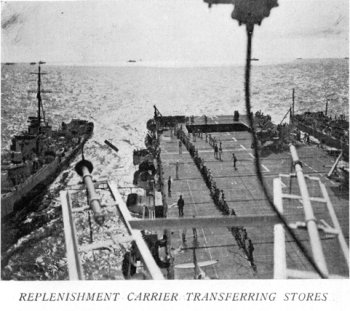 Replenishment carrier transferring stores
Difficult situations sometimes arose over the rival claims to our limited flight deck space, for instance, we were faced one day by a demand from Indefatigable to accept back the five aircraft we had just flown off to her as she could not take them. Simultaneously Ruler had a crash and asked us to take her 5 'C.A.P.' aircraft and we were blocked up with newly landed 'duds!' We managed somehow, thanks to a delay due to Indefatigable having to spell out Speaker in human letters on her flight deck before her pilots understood the change of plans.
The transfer of these pilots led to rivalry between Lt. Clare (the jackstay expert) and Lt. Redrup (the batsman), the former claiming that in landing on 10 pilots in 10 minutes by breeches buoy without a 'prang' he had beaten the latter's best record.
We did two of these trips, on one of which we had 20 cot cases to embark from Formidable and Victorious, victims of the Kamikazi attacks on those ships. All these were suffering from bad burns, but all survived except two officers, who died later in the hospital ship Oxfordshire, to whom we had transferred them.
"Operation Iceberg" ended in the middle of May by which time the Americans were well established in Okinawa. The B.P.F. returned for a spell to Australia for repairs, storing and "rehabilitation." This latter need, otherwise known as leave, was felt by many to be the most important item. We called at Manus on the way south where Begum, Chaser, Speaker and Arbiter all had to load or unload aircraft. Continuing our passage we met an American Liberty troopship, Pontius H. Ross, carrying Australian troops, who signalled for a doctor for a case of acute appendicitis. She was told to steam at nine knots into the wind, over went the jackstay to her mizzen-mast, followed by the P.M.O. (Bryson) in a canvas bag with a Neill-Robertson stretcher. In half an hour doctor and patient were back on board, to the admiration of the crowded troops, and the offending appendix was soon removed.
We reached Sydney on 5th June half an hour ahead of the main fleet and thus had the honour of apparently leading them in, with our various well-known bands playing joyfully over the loud-hailer.
SYDNEY (5th June to 3rd July, 1945).
It was wonderful to be back in Sydney after three months without setting foot ashore, and the four days leave given to each watch went all too quickly. There was lots to be done in the way of repairs, storing and painting ship and finally embarking a number of aircraft to take up to Nabaron, the newly established Mobile Naval Air Base at Ponam (Manus).
Arrangements at Sydney were better than ever, the new British Centre in Hyde Park being opened with ceremony as the principal meeting place, information and leave bureau, dance hall, etc., for the men of the fleet. Great credit is due to the Committee and Mr. Spooner (Secretary) and the generous Australian donors who made its provision possible. All of us will also remember Mrs. Howard and her happy team of girls who are always ready with information and addresses. A
— Page 16 —
---
hundred thousand men have passed through their hands during the B.P.F.'s sojourns at Sydney. It would be impossible to record all the other organisations and individuals who have done so much for us.
Commander H. Duncan, D.S.C., joined as Executive Officer on our arrival in Sydney, having come out in the first trip of the "Lancastrian" air service, in four days from England to Sydney.
NORTH AGAIN (July).
Leaving Sydney 3rd July we were at Manus from 9th to 15th in order to embark and disembark aircraft and prepare them for our next replenishment trip. There was always a great deal of hard work needed to render the aircraft fully operational after they had been subject to storage and the wear and tear of transport, and our maintenance team made a good name for themselves on this job.
The weather at Manus was much pleasanter on this occasion and as we were usually anchored off Pityilu Island a good deal of use was made by officers and men of the American Naval Clubs ashore where games, bathing and cold drinks could be obtained. It fills us with admiration the way the second or third flight of any American occupation or invasion force includes all the equipment for providing iced drinks and ice cream in the most unlikely places. They had also exercised much ingenuity in building furniture from unwanted packing cases.
OPERATIONS (July-August).
The new operations, never given a code name, were directed against the Japanese home islands. Our operating areas were thus much further north and the tankers mostly worked from Eniwetok. Replenishment carriers could thus make faster passages to and fro from Manus. We were up in "British Tizzy," the new fuelling area, by 25th July, and during the operations two replenishment carriers at a time were usually present, alternating between Striker, Speaker, Chaser and Arbiter. Ruler still provided 'C.A.P.' and 'F.R.U.' Fleet Requirements Unit — targets for shoots, etc.).
One Task Force was now operating directly with the 3U.S. Task Groups and fuelling areas were within a few miles of each other. All news seemed most heartening, tremendous blows being struck with rather weak resistance, and the fleet seemed to be able to move freely along the coast without let or hindrance.
On our first return trip to Manus, Rear-Admiral J. H. Edelsten, C.B., C.B.E. (R.A. (D)) and Rear- Admiral R. M. Servaes, C.B.E. (C.S.2) embarked by jackstay for passage, with their staffs. They had neither of them experience of a carrier before and, on landing at Manus, made very appreciative signals of thanks. Owing to renewed submarine activity this passage had to be made via Guam and Ulithi, escorted by Queenborough, who was fuelled on the way.
On 11th August at Manus we first heard of the Japanese offer to accept the Potsdam declaration, on certain conditions. However, replenishments were still considered necessary and we got our sailing orders to return to the north, which led to our subsequent most interesting experiences.
The successful results of the jackstay method had rather gone to the head of the Naval Store Department, who for our final replenishment trip sent us 350 packages of stores and 237 oil hoses as well as 15 tons of potatoes to give to various ships at sea.
On our return to "British Tizzy" our major task became the humping of these stores, especially the transfer of 246 cases to the hospital ship Tjitjalengka, which was completed in 2.5 hours, whilst we steamed alongside her.
— Page 17 —
---
Hostilities by this time had ceased and we were left in doubt as to our next move until, on 20th August we were told to report on how many extra officers and men could be accommodated, and this was followed by orders to transfer all remaining flyable aircraft to Ruler to make more space. At first we concluded we would be an accommodation vessel for a port party or something like that, and we foresaw making use of the very smart landing company which the Commander had formed for training.
TOKYO (30th Aug. to 3rd Sept.).
On the 27th the combined fleets entered Sagami Wan and later advanced into Tokyo Bay, whilst the Carrier Groups provided air cover. All went smoothly. The 'logistic group' still steamed up and down awaiting orders until on the evening of the 28th C.L.S.G. signalled: — "Course has been shaped for Tokyo Bay." Early the next morning Speaker, escorted by Derg, was ordered to proceed to Tokyo Bay with despatch. There was still some way to go and it was not till the next morning that the coast was first sighted and we were sped on our way by the U.S. Destroyer Frank Knox who signalled, "You are instructed to proceed to Tokyo Bay at earliest time possible and report to Com. 3rd Fleet."
The next destroyer we met asked if we wanted a Japanese pilot. We replied saying we had the details of the route and did we gain anything by having a pilot, to which the reply was "negative," so much to the disappointment of the photographers who were waiting with their cameras, we proceeded without. Our route did not, however, correspond with the information held by the next ship we passed who signalled, "You should leave red buoys to starboard. Where you are is a minefield on my chart." Quickly regaining the safe side we got in without further incident.
All previous ships had taken the precaution of having all hands at action stations when entering Tokyo Bay, but as no incidents had occurred we thought we would be the first to introduce peace-time routine and do it in style. Accordingly we had a white line of men fallen in the whole length of the flight deck, and with the "band" playing it felt quite gay. We were the first allied carrier to anchor in Japanese waters so an extra flourish was justifiable, especially as we had to steam through the line of flagships — Iowa (Admiral Halsey), Missouri (Admiral Nimitz), South Dakota (accommodating General MacArthur), Duke of York (Admiral Sir Bruce Fraser) and King George V (Vice-Admiral Sir Henry Bernard Rawlings).
We anchored all by ourselves about five miles from the battleships and an equal distance from the shore and felt rather lost in such a huge, almost empty bay. In the next two or three days, however, most of the available space was filled with allied ships.
On 31st August Ruler entered, and embarked all our air maintenance ratings, to make room for more passengers. We had orders to stand by for prisoners of war, and a wire network was rigged in the hangar so that a number of our own men could sling hammocks there and make more bunks available below.
As we were busy with these preparations a signal arrived by R/T from someone called "C.T.G.30.6," telling Speaker to shift to berth 293. It took some little while to discover who and where this was, but before dusk we had dropped our anchor amidst an American "Rescue Group" of ships off Yokohama. Within five minutes the first landing craft came alongside with waving Britishers, disguised as American "Gobs," seamen's clothing being all the Americans had handy to fit them out with. Such details, however, meant nothing to them in the excitement of being on board a British ship after their long imprisonment. They continued to pour in most of the night and our reception organisation got them all
— Page 18 —
---
suitably recorded and safely stowed despite their excitement. A special set-up had to be added to the existing recorders and guides, to take charge of the firearms, swords and other war-like trophies which so many prisoners (henceforward called 'passengers') brought with them.
There was no way of knowing how many passengers might turn up, but we agreed to accept temporarily at any rate all Britishers fit to travel. By noon the next day we had received 54 officers and 423 others. They belonged to all three fighting services and the Merchant Navy and came from all over the Empire, of divers races including Africans, Indians, Chinese and even a Korean who had been adopted as a British subject after the surrender, by some men to whom, at a considerable risk, he had given constant assistance from outside their camp.
One amusing incident occurred over the mislaying of a Chinaman called Chang Wong. A midshipman from the British Evacuation Staff was sent on board to ascertain if we had this man (a merchant seaman). He got hold of the first Chinaman he could find, and in his best pidgin English — "Go askee every other Chinaman if him name Chang Wong." Back came the messenger after half an hour: "I askee every other Chinaman his name, no Chang Wong." The midshipman was pretty sure the man was on board, so he told the Chinaman to go over again and get the name of every Chinaman. After a long time, back he came and reported: "I askee every Chinaman; one name Ho Chow, one name Chei Ling, etc., etc." "And what is your name?" "Oh my name Chang Wong!"
Suddenly orders were received for our group to shift berth to the northern end of Tokyo Bay. We assumed this meant some more camps in that neighbourhood to evacuate, and as we had already exceeded the numbers prepared for, we sent out S.O.S.s for more camp beds, blankets and mess utensils which reached us at midnight in the duty destroyer. It turned out, however, that we were only shifting because General MacArthur wanted the anchorage off Yokohama for the occupation forces!
We were now ready and anxious to sail, but there seemed to be some doubt as to where we were to go and who would give us our orders. We were thus still at anchor on 2nd September when the surrender ceremony took place in U.S.S. Missouri, to which we listened on the wireless. We also held a brief but moving thanksgiving service for peace and for the safe rescue of our passengers. That night our orders came from the Vice-Admiral in King George V to sail early the next afternoon for Manila, passing close to the principal British and Dominion ships so that they could give us a suitable send-off.
Accordingly, signalling our farewell to Commodore Simpson, U.S.N., commanding the Rescue Group in U.S.S. San Juan, we weighed at 1300 on 3rd September with all the passengers fallen in on the fore end of the flight deck and ship's company abaft them. It was 12 miles to the other end of the bay for which we headed, but it was soon seen that every ship from battleship to corvette had cleared lower deck and was standing by to cheer our passengers and it would be most disappointing if we gave anyone a wide berth. So we circled in and out of the mass of ships at anchor, passing as close as we dared to each (in one case much closer than we meant), and receiving an ovation which will never be forgotten by any of us. The Commander-in-Chief followed our progress in the Australian destroyer Bataan, and the Vice-Admiral signalled, "You go out looking as fine as you did coming in;" to which we could only reply, "Thank you — we have never had so much notice taken of us." The signalmen had been busy on every available lamp receiving greetings and enquiries with one officer each side dictating the replies, and we were all hoarse and exhausted by the time we were past the battleships
— Page 19 —
---
and could relax. There were few who had not a lump in their throats at the thought of these men's restoration to freedom after years of virtual slavery.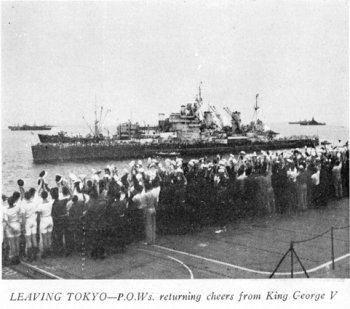 Leaving Tokyo — P.O.W.s returning cheers from King George V
ON PASSAGE (3rd to 9th Sept.).
Though we started our passage in company with Derg and Wave King, disaster overtook the latter's machinery and we parted with them limping into Buckner Bay (Okinawa), though not before Derg had sent over a most generous gift of cigarettes and books for the passengers.
The condition of these passengers created a few problems. One third of all those rescued had been retained in the U.S. Hospital Ship Benevolence. Most of the remainder looked surprisingly fit except for a high prevalence of local skin troubles. It was also wonderful the way they had stood up mentally but all had been forced to live a life which, for survival, depended on apparent subservience to Japanese authority, enforced by constant beatings, whilst behind this show of subservience was developed an incredible skill in evading the rules and obtaining necessary additions to rations and other articles by whatever means offered. Three weeks since the Japanese acceptance of surrender had, with airborne supplies, enabled most men to get used to a normal diet and put on ten to fifteen pounds in weight, but it had not been long enough for many of them to complete adjusting their minds towards doing anything voluntarily or respecting any form of discipline not depending on blows. The enforcing of essential smoking restrictions or even getting men to meals at the proper time was found extremely difficult. We could hardly start punishments after all they had been through, so a happy solution was reached by granting them a daily tot of rum on condition that it would be stopped instantly if they did not play the game. This seemed to appeal to them and matters became much easier.
Apart from these minor and quite natural difficulties, the passage was most satisfactory. Plenty of sun, leisure and good food worked wonders for the passengers and it was a joy to all of us to see them improving daily. Among their number was part of a military band who somehow had managed to retain their instruments, including a double bass, right through their imprisonment, even when travelling under desperate conditions from Singapore to Japan. After a few days practice combining with our own experts, we had a band the equal of any we have heard on the Station and it was a pity we could not keep them together.
We were authorised on our way down to pay all passengers 5 pounds sterling, so we gave each one 5 Australian pounds and 4 American dollars (5 Pounds), so that wherever they fetched up they would be all right. It was a sight to see their expressions as they turned over and over the first decent money they had seen for years. Working as prisoners earned them 10 cents (Japanese) a day which is worth practically nothing.
Everyone on board felt that the extra work and discomforts of overcrowding were amply repaid by the privilege of returning these men to civilisation. Our cooks did particularly well.
Incidentally this voyage brought Speaker into the glare of world publicity. The B.B.C. talked of us and the home newspapers gave us big headlines. The only unfortunate thing was that some of these accounts made it appear that we might be taking the ex-P.O.W.s straight to England and raised false hopes in many of our homes.
— Page 20 —
---
History of H.M.S. Speaker
Delgada (CVE-40) / HMS Speaker Page
---
Comments and Suggestions about this page, E-mail CarrierInfo
Problems and site related matters, E-mail Webmaster



This page was created and is maintained by Fabio Peña