Please Report Any Broken Links Or Trouble You Might Come Across To The Webmaster
Please Take A Moment To Let Us Know So That We Can Correct Any Problems And Make Your Visit As Enjoyable And As Informative As Possible.
---
Navsource Online: Destroyer Escort Photo Archive
Corbesier (DE-106)
Senegalais (F-02)
CLASS - Cannon
Displacement 1,240 Tons, Dimensions, 306' (oa) x 36' 7" x 11' 8" (Max)
Armament 3 x 3"/50, 2x 40mmAA, 10x 20mm AA, 3 x 21" TT, 1 Hedgehog, 8 DCT's 2 DC racks.
Machinery, 6,000 BHP; 4 GM Model 16-278A Diesel Engines with eletric drive, 2 screws
Speed, 21 Knots, Crew 186.

---
Operational and Building Data
Laid down by Dravo, Wilmington DE on 24 April 1943, Launched 11 November 1943
The name Corbesier (DE-106) was cancelled 24 September 1943
Transferred to France (Lend-Lease) 02 January 1944, renamed Senegalais
Struck from the NVR (USN) 14 May 1952

---
Fate: Transferred to France permanently under MDAP 21 April 1952
Struck May 1964, Sold October 1965 and scrapped.

---
Click On Image
For Full Size Image
Size
Image Description
Contributed
By And/Or Copyright
241k
11 November 1943: Wilmington, Del. - Senegalais (DE 106) shortly before her launching, apparently in a snowstorm.
S. Dale Hargrave
Newport News, Va.
63k
launch photo, found on the Wilmington Riverfront website
Russ Smith
207k
22 May 1944: Algiers, Algeria - Senegalais (ex-USS Corbesier DE-106) under french flag. On the footbridge we can recognize- Robert D. Murphy, American ambassador in Algiers, Radm. H. Kent Hewitt, The French Navy minister Louis Jacquinot and the two french admirals, Andre Lemonnier and Philippe Auboyneau.
Louis Le Coent
Vannes, France
68k
Senegalais, undated wartime image
Bob Hurst
Worksop, Nottinghamshire,
England, United Kingdom
68k
Senegalais, undated wartime image
54k
circa 1952: location unknown
---
Senegalais
Memorabilia
Commissioning
Invitation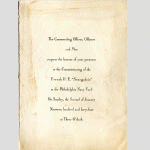 Courtesy of
Todd Willmarth
---
Corbesier DE-106 History
No entry for this vessel, to view another vessels DANFS history entry
(Located on the Naval History and Heritage Command web site, the main archive for the DANFS Online Project.)

---
None
---
Note About Contacts
Contact information is compiled from various sources over a period of time and may, or may not, be correct. Every effort has been
made to list the newest contact. However, our entry is only as good as the latest information that's been sent to us. We list only
a contact for the ship if one has been sent to us. We do NOT have crew lists, rosters, or deck logs available. Please see the
Frequently Asked Questions section on NavSource's Main Page for that information.
---
Additional Resources
---
None
---

Comments, Suggestions, E-mail: Webmaster.



This Page Created And Maintained By Mike Smolinski



by Paul R. Yarnall, All Rights Reserved.
Page Last Updated: 26 September 2018