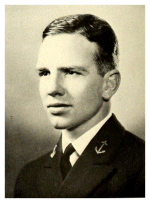 42k
Bethel Veech (Butch) Otter was born 12 September 1914 at Louisville, Ky., the first child and only son of William Mills and Frances (Elston) Otter. He reported to the Naval Academy, Annapolis, Md., as a midshipman from Kentucky on 12 June 1933. A football and lacrosse player for all four years at the Academy, he received his commission as an Ensign on 03 June 1937. As an ensign, he served in the carrier Yorktown (CV 5) during her fitting out and first two years in commission. In October 1939 he was detached and ordered to Submarine School at New London, Conn. Upon his graduation, he received orders on 06 February 1940 to the submarine tender USS Canopus (AS 9), tender to Submarine Squadron 20, homeported in the Philippines.

He was promoted to Lieutenant (junior grade) on 03 June 1940. On 07 December 1941, Canopus, aging but able, lay at Cavite Navy Yard, as tending to her squadron. In the anxious days that followed, her men worked day and night to repair ships damaged in the daily air raids as well as to keep her squadron of submarines at sea. With the Army falling back on Manila, Canopus sailed to Mariveles Bay at the tip of Bataan on Christmas Day. On 29 December 1941 and 01 January 1942, she received direct bomb hits which resulted in substantial damage to the ship and injuries to 13 of her men. Promoted to Lieutenant on 02 January 1942, Otter served as Fire Control Officer and received the Silver Star for his actions during a heavy bomber raid on 05 January.

Although all her submarines had departed, Canopus continued her activity caring for small craft and equipment of the Army and Navy. She sent a number of her men into battle in the improvised naval battalion which fought on Bataan, and converted her own launches into miniature gunboats which attacked the Japanese moving south near the shore. But the overwhelming Japanese strength could not be held off, and upon the surrender of Bataan on 09 April, Canopus was ordered scuttled and sunk. On 10 April, she was backed off into deep water under her own power, and scuttled. Lieutenant Otter had been gunnery officer aboard Canopus and also in the Naval Battalion on Bataan, which was transported to Corregidor. It made up a large part of 4/4, the Reserve Battalion of the 4th Marines. Otter was CO of Company T, and led an assault against a Japanese machine gun near one of the water towers about 0730 on 06 May. Otter, Ensign William R. Lloyd and four volunteers armed only with grenades and sidearms took out the machine gun, but the dead gun crew was quickly replaced. Otter and his men attacked again, but were never able to silence the machine gun position. Lt. Otter lost his life in the last attack. He was awarded the Navy Cross and the Purple Heart for his bravery in action. Buried in the Philippines, Lt. Otter's remains were returned to Louisville on 29 April 1949, and laid to rest in the Cave Hill Cemetery. (CONTINUE.... Award Write-Ups)

USS Otter (DE 210) (1944-1947) was the first ship to be named in his honor.

(Photo from the U.S. Naval Academy Yearbook; The Lucky Bag, Class of 1937.)
Bill Gonyo
Downey, Cal.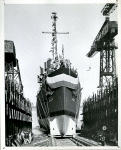 254k
23 October 1943: Charleston, S.C.- The future USS Otter (DE 210) slides down the building way after being christened at the Charleston Navy Yard.

(Official U.S. Navy photograph, File #1133-10 from the Public Relations Office, Sixth Naval District, Fort Sumter Hotel, Charleston, S.C.)
David Wright
Destroyer Archives
Manager, Navsource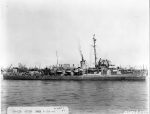 145k
28 May 1944: Brooklyn, N.Y. - Otter shown lying to off the New York Navy Yard. She had been in the yard since 16 May. During the yard availability she lost her torpedo tubes and loading accessories. Four 40mm guns with their directors were added amidships. SA radar was installed and a stub mast mounting a DAQ antenna was mounted forward of the 1.1" gun director.
John Klar
Somerville, N.J.