Please Report Any Broken Links Or Trouble You Might Come Across To The Webmaster
Please Take A Moment To Let Us Know So That We Can Correct Any Problems And Make Your Visit As Enjoyable And As Informative As Possible.
---
Navsource Online: Destroyer Escort Photo Archive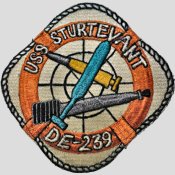 Ship's patch courtesy of
Mike Smolinski

USS Sturtevant (DE 239)





Flag Hoist / Radio Call Sign:
N - H - A - O
---
Awards, Citations and Campaign Ribbons

Specifications:
Class: Edsall
Type: FMR (geared diesel, Fairbanks-Morse reverse gear drive, 3" guns)
Displacement: 1200 tons (light), 1590 tons (full)
Length: 300' (wl), 306' (oa)
Beam: 36' 10" (extreme)
Draft: 20' 6" (draft limit)
Propulsion: 4 Fairbanks-Morse Mod. 38d81/8 geared diesel engines, 4 diesel-generators, 6000 shp, 2 screws
Speed: 21 kts
Range: 9,100 nm @ 12 knots
Armament: 3 x 3"/50 Mk22 (1x3), 1 twin 40mm Mk1 AA, 8 x 20mm Mk 4 AA, 3 x 21" Mk15 TT (3x1), 1 Hedgehog Projector Mk10 (144 rounds), 8 Mk6 depth charge projectors, 2 Mk9 depth charge tracks
Complement: 8 / 201
---
Sturtevant (DE 239) Building and Operational Data:
15 July 1942: Keel laid by the Brown Shipbuilding Co., Houston, Tex.
03 December 1942: Launched and christened, sponsored by Mrs. William North Sturtevant
16 June 1943: Commissioned, Lcdr Frederick W. Hawes in command
24 March 1946: Decommissioned at Green Cove springs, Fla. after 2 years and 9 months of service
03 August 1951: Recommissioned, Comdr. R. B. Redmayne in command
31 October 1956: Decommissioned at Philadelphia after 5 years and 3 months of service, conversion to DER commenced at the Philadelphia Naval Shipyard
01 November 1956: Reclassified DER 239
05 October 1957: Recommissioned as DER 239
.. June 1960: Decommissioned after 2 years and 9 months of service
01 December 1972: Struck from the NVR with a total of 10 years and 9 months of service
20 September 1973: Sold for scrapping to the National Metal & Steel Co., Terminal Island, Los Angeles, Cal.
---
Click On Image
For Full Size Image
Size
Image Description
Contributed
By And/Or Copyright



63k
Albert D. Sturtevant was born in Washington, D.C., on 02 May 1894. On 24 March 1917, he and 28 others enlisted in the Naval Reserve Forces as the First Yale Unit. Two days later, they were all commissioned ensigns. After flight training in Florida, he was designated a naval aviator on 01 May 1917 and, in September, he received orders for overseas duty. Ensign Sturtevant reported to the group attached to the Royal Flying Corps station at Felixstowe, England, in October.

Sturtevant's duties consisted of flying escort for merchantmen crossing the North Sea. On 15 February 1918, while flying an escort mission with another plane of his unit, the two American were jumped by a flight of 10 German planes. Sturtevant's companion recognized the hopelessness of the 5-to-l odds and escaped to safety, but Sturtevant gamely fought it out with the enemy. When last seen, Ensign Sturtevant was hit and crippled, falling toward the sea. For his heroic actions, he was awarded the Navy Cross posthumously.

USS Sturtevant (DE 239) was the second ship to be named in his honor, she was preceded by DD 240 (1920-1942).

(Photo #ggbain 26285 from the Library of Congress Prints and Photographs Division)
Bill Gonyo
Downey, Cal.

Assoc. Researcher
Navsource
71k
Undated Wartime Image
DESA Archives
95k
Undated Post-War Image
Richard O. Armstrong
72k
March 1954: aboard the USS Sturtevant - HMC Lowell L. Lundberg, USN, gives a heat lamp treatment to SKSN David L. Quinlant. (U.S. Navy Photo #80-G-636917 from the National Archives)
Bill Gonyo
Downey, Cal.

Assoc. Researcher
Navsource
195k
Undated Post-Conversion Photo
Nick Tiberio
Shelton, Conn.
---
Sturtevant Memorabilia

1954 Thanksgiving
Day Menu

Courtesy of
Tom Armstrong
1955 Postcard
from Copenhagen

Courtesy of
Tom Armstrong
---
Sturtevant History
View the USS Sturtevant (DE 239) DANFS history entry located on the Naval History and Heritage Command web site.
View the official War History of USS Sturtevant as submitted by the ship at war's end.
---
Sturtevant's Commanding Officers
Thanks to Wolfgang Hechler & Ron Reeves
Dates of Command
Commanding Officers
1.) 16 Jun. 1943 - 10 Nov. 1943
Lcdr. William Frederick Hawes, USN (Comm. CO)
2.) 10 Nov. 1943 - 11 Sep. 1945
Lcdr. James M. Mertz, USNR (Greenwich, Conn.)
3.) 11 Sep. 1945 - 24 Nov. 1945
Lt. John Clayton Hill II, USNR (Annapolis, Md.)
4.) 24 Nov. 1945 - 29 Jan. 1946
Lt. Adam C. Gambel, USNR (New Orleans, La.)
5.) 29 Jan. 1946 - 24 Mar. 1946
Lt(jg). Malcolm Daisley (Decomm. CO)
6.) 03 Aug. 1951 -
Lcdr. Richard Banks Redmayne (Westwood, Mass.)
7.) Aug. 1954 -
Lcdr. Joseph Henry Laliberte (Nashua, N.H.)
8.) no dates
Lcdr. Nathaniel T. Williams, Jr. (Elizabethton, Tenn.)
9.) no dates
Cmdr. Thomas R. Hobbs
---
Crew Contact And Reunion Information
---
Contact Name: Robert E. Lee, Jr.
Address: 3203 Lakewood Ave.
City/State: Columbia SC 29201-1433
Phone:(803) 256-9485
E-mail: Robert Lee
---
Note About Contacts
Contact information is compiled from various sources over a period of time and may, or may not, be correct. Every effort has been
made to list the newest contact. However, our entry is only as good as the latest information that's been sent to us. We list only
a contact for the ship if one has been sent to us. We do NOT have crew lists, rosters, or deck logs available. Please see the
Frequently Asked Questions section on NavSource's Main Page for that information.
---
Additional Resources
---
Tin Can Sailors
The U.S. Navy Memorial
Destroyer Escort Sailors Association
The Destroyer Escort Historical Museum
The Destroyer History Foundation
Tin Can Sailors Shipmate Registry - USS Sturtevant
---

Comments, Suggestions, E-mail: Webmaster.



This Page Created And Maintained By Mike Smolinski



by Paul R. Yarnall, All Rights Reserved.
Page Last Updated: 22 November 2018