Please Report Any Broken Links Or Trouble You Might Come Across To The Webmaster
Please Take A Moment To Let Us Know So That We Can Correct Any Problems And Make Your Visit As Enjoyable And As Informative As Possible.
---
Navsource Online: Destroyer Escort Photo Archive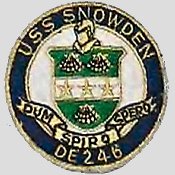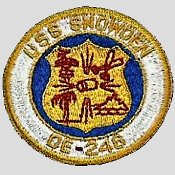 Ship's patches courtesy of Mike Smolinski

USS Snowden (DE 246)





Flag Hoist / Radio Call Sign:
N - W - T - J
Tactical Voice Radio Call: "Terryville"

---
Awards, Citations and Campaign Ribbons

Specifications:
Class: Edsall
Type: FMR (geared diesel, Fairbanks-Morse reverse gear drive, 3" guns)
Displacement: 1200 tons (light), 1590 tons (full)
Length: 300' (wl), 306' (oa)
Beam: 36' 10" (extreme)
Draft: 20' 6" (draft limit)
Propulsion: 4 Fairbanks-Morse Mod. 38d81/8 geared diesel engines, 4 diesel-generators, 6000 shp, 2 screws
Speed: 21 kts
Range: 9,100 nm @ 12 knots
Armament: 3 x 3"/50 Mk22 (1x3), 1 twin 40mm Mk1 AA, 8 x 20mm Mk 4 AA, 3 x 21" Mk15 TT (3x1), 1 Hedgehog Projector Mk10 (144 rounds), 8 Mk6 depth charge projectors, 2 Mk9 depth charge tracks
Complement: 8 / 201
---
Snowden (DE 246) Building and Operational Data:
07 December 1942: Keel laid by the Brown Shipbuilding Co., Inc., Houston, Tex.
19 February 1943: Launched and christened, sponsored by Mrs. Halford R. Greenlee
23 August 1943: Commissioned, Lcdr. A. Jackson, Jr., USNR, in command
March 1946: Decommissioned at Green Cove Springs, Fla. after 2 years and 6¼ months of service
06 June 1951: Recommissioned, assigned to the Atlantic Fleet Destroyer Force homeported at Newport, R.I.
February 1960: Assigned to NRT, 4th Naval District at Philadelphia, Pa.
August 1960: Decommissioned, placed "in service" as a Group II unit of the Select Reserve ASW Force
02 October 1961: Recommissioned for the Berlin Crisis, assigned to the Atlantic Fleet Destroyer Force homeported at Key West, Fla.
01 August 1962: Decommissioned and placed back "In service" at Philadelphia, Pa.
23 September 1968: Placed "Out of Service" at the Philadelphia Naval Shipyard with 19 years and 10 months of total service, Struck from the NVR
27 June 1969: Sunk as target off Newport, R.I.
---
Click On Image
For Full Size Image
Size
Image Description
Contributed
By And/Or Copyright
39k
undated wartime image
DESA archives
396k
circa 1956: location unknown (Skyfoto from "Jane's Fighting Ships" 1964-65 Edition)
Bob Hurst
Worksop, Nottinghamshire,
England, United Kingdom
34k
circa 1959: USS Snowden (DE 246), her crew at quarters, ready for leaving port. Snowden's pole mast has been modified to carry her post-war electronic antennas.

(U.S. Navy Photo, Photo and text from the Dictionary of American Naval Fighting Ships)
671k
circa late 1950's: Key West, Fla. - An undated photo of a change of command ceremony being held on the pier head at Trumbo Annex, U.S. Naval Station, Key West, Fla. On the left are Huse (DE 145) with Snowden (DE 246) behind her. On the right are Howard D. Crow (DE 252) with Greenwood (DE 679) tied up behind her.

(Photo #MM00039629x from the Wright Langley Collection, courtesy of the Florida Keys Public Libraries)
365k
20 January 1969: Philadelphia, Pa. - I found these photos in the NISMF files in 1971. I believe one was used in the sales catalog for this ship. Snowden is up against the quay wall with an ARL outboard. Note the port anchor has been landed. In the stern shot, Turkey (MSCO 56) can be seen just ahead and the headquarter ship Chandeleur (AV 10) in the distance.

(Photo credit: Photo lab, Philadelphia Naval Shipyard)
Jim Swank
Tomball, Tex.
546k
408k
I recently had some old slides scanned into digital form, and came across these taken in the Summer of 1969. The ex-Snowden was brought to New London for use as a target, and my first home, the USS Tringa (ASR 16) was assigned to tow her out to the operating area where she would be sunk. I had an "interesting" time as Tringaís First Lieutenant getting her rigged for tow and verifying that temporarily installed flooding alarms would actually work. My CO insisted that we tow her "by the book", so we rigged her as though we were headed off for a lengthy tow as opposed to about 100 miles or so. Anyhow, the first pic is just after we released the tow, the second is the (barely visible) waterspout from the torpedo strike launched by the USS Jack (SSN 605) and the final shot is Snowdenís last view from above the surface. My apologies to all the former Snowden sailors for participating in the sinking of their old home, but at the time it was an assignment for Tringa and we did our job.
Chris Williams
247k
321k
---
Snowden History
View the USS Snowden (DE 246) DANFS history entry located on the Naval History and Heritage Command web site.
---
Crew Contact And Reunion Information
---
Contact Name: James E. McKelva ('61 - '62)
E-mail: James McKelva

---
Note About Contacts
Contact information is compiled from various sources over a period of time and may, or may not, be correct. Every effort has been
made to list the newest contact. However, our entry is only as good as the latest information that's been sent to us. We list only
a contact for the ship if one has been sent to us. We do NOT have crew lists, rosters, or deck logs available. Please see the
Frequently Asked Questions section on NavSource's Main Page for that information.
---
Additional Resources
---
Tin Can Sailors
The U.S. Navy Memorial
Destroyer Escort Sailors Association
The Destroyer Escort Historical Museum
The Destroyer History Foundation
---

Comments, Suggestions, E-mail: Webmaster.



This Page Created And Maintained By Mike Smolinski



by Paul R. Yarnall, All Rights Reserved.
Page Last Updated: 25 August 2017