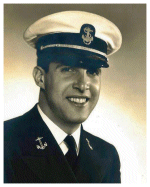 52k
Robert Lawrence Leopold was born in Louisville, Jefferson County, Kentucky, on 11 November 1916 to Lawrence S. and Irma (Schwabacher) Leopold. He came from a Jewish family and his parents were active in area Democratic politics. He attended Louisville Male High School, graduating in 1934, and went on to attend college at the University of Louisville where he earned a Bachelor of Arts in 1938 and a Bachelor of Laws (LLB) in 1940. As an undergraduate, Leopold played football his freshman year and served in several student organizations, that included being President of the Student Council of the College of Liberal Arts, Research Supervisor of the law school's Briefing Service, and membership in the Phi Alpha Delta Law Fraternity, an honor council for the university's law school. He also became a member of the Kentucky State Bar Association and the American Bar Association (Jr. Conference).

On 10 July 1940, just a few months after completing his LLB, Leopold enlisted at Louisville in the U.S. Navy Reserve as an apprentice seaman. From 19 August to 13 September, he participated in active duty training on board the training battleship Wyoming (BB 32), operating off the Atlantic seaboard. On 15 September, his enlistment was terminated under honorable conditions and the following day he was appointed midshipman, USNR. He then attended training at the U.S. Naval Reserve Midshipman's School, Abbott Hall, Northwestern University, Evanston, Illinois; he received promotion to the rank of ensign D-V (G) (officer of the Volunteer Reserve to the line for general service in deck duties) on 12 December 1940. Just a few weeks later, on 28 December 1940, Ens. Leopold reported for active duty on board the battleship Arizona (BB 39) serving as a communications watch officer. When Leopold reported on board the battleship she was undergoing modernization at the Puget Sound Navy Yard, Bremerton, Wash. On 03 February 1941, Arizona voyaged to Pearl Harbor, T.H., where she had been stationed prior to her overhaul. In company with fellow battleships Nevada (BB 36) and Oklahoma (BB 37), Arizona conducted training exercises in Hawaiian waters throughout much of the year.

On 05 December 1941, Arizona, Nevada and Oklahoma moored at Ford Island, T.H., after having concluded exercises at sea. The following morning, Arizona took the repair ship Vestal (AR 1) alongside to port to receive a scheduled tender availability. Just before 0800, on 07 December 1941, aircraft from a Japanese fleet carrier group executed a devastating attack against the U.S. Pacific Fleet and naval and military bases in their proximity. During the attack the battleship took two direct bomb hits, one of which penetrated the deck and exploded in the black powder magazine which, in turn, set off adjacent magazines. The forward part of the ship experienced a devastating explosion that spawned fires so fierce that they burned for nearly two days afterwards. Ens. Leopold, Adm. Isaac C. Kidd (Commander Battleship Division 1), Capt. Franklin van Valkenburgh (Arizona's Commanding Officer) and 1,177 officers and men lost their lives during the attack. Ens. Leopold lies buried with his shipmates at Honolulu Memorial Cemetery of the Pacific, Pearl Harbor, Honolulu County, Hawaii; the U.S.S. Arizona Memorial. For his sacrifice, he was posthumously awarded a Purple Heart and is entitled to the American Defense Service Medal and the World War II Victory Medal.

USS Leopold (DE 319) (1943-1944) was the first ship to be named in his honor.

(A special thank you to the University of Louisville Ekstrom Library Archives and Records Center for their kind assistance.)
(U.S. Naval Historical Center photo from the Naval History and Heritage Command)
Bill Gonyo
Downey, Cal.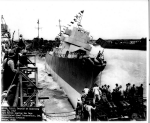 116k
Submitted in honor and memory of my mother's brother, F1c Kenneth Jack Johnson, who was killed aboard Leopold when she was torpedoed by German submarine U-255 on 09 March 1944.
Major Ron Lowrance
United States Army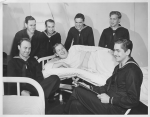 60k
"SEVEN WHO SURVIVED THE LEOPOLD SINKING:" These seven Coast Guardsmen, shown in a hospital somewhere in the British Isles, survived the sinking of the Coast Guard Destroyer Escort Leopold by a German submarine somewhere in the North Atlantic. Only 28 out of a complement of 200 escaped death in the loss of the vessel - one of the worst sea tragedies of the war. Here, Richard R. Novotny, S1c, of Riverside, Long Island, who suffered a back injury, is visited by six of his buddies, all of them survivors. The others are (standing, left to right) Cleveland E. Parker, Chief Commissary Steward, of Pulaski, Tenn.; W. G. O'Brien, S1c, of New York City, N.Y.; Antone Freitas, Jr., S2c, of Fall River, Mass.; Joseph A. Burgun, Soundman 3c, of Glen Rock, N.J.; (seated) Troy S. Gowens, S1c, of Brooklyn, N.Y.; and Joseph M. Hanysz, S1c, of Detroit, Mich."

(undated, possibly late March/early April 1944); USCG Photo No. 2192; photographer unknown)
Bill Gonyo
Downey, Cal.