Please Report Any Broken Links Or Trouble You Might Come Across To The Webmaster
Please Take A Moment To Let Us Know So That We Can Correct Any Problems And Make Your Visit As Enjoyable And As Informative As Possible.
---
Navsource Online: Destroyer Escort Photo Archive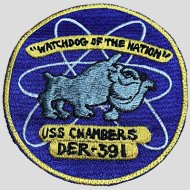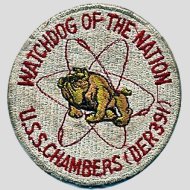 Ship's Patches Courtesy of Mike Smolinski

USS Chambers (DE 391)





Flag Hoist / Radio Call Sign:
N - T - X - V
---
Awards, Citations and Campaign Ribbons

Specifications:
Class: Edsall
Type: FMR (geared diesel, Fairbanks-Morse reverse gear drive, 3" guns)
Displacement: 1200 tons (light), 1590 tons (full)
Length: 300' (wl), 306' (oa)
Beam: 36' 10" (extreme)
Draft: 20' 6" (draft limit)
Propulsion: 4 Fairbanks-Morse Mod. 38d81/8 geared diesel engines, 4 diesel-generators, 6000 shp, 2 screws
Speed: 21 kts
Range: 9,100 nm @ 12 knots
Armament: 3 x 3"/50 Mk22 (1x3), 1 twin 40mm Mk1 AA, 8 x 20mm Mk 4 AA, 3 x 21" Mk15 TT (3x1), 1 Hedgehog Projector Mk10 (144 rounds), 8 Mk6 depth charge projectors, 2 Mk9 depth charge tracks
Complement: 8 / 201
---
Chambers (DE 391) Building and Operational Data:
28 May 1943: Keel laid by the Brown Shipbuilding Co., Houston, Tex.
17 August 1943: Launched and christened, sponsored by Mrs. R. F. Chambers, mother of Ensign Chambers
22 November 1943: Commissioned, Cmdr. H. A. Loughlin, USCG, in command; assigned to the Atlantic Fleet
22 April 1946: Decommissioned at Green Cove Springs, Fla. after 2 years and 5 months of service
11 June 1952: Loaned to the U.S. Coast Guard and recommissioned as WDE-491; assigned to New Bedford, Mass.
30 July 1954: Decommissioned and returned to U.S. Navy custody after 2 years and 1½ months of service
28 October 1954: Reclassified as DER 391, commenced conversion
01 June 1955: Recommissioned; homeport changed to Newport, R.I. as a unit of Escort Squadron 16, on the Atlantic Barrier Patrol
20 June 1960: Decommissioned while berthed in the Back Bay Channel of the Philadelphia Naval Shipyard after 5 years and ½ month of service, custody transferred to the CO, Philadelphia Group, U. S. Atlantic Reserve Fleet
01 March 1975: Struck from the NVR with a total 9 years and 7 months of service
24 September 1975: Sold for scrapping
---
Click On Image
For Full Size Image
Size
Image Description
Contributed
By And/Or Copyright

0639102
224k
Official U.S. Coast Guard WWII Public Affairs photo of USS Chambers (DE 391), also included is the rear of the photo describing the ship in action. David's Dad, Bennie Hanus, was a wartime crewmember of Chambers.
David Hanus

0639103
102k
11 June 1952: Commissioning into USCG as WDE 491
-

0639104
48k
circa 1952: shortly after USCG commissioning
Bob Hurst
Worksop, Nottinghamshire,
England, United Kingdom

0639106
414k
undated: Port quarter view of the radar picket destroyer escort USS Chambers (DE 391) after her DER conversion.

(U.S. Navy photo #L45-47.07.02 from the Naval History and Heritage Command)
Mike Smolinski
Clifton, N.J.

Navsource DE/FF/LCS
Archive Manager

0639105
116k
02 April 1958: At Lisbon, Portugal
Karl A. Emrich
RMC, USN (ret.)
---
Memorabilia
Ship's Lighter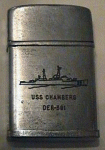 Courtesy of
Mike Smolinski
---
Chambers History
View the USS Chambers (DE 391) DANFS history entry located on the Naval History and Heritage Command web site.
---
Chambers' Commanding Officers
Thanks to Wolfgang Hechler
Dates of Command
Commanding Officers
1.) 22 Nov. 1943 – 23 Oct. 1944
Cmdr. Harry Augustine Loughlin, USCG (USCGA '29)
2.) 23 Oct. 1944 -
Lcdr. Warner Keith Thompson Jr., USCG (USCGA '33)
3.) 01 Jun. 1955 – 05 Feb. 1957
Cmdr. George Kingsbury Dress, USN
4.) 05 Feb. 1957 – 26 Jun. 1958
Lcdr. / Cmdr. Robert J. Loomis, USN
5.) 26 Jun. 1958 – 22 Dec. 1959
Lcdr. C. T. McGrath, USN
6.) 22 Dec. 1959 – 20 Jun. 1960
Lcdr. Claiborne Sheldon Bradley, USN (USNA '48B) (Chicago, Ill.)
---
Crew Contact And Reunion Information
---
Next Reunion:
11 - 15 September 2011 at Plymouth Meeting, Pa.
Held in conjunction with the annual DESA Reunion
---
Contact Name: Curt Spangler
Address: 302 East Main Street
City/State: Hamburg NY 14075
Phone: 716-861-0455
E-mail: spang1039 at verizon.net
---
Note About Contacts
Contact information is compiled from various sources over a period of time and may, or may not, be correct. Every effort has
been made to list the newest contact. However, our entry is only as good as the latest information that's been sent to us. We list
only a contact for the ship if one has been sent to us. We do NOT have crew lists, rosters, or deck logs available. Please see the
Frequently Asked Questions section on NavSource's Main Page for that information.
---
Additional Resources
---
Tin Can Sailors
The U.S. Navy Memorial
Destroyer Escort Sailors Association
The Destroyer Escort Historical Museum
The Destroyer History Foundation
Tin Can Sailors Shipmate Registry - USS Chambers
---

Comments, Suggestions, E-mail: Webmaster.



This Page Created And Maintained By Mike Smolinski



by Paul R. Yarnall, All Rights Reserved.
Page Last Updated: 20 January 2023