Please Report Any Broken Links Or Trouble You Might Come Across To The Webmaster
Please Take A Moment To Let Us Know So That We Can Correct Any Problems And Make Your Visit As Enjoyable And As Informative As Possible.
---
Navsource Online: Destroyer Escort Photo Archive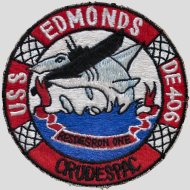 Ship's patch courtesy of Mike Smolinski
Ship's name tab courtesy of Al Grazevich

USS Edmonds (DE 406)





Flag Hoist / Radio Call Sign:
N - T - Y - G
Tactical Voice Radio Call: "Mount Vernon"
Pre-Cold War Radio Call: "Imperial Y"

---
Awards, Citations and Campaign Ribbons

Specifications:
Class: John C. Butler
Type: WGT (geared-turbine drive, 5" guns)
Displacement: 1350 tons (light), 1745 tons (full)
Length: 300' (wl), 306' (oa)
Beam: 36' 10" (extreme)
Draft: 11' 0" (draft limit)
Propulsion: 2 "D" Express boilers, 2 geared turbine engines, 12,000 shp, 2 screws
Speed: 24 kts
Range: 6,000 nm @ 12 knots
Armament: 2 - 5"/38 cal. DP guns (2x1), 4 - 40mm AA (2x2), 10 - 20mm AA, 3 - 21" TT, 1 Mk10 Hedgehog, 8 Mk6 Depth Charge Projectors, 2 Mk9 Depth Charge Stern Racks
Complement: 14 / 201
---
Edmonds (DE406) Building and Operational Data:
01 November 1943: Keel laid at the Brown Shipbuilding Co., Houston, Tex.
17 December 1943: Launched and christened, sponsored by Mrs. Faith Edmonds Campbell, mother of Aviation Ordnanceman Edmonds
03 April 1944: Commissioned at the Tennessee Coal and Iron Co. Dock, Houston, Tex., Lcdr C. S. Barker, Jr. in command
31 May 1946: Decommissioned at San Diego, Cal. after 2 years and 2 months of service
28 February 1951: Recommissioned and homeported at Pearl Harbor, Hawaii
March 1959: Assigned to NRT, 13th Naval District at Portland, Ore.
April 1965: Decommissioned at Mare Island Naval Shipyard, San Francisco, Cal.
15 May 1972: Struck from the NVR with a total of 16 years and 4 months of service
28 September 1973: Sold for scrapping to the General Metals Co. of Tacoma, Wash.
---
Click On Image
For Full Size Image
Size
Image Description
Contributed
By And/Or Copyright
140k
17 December 1943: Houston, Tex. - A photo of the Christening Party for Edmonds as they prepare for the launching.
Ted Edmonds
140k
undated postwar image
-
307k
circa 1951 - 1952: Edmonds shown shortly after recommissioning. (per crewmember Everett Womack; in 1952 all the 40mm AA guns were removed with the exception of the one directly forward of Mt. 52)
Bob Crawford
242k
circa 1957 - 1958: Edmonds shown while serving as a Naval Reserve Training ship commanded by Bob's Dad, Lcdr A.G. Crawford.
54k
79k
1958: King Neptune, his Queen, and the Royal Baby visit with Edmonds' skipper during an Equator Crossing Ceremony. (click here or on photo for more ceremony photos)
73k
Edmonds in dry dock at Mare Island, Cal. just prior to decommissioning in April 1965. I was part of the crew of about 40. Prior to decommissioning she was stationed at Treasure Island. Her last cruise was to Esquimalt, Canada for a Naval Reserve training exercise.
Jake Jacobsen
MM3, Engineering Yeoman
254k
undated: Edmonds is shown passing Point Loma outbound from San Diego. This appears to be a ship portrait from Marine Photos of San Diego, Cal.
Navsource
---
Edmonds
Memorabilia
Launch
Program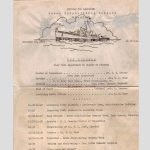 Courtesy of
Ted Edmonds
---
Edmonds History
View the USS Edmonds (DE 406) DANFS history entry located on the Naval History and Heritage Command web site.
---
Crew Contact And Reunion Information
---
2010 Reunion: 2nd week of October at San Diego, Cal.
Dual Reunion with USS Walton (DE361)
---
Note About Contacts
Contact information is compiled from various sources over a period of time and may, or may not, be correct. Every effort has been
made to list the newest contact. However, our entry is only as good as the latest information that's been sent to us. We list only
a contact for the ship if one has been sent to us. We do NOT have crew lists, rosters, or deck logs available. Please see the Frequently
Asked Questions section on NavSource's Main Page for that information.
---
Additional Resources
---
USS Edmonds Facebook Page
Tin Can Sailors
The U.S. Navy Memorial
Destroyer Escort Sailors Association
The Destroyer Escort Historical Museum
The Destroyer History Foundation
Tin Can Sailors Shipmate Registry - USS Edmonds
---

Comments, Suggestions, E-mail: Webmaster.



This Page Created And Maintained By Mike Smolinski



by Paul R. Yarnall, All Rights Reserved.
Page Last Updated: 30 December 2018