Please Report Any Broken Links Or Trouble You Might Come Across To The Webmaster
Please Take A Moment To Let Us Know So That We Can Correct Any Problems And Make Your Visit As Enjoyable And As Informative As Possible.
---
Navsource Online: Destroyer Escort Photo Archive
USS Raby (DE 698)





Flag Hoist / Radio Call Sign:
N - T - K - Z
---
Awards, Citations and Campaign Ribbons

Specifications:
Class: Buckley
Type: TE (turbine-electric drive, 3" guns)
Displacement: 1400 tons (light), 1740 tons (full)
Length: 300' (wl), 306' (oa)
Beam: 36' 9" (extreme)
Draft: 10' 6" (draft limit)
Propulsion: 2 "D" Express boilers, G.E. turbines with electric drive, 12000 shp, 2 screws
Speed: 24 kts
Range: 6,000 nm @ 12 knots
Armament: 3 x 3"/50 Mk22 (1x3), 1 twin 40mm Mk1 AA, 8 x 20mm Mk 4 AA, 3 x 21" Mk15 TT (3x1), 1 Hedgehog Projector Mk10 (144 rounds), 8 Mk6 depth charge projectors, 2 Mk9 depth charge tracks
Complement: 15 / 198
---
Raby (DE 698) Building and Operational Data:
07 June 1943: Keel laid as DE 698 by the Defoe Shipbuilding Co., Bay City, Mich.
22 June 1943: Named Raby
04 September 1943: Launched and christened, sponsored by Mrs. James Joseph Raby, the widow of Radm. Raby
07 December 1943: Commissioned at New Orleans, La., Lcdr. J. Scott II in command
23 January 1945: Raby, in company with Corbesier (DE 438) and Conklin (DE 439) sank the Japanese submarine I-48 off Yap, the Caroline Islands
At war's end, Raby was assigned to the Pacific Fleet Cruiser-Destroyer Force at San Diego, Cal.
02 November 1949: Reclassified as DEC 698 (control escort ship)
January 1950: Homeport assignment changed from San Diego, Cal. to Norfolk, Va.
22 December 1953: Decommissioned at Green Cove Springs, Fla. after 10 years of service, placed in the Atlantic Reserve Fleet berthing area at St. James River, Fla.,
27 December 1957: Reclassified back to DE698
1960: Transferred to the Orange, Tex. Reserve Fleet berthing area
01 June 1968: Struck from the NVR
18 July 1969: Sold for scrapping
---
Click On Image
For Full Size Image
Size
Image Description
Contributed
By And/Or Copyright
71k
James Joseph Raby was born in Bay City, Mich. on 17 September 1874. He was appointed Naval Cadet on 09 September 1891. Commissioned Ensign on 01 July 1897, he advanced rapidly in rank, becoming a Commander 01 July 1914, Captain 23 November 1919, and Rear Admiral 01 November 1927. In 1912 he commanded Oregon (BB 3) with additional duty as commander of the port of Apra, Guam. During World War I, he received the Navy Cross for convoy escort duty while commanding Albany and later Missouri (BB 11). After various assignments in Washington, D.C., in 1922 he became Commandant of the Naval Air Station, Pensacola, Fla., and of the 8th Naval District. In 1931 he became Commandant of the 6th Naval District with additional duty as Commandant of the Navy Yard, Charleston, S.C. He died near Midway, Ga. on 15 January 1934.

USS Raby (DE 698) (1943-1953) was the first ship to be named in his honor.


Bill Gonyo
Downey, Cal.
23k
undated wartime image
DESA Archives
41k
undated wartime image
-
101k
25 August 1947: San Francisco Bay, Cal. - Bow on view of USS Raby (DE 698) off Mare Island.

(U.S. Navy photo #DE-698-1599-47)
Darryl Baker
PNCM, USNR (ret.)

Vallejo Naval & Historical Museum
76k
25 August 1947: San Francisco Bay, Cal. - Broadside view of Raby off Mare Island. She was in overhaul at the yard from 27 June to 08 September 1947.

(U.S. Navy photo #DE-698-1597-47)
111k
25 August 1947: San Francisco Bay, Cal. - Stern view of Raby off Mare Island. She was in overhaul at the yard from 27 June to 08 September 1947.

(U.S. Navy photo #DE-698-1595-47)
47k
undated post-war image
Elton L. Murray, Jr.
69k
aft engine control panel
132k
undated: USS Raby (DE 698) going full astern prior to departing Pearl Harbor. In the foreground is USS Marsh (DE 699) with crewmen preparing the ship for departure.

(U.S. Naval Institute Press Photo from the book "Anti-submarine Warfare: An Illustrated History" by David Owen)
Bob Hurst
Worksop, Nottinghamshire,
England, United Kingdom
---
Raby Memorabilia
Commemorative
Postal Cover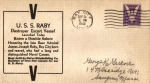 Courtesy of
Paul Petosky
---
Raby History
View the USS Raby (DE 698) DANFS history entry located on the Naval History and Heritage Command web site.
View the official War History of USS Raby as submitted by the ship at war's end.
---
Raby's Commanding Officers
Thanks to Wolfgang Hechler
Dates of Command
Commanding Officers
1.) 07 Dec. 1943 - .. Aug. 1944
Lcdr. James Scott II, USN (Comm. CO) (USNA '35) (Baltimore, Md.)
2.) .. Aug. 1944 - .. Sep. 1945
Lcdr. John Lathrop Slade Jr., USNR (Hinsdale, Ill.)
3.) .. Sep. 1945 - .. Nov. 1945
Lt. John M. Regan, USNR
4.) .. Nov. 1945 - .. Jun. 1946
Lcdr. Horatio N. Warren, USNR (Prince Edward Island, Canada)
5.) .. Jun. 1946 -
Lcdr. Gustave Albert Wolf, USN (USNA '39) (Bloomsburg, Pa.)
6.) ~1949 - .. Aug. 1950
Lcdr. Thomas Chapin Buell, USN (USNA '41) (Bisbee, Ariz.)
7.) .. Aug. 1950 - .. Mar. 1952
Lcdr. George Henry Rood, USN
---
Crew Contact And Reunion Information
---
Contact Name: Dan Donovan
E-mail: Dan Donovan

---
Note About Contacts
Contact information is compiled from various sources over a period of time and may, or may not, be correct. Every effort has
been made to list the newest contact. However, our entry is only as good as the latest information that's been sent to us. We list
only a contact for the ship if one has been sent to us. We do NOT have crew lists, rosters, or deck logs available. Please see the
Frequently Asked Questions section on NavSource's Main Page for that information.
---
Additional Resources
---
Tin Can Sailors
The U.S. Navy Memorial
Destroyer Escort Sailors Association
The Destroyer Escort Historical Museum
The Destroyer History Foundation
Tin Can Sailors Shipmate Registry - USS Raby
---

Comments, Suggestions, E-mail: Webmaster.



This Page Created And Maintained By Mike Smolinski



by Paul R. Yarnall, All Rights Reserved.
Page Last Updated: 09 April 2020