Please report any broken links or trouble you might come across to the Webmaster. Please take a moment to let us know so that we can correct any problems and make your visit as enjoyable and as informative as possible.
---
NavSource Online: Service Ship Photo Archive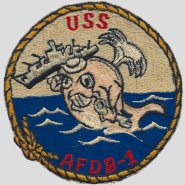 Contributed by Mike Smolinski
USS AFDB-1
---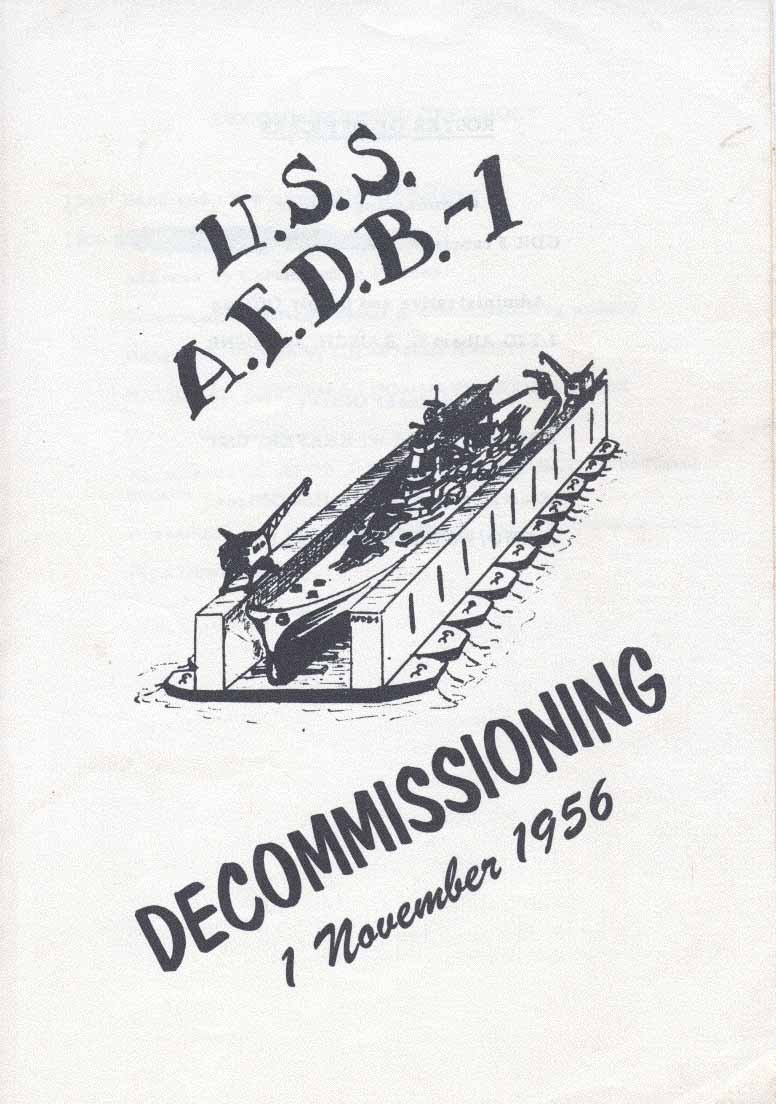 ROSTER OF OFFICERS
Commanding Officer
CDR Francis W. Barrington, USN
Administrative and Supply Officer
LTJG Albert 0. RAISH Jr., USNR
Engineer Officer
CWO/W2 Donald W. KEEFER, USN
Electrical and Inactivation Officer
CWO/W2 Gus NOLL, Jr., USN
HISTORY OF AFDB-1
The USS AFDB-1 is a ten-section, steel, floating drydock, suitable in general, for docking, battleships and aircraft carriers, large. She was built, by sections, at various shipyards in the United States. Her overall length is 927 ft.; overall width, 256 ft.; width clear inside, 133 ft.; 7 inches; maximum draft, 78 ft.; light draft, 9 ft.; light displacement, 38,500 tons; speed, non-self propelled. Her first section was launched on 31 JULY 1943. The ship was commissioned, as the USS ABSD-1, on 10 APRIL 1943, when Captain A.R. MACK, USN, assumed command.
With each of her sections under tow by cargo ships, the ABSD-1 left San Francisco, 28 AUGUST 1943. By 2 OCTOBER, all sections of ABSD-1 had arrived at Pallikulo Bay, Espiritu Santo, New Hebrides and assembly of all the sections into one unit was commenced. The job was unique as it was the first time a project of this type was ever attempted. On 2 NOVEMBER, one of the compartments of Section C was flooded and the pontoon section sank with one officer and 12 enlisted men trapped inside.
As a result of the loss of this section with the gantry crane, a substitute section was supplied by the ABSD-2, then staging at San Francisco. This section arrived at Pallikulo Bay, on 2 FEBRUARY 1944, and the ABSD-l proceeded to become one unit.
On 31 DECEMBER 1943, the ABSD-1, consisting of only eight sections, performed her first docking, and she subsequently docked, overhauled, and undocked, at Espiritu Santo, every type of ship from yard craft to battleships; 71 in all. On 13 APRIL 1945, she was ordered to cease operations and prepare for forward movement; and on 15 APRIL disassembly started.
On 29 JUNE 1945, the first echelon of the USS ABSD-1, consisting of six sections towed by tugs, departed Espiritu Santo for Leyte via Hollandia. On 7 JULY, the ABSD-1 was released to Commander Seventh Fleet, and the Second and final echelon of sections, in the tow of tugs, started their voyage to Leyte. Upon reaching the Philippines, the ABSD-1 was assigned to Service Squadron Seven. On 31 DECEMBER 1945, operational control of the ABSD-1 was transferred from Service Squadron Seven to Commander Philippine Sea Frontier.
On 1 JUNE 1946, the ABSD-1 was placed out of commission in reserve at the Philippine Islands. In November, 1946 a plan to disassemble and tow her to Pearl Harbor was approved and carried out.
Redesignated the USS AFDB-l in 1946, she was recommissioned on 2 JUNE 1951 at Pearl Harbor, when Captain 0. J. STIEN, USNR, assumed command. Departing Pearl Harbor, she was towed to Guam, reporting for duty on 26 JUNE 1951, as a replacement for AFDB-6. Assembly of all sections into one unit was completed on 1 MARCH 1952, and she has remained at this base through the present day.

DECOMMISSIONING CEREMONY
1 November 1956
1345 Band and crew assemble for muster
1400 XXXXXXXXXXXXXXXXXXXXXXXXXXXXX
Address by Commanding Officer

Commanding Officer reads decommissioning orders

Benediction given by CHAPLAIN BROSIUS

NATIONAL ANTHEM by COMNAVMARIANAS Band

Secure the watch

Acceptance of AFDB-1 by Commanding Officer of Naval Station

Presentation of National Ensign and commissioning pennant

Pipe Down
ROSTER OF COMMANDING OFFICERS

NAME DATE

Captain A. R. MACK 10 APR 43 - 31 AUG 44

Captain R. C. PARKER 31 AUG 44 - JAN 46

Captain C. S. WILLIAMS JAN 46 - 1 JUN 46

Captain 0. J. STIEN 2 JUN 51 - 12 SEP 52

Commander J. S. SPERLING . 12 SEP 52 - JUL 53

Commander J. 8. DECKER JUL 53 - 4 DEC 54

Commander W. G. BENGAL 4 DEC 54 - 13 JUN 56

Commander F. W. BARRINGTON 13 JUN 56 - 1 NOV 56

CREW MEMBERS

ABEGANIA, C.A., TN

ACTON, J.A., BM1

AGUINO, J., EM3

AGUON, J.C., SD2

ALCASID, M., IC1

ALLEN, B.L., EM3

ALLISON, E., FN

BADURA, M.J., FP3

BARTELDS, W.L., DC3

BEERS, J.F., FN

BENFIELD, G.G., EM3

BENNETT, R.H., SN

BERRY, J.B., SA

BILLINGSLEY, G.M., FN

BISCHOFF, L.H., MM3

BLODGETT, D.A., SN

BLUM, F.J., BT3

BROWN, J.E., IM2

BROWNE, C.D., ICFN

BAUSKE, G.A., DCFN

BULLOCK, J.A., FN

CALLAHAN, J.H.., MM3

CAPPS, L.O., FN

CARRINGER, E.W., FN

CARTER, J.B., FN

CLARK, L.J., EM3

CLESTER, F. E., FN

COLES, S.C., FN

COLLINS, G.E., SA

CROWE, L.E., EM3

CULBERTSON, P.W ., EM3

CUNNINGHAM, R.W., SA

DAVIS, V.A., ME1

DAVIS, J.D., SK3

DAVIS, W.E., ENFA

DIXON, R.E., FP3-

DREYER, C.H., END3

DRIVER, J.D., SN

DUBOSE, W.D., SN

DUCOTE, J., SN

DUESSING, W.W., FN

DUNCAN, K.V., FN

EMERY, M.A., FN

ENOS, D.L.R., SN

ESCOBEDO, G.E., FN

EVANS, J.P., SKSN

FALCO, C.A., MEC

FERGUSON, J.R., EM3

FERNANDEZ, J.M, SN

FISHER, G., EMFN

FOLAND, H., ENC

FOWKES, J.L., ENFN

FOX, T.M., EM3

FRANCIS, R.G., FN

FULLER, T.R., SN

FREY, W.R., FN

GARRISON, J.I., BMC

GAY, R.E.K., FN

GEORGE, D.E., FN

GOODWIN, B.L., SN

GOULD, M.C., YN3

GRANT, J.A., MR3

GUILLORY, A.L., FP1

HARBINSON, S.F., EM3

HALSTEAD, H.L., FN

HAMLETT, A.L., DC2

HANKS, L.E., BT1

HARVEY, J.K, FN

HAYES, R., EN3.

HIGHSMITH, P.L., SN

HOEFLING, D.L., DCC

HOWARD, D.H., FN

HUERTA, V., SN

JAYNES, J.B., FN

JENNINGS, M.A., SN

JOHNS, J.W., SN

JONES, B., BM1

JONES, M., FN

JONES, S., EMFN

KANE, C.H., FN

KNIGHT, W., FN

LAMB,. L. L., YNCA

LARSON, C.C., BM2

LAUSE, J.J., ME2

LAWLESS, R.T., FP3

LOBELL, P.J., SKSN

LOCKMAN, I.H., ME1

LONG, E.D., EN1

LOVE C. O., MEFN

LOERY, W.J., SA

MANNSCHRECK, H.E.,SN

MARCHANT, W., SN

MATHIS, E.A., HM1

MAY, C.T., FN

MAY, J.C., FN

MC GARRAH, H.F., FN

MC PHERSON, M.J., FN

MEGASON, L.H., RM2

MILAT, R.M., SN

MILDBRAND, D.L., DC3

MILLER, D.L., EN1

MILLER, R.A., BM1

MOORE, E.H., BM1

MOORE, L.C., DCW2

NAILLON, F.E., BT3

NAUD, F.L., MMC

PALMER, C.F., BM3

PETERSON, R.L., FN

PILCHER, W.G., FN

PRICE, O.S., EM3

RABY, G.K., SN

RATLIFF, C.W., DC3

RATCLIFF, W.C., MEG2

RAYSIN, L.E., EN2

ROLLAND, D.L., SN

REECE, J.D., BM3

SAYLOR, D.C., FN

SCHIFERLE, J.L., EN3

SCHNITZLER, R.W., BMC

SHARP, E.J., FN

SHEPHERD, L., FN

SHUMAKER, J.L., MM3

SIMMONS, R.A., FN

SMITH, J.R., EN3

SONNIER, W.A., SN

STATEN, L.R., EMFN

STENZEL, V.T., FN

STILES, D.D., MM2

TAPPE, W.O., FN

TAYLOR, G.C., ME3

THOMAS, G.E., FN

TILLMAN, F., FN

TRACZYK, F.S., FP3

TRAJNOWSKI, R.C., FN

TRISKA, B.B., DC1

TSUTSUMI, A., END3

TURNER, O.D., SN

VICK, A.L., EM3

VILLAS, J.C., SA

VITITOE, O.L., SA

WAIDBESSER, P.E., EN2

WALLACE, R.A., EN3

WHITE, J.B., FN

WHITE, R.H., EN2

ZGOLA, G.A., FN

Navy-PPO, Guam