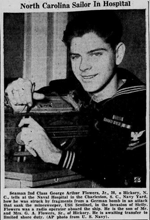 110211300
NR
North Carolina Sailor In Hospital Seaman 2nd Class George Arthur Flowers, Jr., 20, of Hickory, N.C., tells at the Naval Hospital in the Charleston, S. C., Navy Yard, how he was struck by fragments from a German bomb in an attack that sank the minesweeper Sentinel (AM-113), in the invasion of Sicily. Flowers was a radio operator aboard the ship. He is the son of Mr. and Mrs. G. A. Flowers, Sr., of Hickory. He is awaiting transfer to limited shore duty.
AP photo from U. S. Navy.
Image and text provided by University of North Carolina at Chapel Hill Library, Chapel Hill, NC.
Photo from the The Wilmington Morning Star. [volume] (Wilmington, N.C.) 1909-1990, 02 March 1944, FINAL EDITION, Image 6, courtesy of chroniclingamerica.loc.gov.